Our Take: Consumer Reports Top Picks of 2011
Consumer Reports' top picks of 2011 are the Hyundai Elantra, Honda Fit, Nissan Altima, Toyota RAV 4, Toyota Prius, Kia Sorento, Ford Mustang, Infinity G37, Toyota Sienna, and the Chevy Avalanche. Consumer Reports utilizes three different broad categories to test vehicles' reliability and safety. Learn more about Consumer Reports' top picks with our guide below.
Free Car Insurance Comparison
Secured with SHA-256 Encryption
UPDATED: Apr 13, 2022
It's all about you. We want to help you make the right coverage choices.
Advertiser Disclosure: We strive to help you make confident car insurance decisions. Comparison shopping should be easy. We are not affiliated with any one car insurance company and cannot guarantee quotes from any single provider.
Our insurance industry partnerships don't influence our content. Our opinions are our own. To compare quotes from many different companies please enter your ZIP code on this page to use the free quote tool. The more quotes you compare, the more chances to save.
Editorial Guidelines: We are a free online resource for anyone interested in learning more about car insurance. Our goal is to be an objective, third-party resource for everything car insurance related. We update our site regularly, and all content is reviewed by car insurance experts.
It's that time of year again – when Consumer Reports (CR) releases their "top picks" for a driver of what they consider to be the best cars available as part of their annual auto issue. According to CR, they utilize three different broad categories in which each automobile is put through the paces of:
a road test consisting of over 50 individual testing procedures and evaluations
reliability, based on problems reported by customers
safety features, measured by crash testing performed by either NHTSA or insurance industry watchdog groups
Additionally, all picks are required to have electronic stability control as a standard feature.
All of the models on the 2011 are from Japanese, South Korean and American manufacturers. Toyota is the only brand with multiple picks, scoring 30% of the total. Nissan places two on the list with both the parent brand and Infinity represented. Hyundai also places two on the list, with both their parent brand and a Kia making the cut. Ford, General Motors, and Honda each have one vehicle in the top picks.
Make sure you have the right car insurance for any new vehicle you purchase. Compare insurance rates for comprehensive coverage, personal injury protection, uninsured motorist coverage, bodily injury protection, and more. Don't overpay for your insurance policy.
Here's our take on the Consumer Reports Top Picks for 2011:
What is the top small car pick?
Small Car: 2011 Hyundai Elantra
We're big fans of the redesigned Elantra. It's one of the more stylish choices out there, inside and out. It also has impressive fuel usage economy, with an EPA estimated 40 mpg in highway driving. Six airbags, 4-wheel ABS, traction control, and stability control are all standard. Retail price on the Elantra starts at $14,830. It's a great pick for everyday driving.
Compare Quotes From Top Companies and Save
Secured with SHA-256 Encryption
What is the top budget car pick?
Budget Car: 2011 Honda Fit
While we might disagree that this is the best choice if you're shopping with budget in mind, we cannot fault the inclusion of the Fit on Consumer Report's list. It is a car that offers a huge amount of interior room and is honestly fun to drive, especially the versions with five-speed manual transmissions. The EPA rates the Fit at 27 mpg in city driving, 33 mpg in highway driving. Our experience has been that the Fit's fuel economy is seriously underestimated, even with a dash of fun being had. Base pricing on the Fit starts at $15,100.
What is the top family sedan?
Family Sedan: 2011 Nissan Altima
We're also not convinced this was the best choice within the class of family sedans, but we won't deny the Altima is a solid car that may just suit your needs, if you're a vanilla ice cream type. While Consumer Reports gives the Altima Hybrid high marks for getting 32 mpg, the Hyundai Sonata Hybrid offers a full 8-mpg more than the Altima at a cheaper price in what we think is a more attractive package with a longer warranty. Nissan does offer a wide range of power plants (four-cylinder and six-cylinder models are available) and trim levels on the Altima. Consumer Reports notes that the interior fit and finish of the latest Altima are better than the previous model. It also has many safety features to protect your driving with options for mixed driving. Base pricing for the most basic version begins at $19,910 and balloons to $26,800 for the hybrid version. We suggest the V6, as it has some character and is honestly fun to drive.
What is the top small SUV?
Small SUV: 2011 Toyota RAV4
Making its fourth appearance on the list in the last five years, CR gives the Toyota RAV4 high marks for fuel economy in both 4-cylinder and 6-cylinder versions.  We say pass on the optional third-row seat, as it greatly limits cargo area and is both difficult and uncomfortable except for very small children. The EPA ratings for the RAV4 are 22 mpg in city and 28 mpg in highway driving.  Base price starts at $22,025.
Compare Quotes From Top Companies and Save
Secured with SHA-256 Encryption
What is the top green car?
Green Car: 2011 Toyota Prius
The car that introduced the concept of hybrids to the United States is still the highest mpg car sold, even in its third generation.  This marks the eighth straight year that the Prius has appeared on CR's list.  While Consumer Reports grumbles and mumbles about "software problems in the antilock brake system," the NHTSA – with NASA assistance on the science –  offered a much different statement that cleared Toyota in their unintended acceleration issues.  Base pricing for the Prius starts at $23,050.
If you're thinking about going hybrid or fully electric, make sure to look into all your options. Many government rebate programs have expired. But your insurer may offer different discount options based on safety features like pedestrian detection and automatic emergency braking, not to mention the fuel usage savings.
What is the top family SUV?
Family SUV: 2011 Kia Sorento
The Kia Sorento offers a nice package of comfort and performance with an inviting level of standard features, which makes it more than a bit of a bargain when compared to most other SUVs. Hyundai is hitting home run after home run, even with Kia. As with the Toyota RAV4, we say forego the optional third seat, as it is too cramped for all but the smallest of occupants. You might benefit more from the extra cargo space. Wide ranges of engines are available throughout the Sorento trims, from 2.4 liter four cylinders to a 3.5 liter V6. The V6 gets nearly the annual fuel economy of the four cylinder versions, so an engine upgrade isn't without dual merits of more pep and being just as fuel efficient. Be advised that some drivers have reported antifreeze leaks and oil leaks with the Kia Sorento. Base pricing starts at $21,195.
What is the top sporty car?
Sporty Car: 2011 Ford Mustang
It's hard to knock the choice of the Ford Mustang. That doesn't mean we won't knock the Mustang's interior. Give Ford Europe a go at the next interior design, because it's as horrendous as always. That does not mean the Mustang isn't a fun car, because it certainly is – even with the base V6 model. Because an all new V6 engine on the base model produces a whopping 305 horsepower and 280 lb. ft. of torque. Three other engine choices are available: a 302 cubic inch producing 402 horsepower, another 302 ci producing 444 horsepower and a 5.4 liter that produces an astounding 550 horsepower in the Mustang Shelby GT500. The V6 version will provide the best fuel economy, with an EPA rating of 19 mpg in city driving and 31 mpg in highway driving. Base pricing starts at $22,995 for a V6 and balloons to a massive $54,495 for the Shelby GT500 version. We say if you're willing to spend the money on a Shelby, you should get the real thing.
As with many other sporty cars these days, the focus is on performance, not comfort. Ford has stripped down these models. So if you're looking for a family car, this is not the right choice for you.
Compare Quotes From Top Companies and Save
Secured with SHA-256 Encryption
What is the top sports sedan?
Sports Sedan: 2011 Infinity G37
With a minimum base price of $35,400, the Infinity G37 isn't just a sports sedan, but a true luxury car. This is the fifth straight year the G37 has made this list, and we can't argue with its inclusion. The G37 offers spirited performance in both rear wheel and all wheel drive versions. A 3.7-liter V6 that produces 328 horsepower sets this car in motion. The Infinity G37 has EPA estimated ratings of 19 mpg in city driving, 27 mpg in highway driving.
What is the top family hauler?
Family Hauler: 2011 Toyota Sienna
The Sienna has appeared on this list three times in the last five years. However, it seems to appear this year by default, as Consumer Reports willingly admits that the Honda Odyssey scored higher than the Sienna in its testing, but in a questionable move, knocked the Honda out of contention due to lack of reliability data for the newest version, something they did not do to choices in other categories. Base pricing for the Sienna starts at $24,560 and the minivan is EPA rated for 19 mpg in city driving and 24 mpg in highway driving.
What is the top pickup truck?
Pickup Truck: 2011 Chevrolet Avalanche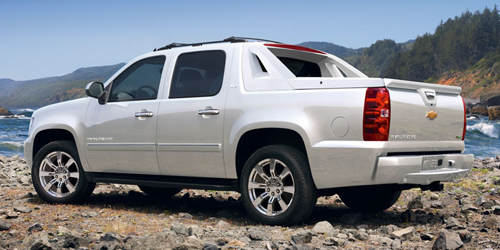 Consumer Reports gives this truck high marks for some of its more unique features, and we agree they make it a market segment leader. From the three-piece bed cover, to the fold-down rear seat that can be utilized to make the truck able to carry more cargo, the Avalanche is in a class of its own. Retail pricing for the Avalanche starts at $36,110.