Alabama Car Insurance Guide (Cheap Rates + Best Companies)
Free Car Insurance Comparison
Compare Quotes From Top Companies and Save
Secured with SHA-256 Encryption

If you live in Alabama or are thinking of moving, you will likely plan a trip to white sandy beaches or wooded state parks at some point. The requirement of driving to these beautiful places, though, is that you need cheap car insurance for your vehicle.
Picking through the hundreds of car insurance providers is daunting. How do you know what provider is right for you out of all the insurers available?
When you are paying hundreds every year for car insurance, you want to know that your money is being well spent. That's why we have put together this comprehensive guide. We cover everything from Alabama insurance providers and requirements to must-know facts.
So keep reading to learn everything you need to know about driving in the southern state of Alabama.
Want to start comparing auto insurance quotes today? Enter your ZIP code in our FREE online tool above.
What are Alabama car insurance coverage and rates?
Driving without insurance is illegal, but every state has different coverage requirements. If you are moving to Alabama or are purchasing car insurance for the first time, it can be overwhelming to know what exactly Alabama law requires.
While insurance providers will help you with getting the mandatory coverage, you will also need to know what rates are best in your area when shopping for the cheapest car insurance.
Luckily, we've broken down Alabama's insurance requirements for you.
Scroll down to learn what coverages Alabama requires, as well as Alabama's different average rates.
Compare Quotes From Top Companies and Save
Secured with SHA-256 Encryption
What are Alabama minimum coverage requirements?
In Alabama, drivers need to have the state's minimum coverage insurance. If you aren't insured with the required bodily injury and property damage liability coverages, you face heavy fines or worse.
Below are the coverage amounts Alabama requires ALL drivers to have (these coverages protect drivers in case of an accident).
$25,00 coverage per person that pays for one person injured from the accident
$50,000 coverage per accident to pay for all people injured from the accident
$25,000 to pay for any property damage from the accident
It is important to note that the above amounts are only the MINIMUM amounts required. If you are in an accident, it is smart to have more than the minimum coverage to cover any unforeseen costs.
What are acceptable forms of financial responsibility?
It makes sense that because Alabama requires drivers to have minimum coverage, Alabama also requires drivers to have PROOF that they are obeying the law. Forms of financial responsibility prove that a driver has the minimum coverage.
Some acceptable forms of financial responsibility are below.
A valid liability insurance ID card
A copy of your car's insurance policy
A valid insurance binder (temporary form of car insurance)
A picture of your insurance ID card on your smartphone
Alabama now allows drivers to take pictures of their registration and insurance ID cards to provide proof of insurance. Many insurance providers are also introducing mobile apps where you can access your ID cards online.
If you are pulled over, you can use an insurance app to show your ID card (if available at your provider) or simply provide a picture of your physical ID card on your phone. Alabama, like most states, will check for proof of financial responsibility in the following circumstances.
Traffic stop
Registering a vehicle
Collision
Reinstating a license
If you don't have car insurance or fail to provide proof of insurance in a timely manner, you may face fines and other penalties (such as license or registration suspension).
What are premiums as a percentage of income?
Every year, car insurance premiums take a sizeable chunk out of your income. So let's look closely at how much car insurance takes from your per capita disposable income (the yearly amount you have to spend/save after taxes).
Alabama's average per capita disposable income is $33,535, while Alabama's average car insurance premium is $837. This means only $69 is taken out every month from a budget of $2,794.
These numbers are actually great. The average annual cost of car insurance countrywide is $981, which means Alabama residents pay a hundred dollars less than most U.S. residents.
While it may be tempting to place this extra money aside for something else, it can be worthwhile to use that money to pay for more complete coverage. After all, you are better protected in an accident if you have more than the minimum insurance amount.
Compare Quotes From Top Companies and Save
Secured with SHA-256 Encryption
What are average monthly car 
insurance rates

 in AL (liability, collision, comprehensive coverage)?

In addition to the minimum liability insurance, there are additional optional coverages, including these:

Because these rates are from 2015, bear in mind that rates for 2019 and on will be slightly higher than the ones shown above. If you shop around for insurance providers and rates, though, it will help keep costs down.

The good news is that because the countrywide combined total for car insurance is $1,009, Alabama residents are still paying LESS for car insurance than most U.S. residents.
Do you need additional liability coverages?
We've mentioned before that it's important to have coverage beyond the required minimum amounts. Below, we have outlined some important coverages that everyone should have.
Medpay insurance covers medical costs for those inside your vehicle from an auto accident, from the ambulance ride to treatment.
Uninsured/underinsured insurance helps to cover the cost of medical treatment if you are in an accident with uninsured motorists or an underinsured driver and he or she is at fault. This prevents you from paying the full cost of an accident yourself, as uninsured drivers are usually unable to cover costs before going bankrupt.
We have taken a look at these coverages' loss ratios, the significance of which we will explain shortly.
The numbers above look great, as the percentages are all steadily increasing. Why is an increase in the percentage good? An increase means a company is paying out more claims to its customers.
High Loss Ratio (over 100 percent) — companies are losing money. They didn't charge enough premium for the losses that were realized. this could mean that a rate increase is coming.
Low Loss Ratio — companies may have overpriced their premiums and are taking in more money that is needed to cover claims.
Generally, top insurance companies have loss ratios that are above 60 percent. Medpay and uninsured motorist coverages in Alabama are slowly reaching that number, which is a great sign.
What add-ons, endorsements, and riders are available?
We've covered additional liability coverages, but there are also great add-ons that you can purchase for your regular policy. While it may seem excessive to add more to a policy that already covers all the basics, these coverages are practical and affordable.
Best of all, you can pick and choose add-ons to create a plan that is custom-suited to your needs. If you have a classic car, for example, you'll want special protection!
Look through the list of affordable and effective add-ons below to learn more.
Personal Umbrella Policy (PUP) — Think of this insurance as an extension of liability insurance. PUP insurance helps protect you from lawsuits in case of an accident.
Rental Reimbursement — If you are in an accident and your car is in the shop, rental reimbursement will help pay the costs of renting a car.
Emergency Roadside Assistance — This coverage helps you if your car breaks down. Your provider will pay for the roadside repair or towing.
Mechanical Breakdown Insurance — If your car needs to be repaired due to something other than an accident, this coverage will pay for your repairs.
Non-Owner Car Insurance — This one is simple. If you don't own a vehicle but still drive, this insurance will provide liability coverage.
Modified Car Insurance Coverage — If you like to customize your cars, you may need to purchase modified car insurance (not all modifications are covered under basic insurance).
Classic Car Insurance — Classic cars need different protection than regular cars. Generally, classic car insurance costs less, as classic cars aren't driven as much.
Usage-Based Insurance — With this coverage, discounts are given based on the driver's speed, distance, and other factors. Generally, insurers will give drivers a small device to install in their car that records this information.
Clearly, there are plenty of insurance add-on options out there! While the number of options may seem overwhelming, the variety means you can create a policy plan that is perfect for you.
Compare Quotes From Top Companies and Save
Secured with SHA-256 Encryption
What are average monthly car 
insurance rates

 by age & gender in AL?

Plenty of outside factors influence rates. One factor that may surprise you is gender. A study by Consumer Federation of America recently found that at most providers, females, even if they have the same record and history as males, generally pay more for car insurance than males.
This is contrary to the popular belief that males ALWAYS pay more than females for car insurance!
Age is also a huge factor, though this one isn't as surprising.
Younger drivers pay thousands more than older drivers unless parents add younger drivers to the parents' insurance plan.
What are the 
cheapest car insurance rates

 by ZIP code?

We partnered with Quadrant data to bring you this information, and there are numerous other interesting factors that help determine rates. In addition to gender and age, an area also has a huge impact on rates.

We've also included local providers' rates so that you can see at a glance who is cheapest in your area.

There is a $1,118 difference between the average annual rates of the most and least expensive zip codes!
What are the 
cheapest rates

 by city?

Prefer to search by cities rather than zip code? Check out the tables below.

Similar to the zip code price difference, the most and least expensive cities show over a thousand dollar difference.

Compare Quotes From Top Companies and Save
Secured with SHA-256 Encryption
What are the best Alabama car 
insurance

 companies?

The multitude of drivers on the roads means that insurance providers are in demand. More companies, though, means more choices. It can be hard to find an insurance company that is right for YOU.

How do you know what rates actually provide you with the best benefits for your money? Insurers all promise their coverage is the best, but these declarations are simply not true.

We want you to know your options before you throw in the towel and stick with the same provider you've always had. There are important factors to consider when choosing a provider, but luckily they are fairly straightforward.

So if you need help knowing what insurer you should choose, keep reading. We have covered everything from companies' ratings to average premium rates.

The Largest Companies' Financial Ratings

The financial standing of a company is important. After all, you want to make sure the company you pick won't go bankrupt in a year! That's why we want to cover the AM Best ratings of the largest insurance providers in Alabama.

For context, AM Best's highest rating is A++, which means that AM Best considers a company to be superior.

Remember when we talked about loss ratios? None of the companies above have loss ratios higher than a hundred percent (which means none are at risk of going bankrupt). A few companies, though, are a little low on their loss ratio numbers and could work on improving their numbers.

Companies with Best Ratings

JD Power rates companies based purely on customer satisfaction. If customers aren't satisfied with a company, that company will receive a low rating from JD Power.

JD Power judges customer satisfaction on the following:
Interaction
Policy offerings
Policy information
Price
Billing process
Claims
Below, you can see JD Power's ratings for companies in Alabama.
The above data shows that some of Alabama's largest providers (Geico, Progressive, etc.) are average at customer service — not terrible but not outstanding either.
Companies with Most Complaints in Alabama
We have given you the lists showing statistics about the 10 largest companies in Alabama and customer service, so let's look at customer complaints next.
While some of these numbers may seem discouraging, make sure to also look into HOW a company handle's customer's complaints. If you hang up after a call with a company and don't find yourself ranting about the terrible service, it shows the company has decent customer service.
What are Alabama car 
insurance rates

 by company?

Let's move on from company ratings to another important factor insurance rates. It is an indisputable fact that different carriers have different rates. Looking at these differences and what impacts rates will help you decide which company offers the best prices for your needs.

In comparison to the state average, there are SIGNIFICANT DIFFERENCES in price. USAA is almost 75 percent cheaper than the national average, whereas Safeco Insurance Company is 30 percent higher.

Commute Rates

Let's look at another rate changer commute rates. At some companies, you pay more for longer commutes. This is fine if you have a short commute, but you may want to look into other companies if you have a long commute each day.

At most companies with commute rate changes, there is over a hundred dollar difference! This may not seem like much, but an extra few dollars saved here and there can add up into significant savings at the end of a year.

Coverage Level Rates

Another factor in rates is the coverage level. The price differences below may tempt you into purchasing lower coverage, but remember that better coverage is indispensable in an accident.

At some of the above companies, the switch from low to high coverage isn't astronomical. For an extra few hundred dollars a year, you could jump from low to high coverage on your vehicle.

Credit History Rates

Let's move onto another factor in rate changes credit history. While some companies won't give discounts for good credit, they WILL increase their rates if you have bad credit.
Alabama's average credit score is 654. This is below the national average credit score of 675.
Alabama's average credit score is 21 points below the national average, which means Alabama residents may have a little trouble getting better rates.
Yikes! Bad credit will raise your rates by THOUSANDS! That's a hefty hike in price. In fact, a recent study by Consumer Reports shows that most insurance companies are more concerned with your credit score than with your driving record!
Driving Record Rates
Another part of your history that insurance companies will look at is your driving record. If you have a bad driving record, insurance companies will consider you a high-risk driver and raise your rates. If you have a clean driving history, you'll certainly end up with better rates than if you have poor driving history. And of course, the severity of your policy increase depends on the type of violation on your record and how many subsequent violations you have.
An accident, speeding violation, or DUI can all raise your rates by over a thousand dollars. A clean driving record and a good credit score are the best ways to keep your rates down, so drive carefully.
Number of Insurers in Alabama
There are 18 domestic insurance providers and 858 foreign insurance providers. This makes for a total of 876 insurers to choose from in Alabama.
Unfortunately, whether a company is domestic or foreign won't really help you make a choice.
Domestic insurance simply means a company is formed under Alabama's state law. On the other hand, foreign insurance is formed under the laws of any other U.S. state.
It's up to you which you feel more comfortable with, but the small number of domestic insurers means you will probably end up with a foreign insurer.
What Alabama state laws do you need to know?
In order to follow the law, you need to know the law! But it can often be confusing to understand the different driving laws. After all, driving laws are slightly different across states.
Breaking a driving law, though, will result in a fine and perhaps other penalties (such as a suspended license).
Since knowing your state laws is important, we are going to give you an overview of essential laws in Alabama. We will cover everything from insurance laws to rules of the road so that you can avoid tickets.
So keep scrolling to discover what you need to know about driving in the state of Alabama!
We've talked before about the insurance requirement for drivers in the state of Alabama. Every driver must have car insurance. According to the NAIC, before you can use your car insurance you must file the proper insurance forms.
The Mandatory Liability Insurance Law of 2013 requires all drivers to have auto insurance for their registered vehicles.
While all drivers must have insurance, there is a small catch. Insurance companies can refuse to sell you car insurance if you are a high-risk driver. If insurers refuse to sell a car insurance plan to you, you will have to purchase insurance from Alabama's Auto Insurance Plan (AAIP).
If you practice safe driving and state laws, you can be proactive in preventing being labeled as a high-risk driver. In turn, this will save you from increased rates.
High-Risk Insurance
Sometimes, despite our best efforts, accidents happen. If an accident happens to you, authorities may require you to fill out an SR-22 form. This form is essentially an application for high-risk insurance, which means your rates will become higher.
There are multiple situations where authorities may require you to fill out an SR-22 form.
A DUI/DWI
Uninsured driving
Traffic violation that causes serious injury/death
High number of points on driving record
High-risk car (think sports cars, etc.)
Over 70-years-old
If you are considered a high-risk driver and have SR-22 forms on your account, insurance providers may not cover you. You will then need to apply to the AAIP for car insurance.
Low-Cost Insurance
Alabama doesn't have a low-cost insurance program, but there are still plenty of ways to save money on car insurance. Ask your insurance provider about the following:
Good driver discount
Good student discount
Multi-car discount
Homeowner's discount
These are some of the basic discounts you can receive, but there are dozens more that are specific to an insurance provider, so make sure to get a full list of discounts.
Windshield Coverage
Car owners dread that small, telltale crack in their windshield. That crack may stay small for a while and pass inspection, but inevitably another jostle will make the crack spread, making the purchase of a new windshield necessary.
If the crack obstructs your view of the road, it is illegal, and you could receive a ticket.
This is when it pays to have comprehensive insurance. Most insurers with comprehensive insurance plans will replace or repair your windshield. Insurers must also use replacement parts that are similar in quality in order to make sure your car is the same as it was before.
We should note that a comprehensive plan is necessary for windshield replacement because insurance providers are NOT required by Alabama law to replace windshields.
Automobile Insurance Fraud in Alabama
Insurance fraud is a crime. Every year, billions of dollars are stolen in fraudulent claims. If you commit insurance fraud in Alabama, you will face fines and/or jail time.
According to the IIHS, there are three main ways to commit insurance fraud.
Faking an accident/making a false claim
Adding extra damages/injuries/etc. onto a claim
Application fraud or premium avoidance
Insurance fraud is such a problem that in 2017, the Alabama Department of Insurance investigated 223 cases of insurance fraud. If you are honest about your claims, though, there is no need to worry about being investigated for fraud!
Statute of Limitations
Every state has a different amount of time in which you can file a claim also known as a statute of limitations. If you don't file and resolve your claim within the statute of limitations, you lose your chance to be paid the money you are owed.
The statute of limitation's time limit usually starts on the date of your accident, so make sure to file as soon as possible. Below, you will see Alabama's statute of limitations, which is short compared to other states.
Personal Injury: Two years
Property Damage: Two years
Two years may seem like a long time, but it is easy to forget things that you put off until tomorrow or next week. So make sure to file that claim as soon as possible so you can get the claim process started.
After all, the sooner you are paid the better!
Compare Quotes From Top Companies and Save
Secured with SHA-256 Encryption
What are some Alabama state-specific laws?
If you are a motorcyclist living in or passing through Alabama, you are required to wear a helmet. While some states allow motorcyclists to wear helmets at their discretion, Alabama requires helmets to keep motorcyclists as safe as possible.
Another fact you should know is that Alabama does NOT have an unfair claims settlement act.
What is the unfair claims settlement act?
Essentially, it requires insurers to fully disclose what a policy covers so that insurers don't conveniently "forget" benefits when you make a claim.
Because Alabama doesn't have this law, it is important for you to know your policy inside and out. If you know what insurers owe you, you will notice a small mistake.
Vehicle Licensing Laws
If you drive without insurance, you face strict penalties. While the cost of car insurance can be daunting, the penalties for skipping are worse.
If you recall, Alabama accepts the following as proof of financial responsibility.
A valid liability insurance ID card
A copy of your car's insurance policy
A valid insurance binder (temporary form of car insurance)
A picture of your insurance ID card on your smartphone
If you are pulled over by authorities or are in an accident, you must provide proof of registration, proof of insurance, and a driver's license.
The State of Alabama Online Insurance Verification System of 2013 allows law enforcement to immediately check your vehicle's insurance status if they pull you over.
If you don't have car insurance, Alabama may suspend your vehicle's registration. Authorities will notify you if your registration is being suspended. According to the Alabama Department of Revenue, there are specific reasons authorities may suspend your vehicle registration.
"The Department did not receive a timely response to a questionnaire that was sent to verify the MLI coverage on the vehicle."
"The insurer identified in the response to the questionnaire has failed to confirm or has denied coverage on the vehicle for the insurance verification date as requested."
Clearly, it is important to have insurance, otherwise, you could lose the right to drive altogether because of a suspended license and registration.
Teen Driver Laws
In every state, teens have special driving laws that restrict the type of passengers and driving hours, which are both contributors to accidents in inexperienced drivers. These restrictions help teen drivers learn in a semi-controlled environment to help protect both them and other drivers.
To have a learner's license (also known as a permit), teens must be at least 15 years old. As well, before teens can receive a restricted (junior) license or adult license, they must meet the requirements below.
Teens with restricted licenses have special driving regulations.
Now that we've covered young drivers, let's move to onto another important age group — older drivers.
Older Driver License Renewal Procedures
In Alabama, older drivers don't have special requirements when renewing their licenses. In fact, the renewal process is the EXACT same as the general population.
Renew license every FOUR years
Proof of adequate vision is NOT required at time of renewal
Can renew their license online/by mail every other renewal
Alabama's every other renewal policy means older drivers can go up to eight years without having to make an in-person trip to the DMV.
New Residents
It's pretty simple. If you own a vehicle and are moving to Alabama, you need car insurance. The Alabama Mandatory Liability Insurance Act requires all drivers to have liability insurance in the coverage amounts below.
$25,000 to pay for one person injured from the accident
$50,000 to pay for all people injured from the accident
$25,000 to pay for any property damage from the accident
Since liability insurance amounts vary from state to state, you will need to makes sure your current provider updates your liability insurance to match Alabama's.
You will also need updated insurance ID cards with your new address. Some providers may actually give you a small discount for a change of address!
License Renewal Procedures
The license renewal procedures for the general population are the same as the older population.
Renew license every FOUR years
Proof of adequate vision is NOT required at time of renewal
Can renew their license online/by mail every other renewal
Once again, this means you can go eight years without a trip to the DMV. Not too bad.
Negligent/Reckless Drivers
Negligent or reckless driving is a serious issue. If people endanger themselves or others through careless driving, authorities WILL charge the drivers with reckless driving.
Alabama law lists the penalties as the following.
1st Conviction — imprisonment for five to 90 days. Fine $25 to $500.
2nd Conviction — imprisonment for 10 days to six months. Fine $50 to $500. License suspension.
Keeping right is as simple as it sounds. If you are driving slower than the traffic around you, keep to the right of the road. As a general rule, you should always pass on the left, but there are certain circumstances when you can pass on the right.
JUSTIA U.S. Law says you can pass on the right in the following instances:
The vehicle you are passing is turning left or about to
The roadway is wide enough for two or more lines of vehicles that moving in the same direction
You can only use the above maneuvers if you can do so safely (and without driving off the roadway, such as onto the shoulder). As for passing on the left, Alabama has a new anti-road rage bill in place.
The law prohibits drivers from traveling on the left side of the road for more than a mile and a half unless they are passing other vehicles.
As for the move over law, it is also common-sense driving.
If you see the following vehicles on the side of the road, move over. If you can't move over (such as on a one-lane road), make sure to slow down significantly.
Police/emergency vehicles
Car crashes
Utility service vehicles
Garbage truck vehicles (on duty)
Any car with hazard lights on
It is extremely important to move over for these vehicles, as people are walking around them. Deaths occur every year from drivers failing to move over. This law is intended to create a safety cushion around vehicles on the side of the road, so make sure to follow the law!
Speed Limits
Below is the information on Alabama's MAX speed limits. Be aware that speed limits vary from road to road — these speed limits are the absolute highest speeds that can be on roadways.
If you go over the posted speed limits, you will receive a fine and points on your driving record (which may raise your insurance prices).
Seat Belt and Car Seat Laws
Alabama also has laws on seat belt and car seat use. These laws make sure drivers and passengers are safe — seat belt use helps prevent occupants from being thrown from the car in accidents.
If you violate Alabama's seat belt laws, you will receive fines.
Primary enforcement means that if an officer sees you are not wearing a seatbelt, they can pull you over and ticket you.
Alabama put a new law into effect on September 1, 2019, that requires backseat passengers to also buckle up.
Alabama laws on car seats are fairly simple. Follow the rules below to keep children safe in the car.
The fine for breaking the above laws is $25 plus fees.
As for riding in the cargo areas of pickup trucks, Alabama doesn't have laws restricting this. Just make sure to use common sense for everyone's safety, as people can easily be thrown from the back of pickups at sharp turns.
Ridesharing
If you want to become a rideshare driver (Uber, Lyft, etc.), you will need to purchase ridesharing insurance. In Alabama, only the following providers offer ridesharing insurance.
Farmers

Geico

State Farm

USAA
You will also need to have proof that your vehicle has undergone vehicle safety checks (an inspection) and is properly registered and insured. However, if you have a bad driving record, the likelihood is that the rideshare company will reject your application.
You must also be 21 years old and have at least three years of driving experience. Want to know more? The links below will take you to the specific requirements for popular ridesharing companies.
Automation on the Road
You might think of an automated vehicle as a self-driving car. But automation is actually present in many of our cars. IIHS defines automated cars as the following:
"Automation is the use of a machine or technology to perform a task or function that was previously carried out by a human. One example is adaptive cruise control, which maintains a set speed."
If you have a fully automated car, automated vehicle drivers have to follow the laws below.
DUI Laws
Did you know 28.3 percent of all driving fatalities in Alabama are alcohol-related? Drunk-driving is one of the biggest culprits in driving fatalities.
Alabama has made drunk driving illegal (the same as every state) to help cut back on the number of drunk driving fatalities. The more that people are aware of the consequences of driving drunk, the less incentive there is to drive under the influence.
If you break the law, there are strict penalties in place that grow steadily worse with each offense.
| DUI - 4th Offense | Details |
| --- | --- |
| License Revoked | 5 years |
| Jail Time | 1 to 10 years |
| Fine | $4,000 to $10,000 |
| Other | NA |
These strict penalties are in place for a reason — drunk driving strips away people's judgment and results in frequent and often deadly accidents. In 2017, there were 268 deaths from alcohol-related accidents.
So stay safe — never drink and drive and encourage others to do the same. Otherwise, you could lose the right to drive altogether, along with jail time and steep fines.
Marijuana-Impaired Driving Laws
There isn't a specific law in place about marijuana-impaired driving in Alabama, but you can still be charged with impaired driving.
Did you know marijuana can stay in your system for weeks after using? If an officer thinks you're impaired and tests you, you can still be charged with impaired driving EVEN if you aren't high at the time.
Driving under the influence of marijuana will result in many of the same penalties as a DUI — suspended license, fines, and jail time.
Distracted Driving Laws
All it takes is a second with your eyes off the road for there to be an accident. Distracted driving is a major cause of accidents. In fact, distracted driving is just as dangerous as driving drunk!
Alabama has created the following cellphone use laws to help regulate distracted driving.
Remember, primary enforcement allows officers to pull you over just for texting on your phone while driving.
Is there a lot of vehicle theft in Alabama?
Do you know what hazards to watch out for on your roads? All it takes is one mistake for an accident to happen! Knowing what the main driving risks are in Alabama can help you stay wary and avoid potential accidents.
To stay as safe as possible, keep reading to learn about the major causes of accidents in Alabama, as well as information about vehicle theft and commute times.
Some types of cars are stolen significantly more often than other models. Check below to see if your vehicle makes the list!
The FBI also created a 2013 report on the number of cars stolen by cities.
Birmingham is the absolute worst city for vehicle theft, with 1,478 vehicles stolen in 2013! Up next, we will look at some of the risk factors you should look out for that involve harmful and risky behavior by drivers.
Alabama's Crash Report
Where you live can play a role in the number of traffic fatalities. Three of Alabama's cities made it onto the National Highway Traffic Safety Administration's (NHTSA) list of highest city fatalities.
Road type also influences traffic fatalities. Generally, higher speeds on rural roads equal greater impacts. The worse the impact, the more likely there is to be a fatality.
Another factor is person type. By person type, we mean the type of vehicle driven and if the person is a pedestrian, vehicle occupant, or cyclist.
Ever wondered what types of crashes are the worst? The NHTSA collected data on the most fatal crashes in Alabama.
The NHTSA also collected data on a five-year fatality trend for the top 10 counties in Alabama.
Did you know one of the worst culprits of traffic fatalities is speeding? Below, we have listed NHTSA's report on speeding deaths by county.
Another major culprit in traffic fatalities is drunk driving. Drinking severely impairs a driver's judgment, which is the last thing you want when driving! All it takes is one slight swerve off of the road or a missed stop sign to cause a fatal accident.
A sobering part of drinking and driving is that many teens participate in this dangerous act. While the national average for underage drunk driving deaths is 1.2 fatalities per 100,000 population, Alabama's rate is much higher!
Alabama's fatality rate for underage drunk driving is 2.7 deaths per 100,000!
Unfortunately, Alabama's teen fatality rate is among the HIGHEST rates in the U.S. Clearly, underage drinking is a major problem in Alabama. If you take a look at the table below, you can see the teen arrest rate in Alabama.
Alabama only ranks 48th in the U.S. for the number of underage arrests for drinking and driving, even though there is a high number of underage fatalities.
EMS Response Time
We've covered numerous statistics that are depressing. Now that you know what dangers to watch out for, let's look at more uplifting data — EMS response times in Alabama.
After all, you want to feel confident that help will arrive shortly!
In Alabama, it takes the EMS under an hour to reach the hospital in both rural and urban settings! These EMS response times are great, seeing as you will be at the hospital in under an hour from the time of your call.
Transportation
In today's busy world, there is always somewhere to be! From work to dinner with friends, driving is by far the most common means of transportation.
To drive, you'll need a car. Most Alabama residents have more than one, though. Ownership of two to three cars is the norm, which is a lot of cars!
In the U.S. the average commute time is 25.3 minutes. Alabama's commute is slightly less, which is good news for Alabama drivers. A few minutes saved each day may not seem like much, but if you had a long drive before you'll quickly appreciate those few extra minutes.
We have also included the most common methods of transportation. As expected, the most common method is driving alone, followed by carpooling.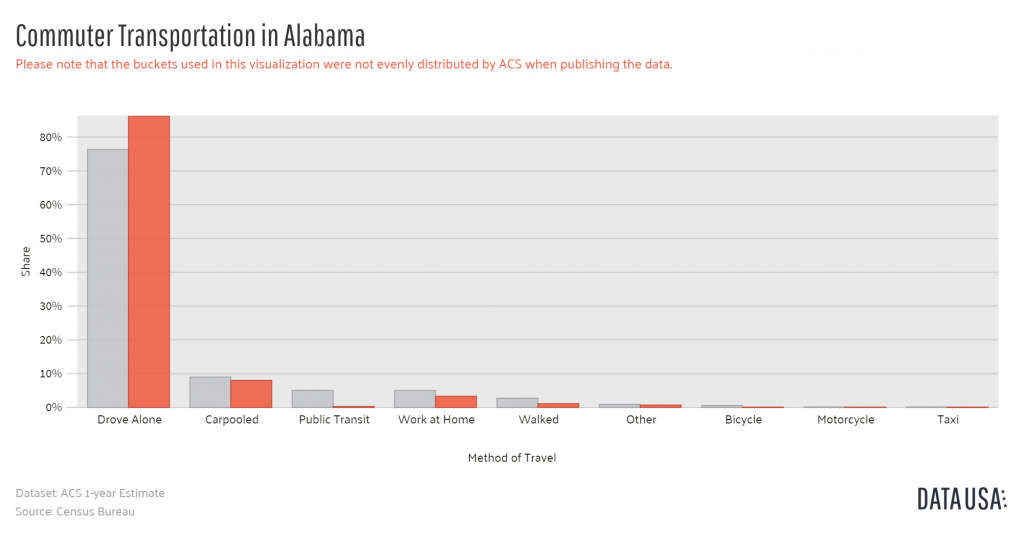 Congratulations, you did it! You've reached the end of this comprehensive guide and are now prepared to hit the streets of Alabama! Start comparison shopping today by entering your zip code below in our FREE online tool below!
Before making any final decisions on your insurance company, it is important to learn as much as you can about your local insurance providers, and the coverages they offer. Call your local insurance agent to clear up any questions that you might have. Questions to consider asking include, "What is the best coverage plan for me/my family/my situation?" "What are the minimum coverage requirements in my state and what form of coverage do you recommend?" "Do you guys offer any bundle discounts if I take out both my auto insurance and home insurance with you?" and "What is the average rate of insurance quotes you guys offer?"
Before making any big insurance decisions, use our free tool to compare insurance quotes near you. It's simple, just plug in your zip code and we'll do the rest!