Maine Car Insurance Guide (Cheap Rates + Best Companies)
Free Car Insurance Comparison
Compare Quotes From Top Companies and Save
Secured with SHA-256 Encryption

Maine, the 23rd state incorporated into the Union, is known as both the Pine Tree State and Vacationland, the latter due to its deep forests and craggy, rocky coastline, both of which lure tourists from the south during the summer.
It has a rich history. European contact started in 1200 CE, when the Norwegians interacted with a local indigenous tribe, the Penobscot, for trading.
After them came the French in 1600, followed by the British.
There are many reasons to love Maine. Driving along the winding roads of the coastline, smelling the salt air from the Atlantic Ocean, seeing blue to the left and knowing there are deep forests to the right:
It gives an air of majesty and magic, all entwined in one.
But driving along those winding roads of the coastline, smelling the salt air, you might think of a more basic reality to your journey: What happens if my car breaks down?
Or better yet:
What happens if I get into an accident?
That's why we're here.
If you're on this page, you're likely looking for car insurance for yourself or for a loved one.
Maybe your car insurance is about to expire and you're unhappy with your current company. Or maybe you're just starting out.
Either way, we know that:
Car insurance can be confusing.
And tough to understand.
It may, in fact, give you a headache.
Don't worry. We understand your pain.
We know how tough it is to get accurate information, how difficult it can be when dealing with all the nomenclature when talking to agent after agent seems to add more conflicting information rather than clearing things up.
We've got you covered. We designed this guide with the consumer in mind:
Making tough-to-understand topics easier, from the difference between collision insurance and comprehensive insurance to how your driving record influences your rates.
Everything is here. After reading this guide, you'll be able to make an informed decision on the car insurance that is right for you.
Ready?
Here is the comprehensive car insurance guide for the Pine Tree State.
Want to start comparing rates? Try our FREE online tool!
What are Maine car insurance coverage and rates?
50,000 – 70,000.
No, that's not the number of crabs eaten in Maine. It's not the number of tourists that visit Eastport.
It's this:
Moose.
Now, imagine this.
You're driving during the day down a winding mountain road. As you round a bend, you notice the sign, very briefly: Moose crossing. Suddenly, it's there, in the center of the road, weighing 1200 pounds and staring down your car. You slam on the brakes.
Unfortunately, this is not a rare occurrence.
The Maine Department of Transportation showed that there were 287 car-moose crashes in 2017.
So, what happens if you or a family member hit a moose?
What are the different kinds of insurance that protect you in these incidents?
What are there rates?
That's what this section is all about.
Compare Quotes From Top Companies and Save
Secured with SHA-256 Encryption
What is Maine's car culture?
22 minutes. 83 percent. $250 and 90 days.
Maine has a history with vehicles. For instance:
In 1901, Alvin Lombard patented a steam log hauler, which would be used as a model for the World War I-era tanks
But for a modern look at car culture, statistics help. And what are those numbers above?
22 minutes — The average commute time for people in Maine, the second-lowest in the nation
83 percent — The percentage of fatal crashes that happen on Maine's rural roads. There are only a few states that have this kind of discrepancy. Maine's rural roads present unique difficulties, including, as seen, moose.
$250 and 90 days — The fine and license suspension for texting while driving. It's a serious issue, with the National Traffic Highway Safety Association found that that distracted driving led to 3,166 deaths in 2017. Maine takes the issue seriously.
Certain factors that are outside your control—commute time, fatal crashes, people breaking the law for instance—may impact your insurance rates.
Where you live, what sex you are, what insurance (or lack thereof) the person that hit you has, do as well. There are numerous factors.
The following sections cover these. Let's start with Maine's minimum coverage.
What are Maine's minimum coverage requirements?
Minimum coverage is just that: The least amount of coverage you can have to legally drive in your state.
Minimum coverage is generally aimed at other vehicles and occupants, such as the damage you cause to their vehicle or to them (in the form of injuries/medical payments coverage). This is called:
Liability insurance.
However, Maine requires two more forms of insurance: Uninsured Motorist Coverage and Med Pay.
The liability looks like this:
$50,000 to pay for the injuries for one person
$100,000 to pay for the injuries of more than one person
$25,000 to pay for property damage
Here are some examples of what would be covered with liability insurance: Car repairs for the car you hit, any medical bills from injuries to the occupants of the other car, repairs to the property that was damaged in the accident, such as a light pole.
Liability insurance kicks in if you're considered at-fault in an accident.
There are different levels of minimum coverage required for commercial drivers.
There are penalties for not having insurance. If you're pulled over for a traffic violation and don't have proof of insurance, a police officer can cite you as driving without insurance. The penalty is between $100 and $500.
If you're in an accident and don't have minimum insurance, the penalties are severe:
Jail time up to six months
A fine between $100 and $500
Possible suspension of driver's license and vehicle registration
If you're worried about not having proof when you've had an accident or been pulled over, Maine is one of 48 states that allow drivers to use electronic proof of insurance.
Remember: The amounts covered by liability insurance are the set limits.
If the damages to the car and occupants exceed those limits, you'll pay out of pocket.
What are acceptable forms of financial responsibility?
Naturally, the government wants to make sure you have insurance. This is where the forms of financial responsibility come in.
A form of financial responsibility can be as simple as a paper insurance card, an electronic proof of insurance, or a certificate of insurance. If you're stopped for a traffic violation and can't show proof of insurance, the penalties are spelled out here:
A fine between $100 and $500
Possible suspension of driver's license and vehicle registration
Possible suspension of the right to apply for a new driver's license or vehicle registration
Fortunately, it is possible to have this infraction dismissed:
A person served with a Violations Summons and Complaint charging a violation of this section may have the complaint dismissed if that person shows satisfactory evidence of liability insurance or financial responsibility that was in effect at the time of the alleged violation.
And, if you answer the violations summons in a timely manner and show proof of insurance at the time of the incident, it must be dismissed.
Finally, when it comes the electronic proof of insurance, some citizen advocates have expressed concern that officers might search someone's phone. Fortunately, Maine does not allow that:
The use of a portable electronic device to provide evidence of liability insurance or financial responsibility in electronic form does not constitute consent for a law enforcement officer to access other contents of the electronic device.
So, always keep proof of insurance handy. Even if the infraction gets dismissed, it's still a hassle.
Compare Quotes From Top Companies and Save
Secured with SHA-256 Encryption
How much are premiums as a percentage of income?
Have you ever wondered how much you were paying for premiums compared to other, neighboring states? Here is your answer.
To do this, we look at premiums as a percentage of income: Essentially, what percentage of your disposable income is going to car insurance premiums.
Here are the Maine statistics:
For 2012-2014, the average premium rose slightly for each year, while the average income dipped slightly from 2012-2013 then rose a good bit between 2013-2014. The premium percentage of income remained fairly steady.
For 2014, Mainers averaged around $37,000 of disposable income, which is your net pay after local, state, and federal taxes. With the average Mainer premium being around $690, the premium percentage of income was 1.86 percent, which isn't bad.
How about for the neighboring states?
Residents in all three states pay a higher average premium, with Massachusetts coming in at around $1,100 per premium. However, disposable income was higher in all three states. This means, that although residents in Vermont and New Hampshire have higher premiums, their premium percentage of income is lower.
Maine residents pay less per premium, but more of their disposable income.
Nationwide, the average premium as a percentage of income is:
2014: 2.37 percent
2013: 2.39 percent
2012: 2.23 percent
In the end, Mainers pay a lower percentage of their disposable income compared to the average.
What are the average monthly car insurance rates in ME (liability, collision, comprehensive)?
The data below comes from the National Association of Insurance Commissioners (NAIC), a leading source in this subject matter:
Your average monthly car insurance rates by coverage may be cheaper than expected for additional coverage like comprehensive. Review rates for car insurance coverage below:
Core coverage is cheaper, significantly, in Maine than the countrywide average. It also protects against damage to your own vehicle from an accident (collision coverage), damage from acts of god (comprehensive coverage), as well as the general liability insurance.
Having it is the difference between an inconvenient incident and major financial losses.
The average car insurance for full coverage in Maine will typically be higher for drivers who got a citation for a traffic violation, have received a DUI or have been involved in an at-fault accident. Just one auto insurance accident on your driving record may increase auto insurance rates significantly. DUI can also raise your premiums by 75% on average when compared to standard full coverage policies.
What additional coverage options are available?
There are two forms of insurance beyond liability that Maine requires: Med Pay and Uninsured/Underinsured Motorist Coverage.
Med Pay pays for your medical bills after an accident, as well as any passengers with you
Uninsured/Underinsured Motorist coverage insures you if the at-fault driver doesn't have insurance or has less than the minimum coverage
What are loss ratios?
A loss ratio is the percentage of claims paid to the premiums earned.
When looking at loss ratios, we shoot for a ratio between 60 and 80 percent (.6 – .8). Any ratio higher than 1 suggest the company is losing money. Any ratio lower than .5 suggests the company might not be paying claims or may have overpriced their policies.
Here are the loss ratios for Med Pay and Uninsured/Underinsured Motorist in Maine:
The Med Pay loss ratios are solid; however, the UI/UIM loss ratios are hovering around 50 percent.
There may be an explanation for this, however.
Maine is ranked dead last in percentage of motorists who are uninsured/underinsured at 4.5 percent.
This, combined with Maine's requirement to have the insurance, may result in a lower loss ratio, as more premiums are coming in but there are fewer claims.
Compare Quotes From Top Companies and Save
Secured with SHA-256 Encryption
What add-ons, endorsements, and riders are available?
Ever gotten a flat tire and needed help fixing it? Your engine blew out and you need a tow? Need reimbursement for that rental car while your car was in the shop?
Fortunately, insurance companies have a good amount of add-ons to your insurance plan. They include:
Guaranteed Auto Protection (GAP)
Personal Umbrella Policy (PUP)
Rental Reimbursement
Emergency Roadside Assistance
Mechanical Breakdown Insurance
Non-Owner Car Insurance
Modified Car Insurance Coverage
Pay-As-You-Drive or Usage-Based Insurance
For a more detailed look at add-ons, read this article.
What are average monthly car insurance rates by age & gender in ME?
There are a number of factors that influence insurance rates. One is being male or female:
In Maine, females average lower premiums than males at the same age. Also, the older you get, the more your premiums drop. The assumption is that you're more experienced and less likely to take risks as you get older.
Here's a look at the premiums ranked by most expensive first:
The first 11 are for 17-year-olds, and they are all $4,500 or higher.
The use of gender for calculating insurance rates is a controversial topic, with the state of California becoming the seventh state to outlaw this practice. Males, some analysts say, will be the positive recipients of the ban, as insurance premiums will meet towards the middle.
Where are the cheapest rates by ZIP code?
Zip code is another factor that affects your car insurance rate. Here, we've compiled a list for you where you can search for the average premium in your zip code:
How does ZIP code affect auto insurance? Factors like traffic, crime, and claim frequency in your area all matter. Find out how your ZIP code compares against other zips in ME.
Compare Quotes From Top Companies and Save
Secured with SHA-256 Encryption
Where are the cheapest rates by city?
The average cost of minimum car insurance in Maine is $445, however you can get cheaper rates if you meet certain requirements such as being an active service member or a veteran.
Next, a list of average insurance rates according to the city:
There is a $382 divide between the premiums in the most expensive city and the least.
The top goes to Surry at $2,786. The bottom? Fort Fairfield at $2,404.
There isn't a large difference between the most expensive city versus the least expensive, which is good as in most states there's a much larger gap.
That closes the section on Maine's car insurance coverage and rates. Need a breath?
Good, take it.
Because the next section has what every car insurance shopper needs: A close look—a demystifying—of those that govern this car insurance world.
Who are we talking about?
The car insurance companies.
Which are the best car insurance companies?
You know them by their ads: Flo for Progressive, the talking Gecko for Geico, the Houston Rockets star duo of Chris Paul & James Harden for State Farm. The ads are funny, and that's what you remember.
But how much do we know about Progressive, Geico, State Farm, and other major car insurance companies?
That's where this section comes in. Here you'll find financial ratings, J.D. Power ratings, their histories with complaints, and how their rates stack up compared to the rest, how their rates factor in regards to driver credit history, commute distance, coverage level rates, and more.
Because like a good neighbor…
Well, we're there. Anyway.
The Largest Companies' Financial Ratings
You know the situation: Your good-for-nothing brother has come up out of the woodwork and has a new brilliant idea (it's #134 but who's counting).
He wants some money, just $5,000 he tells you—he'll pay you back when he hits it big. But in your mind, you know: He's asked this many (133) times already.
You do an assessment: His spending habits, his repayment of loans, how many creditors he already owes, does he have a stream of income?
Essentially: Will he pay you back?
Just like that good-for-nothing brother, companies have financial ratings too, dolled out by credit research firms.
The one we are using here is AM Best, a global firm that assesses companies on everything from credit rating to overall financial rating. Here, we have the latter.
If you want a guide for their ratings, click here.
All 10 are ranked A or higher, with six at A++.
Which companies have the best ratings?
Here is J.D. Power's list for customer satisfaction for the New England Region, with all but one of our top 10 companies in there: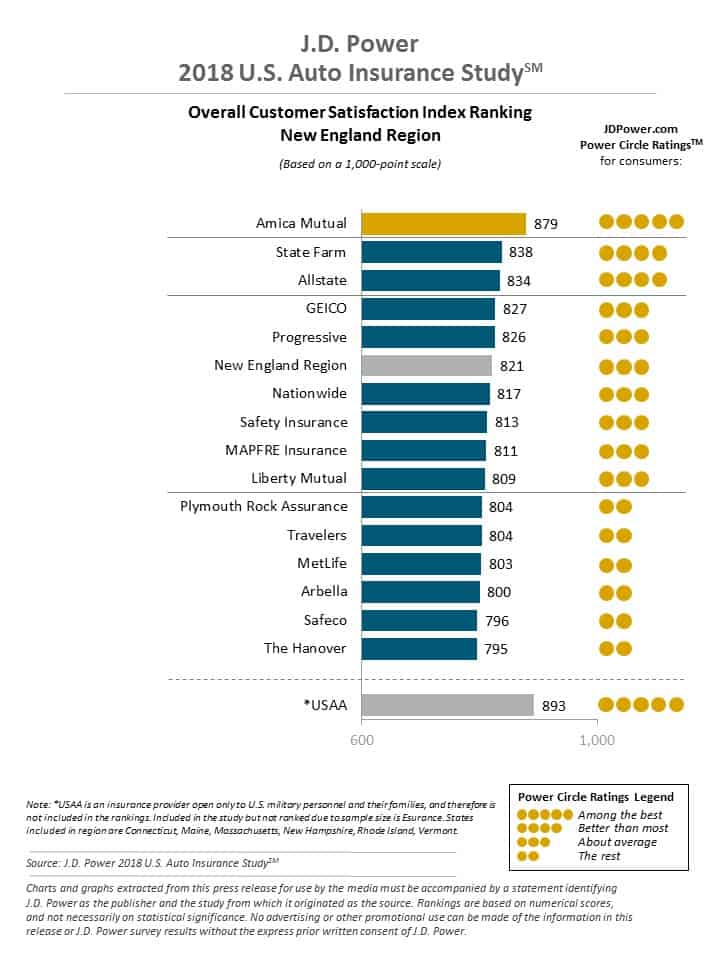 The missing company—Auto-Owners Group—may not have had a large enough presence in New England for the J.D. Power survey, or their customers were not satisfied enough to get them on this top list.
Who is the cheapest car insurance company in ME? Review the average auto insurance rates by company below:
It is interesting that in its release accompanying the study, J.D. Power revealed that customer satisfaction with auto insurance companies is at an all-time high.
Driving this?
The increase in electronic channels to handle issues like paying bills, getting receipts, and ordering new cards.
Compare Quotes From Top Companies and Save
Secured with SHA-256 Encryption
Which companies have the most complaints in Maine?
Sure, you've filed a complaint. Somewhere, at some time, for something, right? And you certainly thought that complaint mattered.
It's true: Your complaint (and all complaints) matter.
But how much do they matter? That's where some fancy math and a ratio called the complaint index come in.
Here, we have a chart with all the major insurance companies in Maine. We have the number of complaints to the far right, and then two columns: 2017 complaint index and 2018 complaint index.
State Farm and Progressive have the highest 2018 complaint totals but neither has the highest complaint index. That is because the complaint index is:
A ratio between the number of complaints a company has and the numbers of customers they serve in the state.
State Farm and Progressive beat Hanover because both companies do more business than Hanover does.
Which are the cheapest companies in Maine?
Here is a chart with the annual averages for ten leading companies:
Geico and USAA are the lowest, while Liberty Mutual and Progressive are the highest.
How much are commute rates by companies?
The distance you commute matters when it comes to (most) car insurance rates. Here is a list of rates based off commute length, starting with the most expensive.
Take a look at these 6 major factors affecting auto insurance rates in STATE NAME.
Scroll through to see more.
As in the earlier chart, Geico and USAA are the lowest, while Liberty Mutual and Progressive are the highest. However, some companies (Progressive, Farmers, and Allstate) don't raise or lower rates depending on commute.
Compare Quotes From Top Companies and Save
Secured with SHA-256 Encryption
What are coverage level rates by companies?
Most expensive: Liberty Mutual, Progressive
Mid-Level: State Farm, Travelers
Least expensive: Geico, USAA
Liberty Mutual's high coverage plan is almost $3,000 more than Geico and USAA's high coverage plans. Also, Geico's and USAA's medium and low coverage plans have prices too low for this list.
What are credit history rates by companies?
Credit histories also have an impact on your car insurance rate. With a 689 Vantage Score, Mainers are above the national credit score average, with around $5,800 credit card debt per card. Here's a look at how credit histories impact car insurance rates:
Credit histories can vary, but generally, they include how much debt you have, the interest rates on that debt, if you've missed payments, and so forth.
Insurance companies take all this data and—through a process called underwriting—determine your risk for a plan.
If you have a good credit history, you'll save hundreds, if not thousands (see: Liberty Mutual) of dollars than if you have a bad credit history.
If you have a bad credit history don't fear. There are ways to get out.
What are driving record rates by companies?
A company also looks at your driving record to determine your rates. Take a look:
A DUI, speeding citation, or accident can increase rates by hundreds of dollars, sometimes by thousands. It's interesting to note that a rate with a clean record from Liberty Mutual is still more expensive than 24 other scenarios, including some with DUIs.
For those that want to take advantage of their clean driving record:
Insurance companies often offer Good Driver plans. It's on a scale:
The more tickets and accidents you have, the more your premium goes up. Ditto for the opposite.
Compare Quotes From Top Companies and Save
Secured with SHA-256 Encryption
What are the largest insurance companies in Maine?
Who are the largest auto insurance companies in ME?
The competition is fairly balanced in Maine compared to other states. Here, just three companies—State Farm, Progressive, and Geico—have more than 10 percent of the market.
The top companies in the J.D. Power satisfaction survey are at the top here, with Hanover the lowest in both.
Number of Insurers in Maine
Maine has 705 insurers, nine domestic, and 696 foreign. What is the difference?
Domestic and foreign generally apply to national borders; in this case, they apply to state borders.
A domestic insurer is an insurance company that was formed under Maine's laws. Whereas, a foreign insurer has been formed under any other state's laws. This includes chain insurance companies that do business in multiple states.
For the purposes of the insurance, the designation makes no difference.
Just make sure you have the minimum coverage that meets Maine's minimum legal requirements.
What state laws should you know?
Does this sound familiar?
You're driving down the highway, window down, the breeze going through your hair. As you're driving you pass two signs very suddenly: One of a sign saying you're approaching a city; the other is the speed limit.
You can't make it out.
One mile later, a cop is waiting with a radar. You brake suddenly but still: The blue lights come on.
State laws are confusing. There is a myriad of laws to govern even basic bureaucratic processes, like renewing your driver's license.
Here at carinsurance.org, we've got you covered.
This section boils down the state laws in an easy-to-understand way. High-risk insurance? Teen driver laws? Fault vs. No-Fault?
Bear with us, the next 23 sections are comprehensive. But they'll contain all you need to navigate the insurance laws, vehicle licensing laws, rules of the road, and safety laws.
You'll be well-informed at the end.
And (hopefully), you can say goodbye to more tickets.
Car insurance laws are tricky. Many states have regulations in place to limit the latitude insurance companies have when forming rates. But there are other components as well:
Windshield coverage, low-cost insurance, fraud, and more.
Read on for your education. We promise: The secrets of sausage-making are kept to a minimum.
How the Government Regulates Insurance
It may give you a sense of comfort to know that it's not just insurance companies influencing the rates. The state governments play a role as well.
In the State Laws section of their Auto Insurance Database Report, the NAIC list the seven mechanisms state governments use to control insurance rates. Just three of them are:
Determined by insurance commissioner: Rates are set by the state's insurance commissioner
Prior approval: The state's insurance department needs to approve rates before they can be used
Flex rating: Insurance rates above (or below) a certain percentage must be specifically approved
Many states use different systems: Some may use a prior approval system, while others may use a file and use system (where insurance companies just need to file the rate forms 30 days after implementation, no prior approval needed).
Maine has a specific deemer provision: A form is approved if it is not denied in a set number of days
Read more about the deemer provision in Statute 2412A.
For now, we move to those pesky cracked windshields.
Windshield Coverage
In Maine, it is illegal to drive with a cracked or broken windshield under the following circumstances:
If the crack obscures the driver's view of the road
If the crack is greater than six inches
It is also illegal to drive with a windshield that has been repaired and that repair obstructs the view of the driver, or is greater than one inch.
Those repairs can be done with minimal governmental regulation: Essentially, in Maine, you can choose if you want OEM (original equipment manufacturer) parts or aftermarket parts.
You can also choose the shop it gets repaired in.
However: The insurance company may only pay for what they think is necessary (certain parts or rates from a preferred shop).
You are on the hook for the rest.
High-Risk Insurance
Sometimes a person makes a mistake and incurs a high-level infraction on their driving record. The person will be labeled as a high-risk driver, and the government often will require them to have an SR-22 (Certificate of Insurance).
Infractions that cause this?
A DUI conviction for driving with a blood-alcohol level of .08
Failing to provide proof of insurance during a traffic stop or accident
Driving with a suspended or revoked license
Among others.
To apply for an SR-22, you need to contact your insurance company and request it.
An insurance company will view those who apply for an SR-22 as high-risk and generally charge higher rates. It's important to note that an SR-22 in some cases can be avoided:
If the person attends driver safety school and receives a reduction in marks on their driving record.
If you can't get insurance through the voluntary market, you may be eligible for the Maine Auto Insurance Plan (AIP): It's a plan for high-risk drivers.
Low-Cost Insurance
Now, to the other side: How low can you go?
Maine does not have any specific low-cost insurance, but there are ways you can lower your rates through your insurance company:
Good student
Safety device
Anti-theft device
Low mileage
Multiple vehicles
Multiple policies (auto and home)
Driver education
These options can save you hundreds of dollars. Talk to your insurance agent or research before signing up for a plan.
Automobile Insurance Fraud in Maine
While Maine does not have an insurance fraud bureau, they have taken steps to curb insurance fraud by:
Classifying insurance fraud as a crime
Granting immunity to whistleblowers who expose fraud
Requiring insurance companies to have a fraud insurance plan
In Statute 2126, the Maine government outlines what it considers fraud and processes for reporting fraud. One interesting note is that companies/drivers/whistleblowers have until March 1 to report fraud that happened in the previous calendar year.
That's quite some time.
And for good reason. It is estimated that property/casualty fraud costs insurance companies $30 billion per year. Fraud occurs in different ways. Some of the most common are:
Padding actual claims to inflate costs
Misrepresenting facts or the "what happened" on insurance claims
False claims for damage or services that never occurred
Staging accidents
premium avoidance or application fraud
In Maine, deceptive insurance practices (fraud) are classified as Class D crimes, which carry up to 364 days in jail and a $2,000 fine.
Statute of Limitations
The statute of limitations has more to it than prosecuting a suspect for a crime; it also dictates how much time you have to file an insurance claim, to get the money you're owed. Maine is lenient on this:
All civil actions shall be commenced within 6 years after the cause of action accrues and not afterwards, except actions on a judgment or decree of any court of record of the United States…
Essentially, you have six years to file a claim. If the claim is in court after the six years, that's fine.
That goes for both personal injury and property damage liability claims.
Keep in mind: The clock starts on the day of your accident.
You don't want to miss out on money owed to you.
Large Animal Crash Study Group
There aren't any specific laws or programs aimed at stopping people from hitting moose, but the Maine Department of Transportation came up with a group to reduce the hundreds of crashes into large animals each year.
They even created a brochure. Some of the highlights are:
From dusk to dawn (most deer and moose are active at dusk and dawn, and they travel often at night)
The moose standoff (tips for when you and a moose meet on the road)
What to do if a crash is unavoidable (driving tips)
While overall crashes with moose have gone down over the past few years, it is still an issue. Be safe out there.
What are the vehicle licensing laws?
For decades, states in the USA have relied on basic information for identification. Driver's licenses for a long time were just pieces of plastic with information and a picture on them. But, we've come a long way.
In 2005, as a result of 9/11 and the prospect of terrorism, Congress passed the REAL ID Act that required states to have identification with increased security measures, including common machine-readable technology and certain anti-fraud security features.
It was slowly implemented until the Department of Homeland Security announced an Enforcement Plan in 2013.
The question is:
Has Maine complied?
The answer is yes, or sort of: In early April 2019, the Maine BMV (Bureau of Motor Vehicles) released Maine's new ID, which everyone needs to comply with when their renewal date is up.
So what does the REAL ID do?
For one, they make it easier for U.S. citizens to cross the border. This is due to an RFID chip that contains biometric and biographic data that a border patrol officer can read.
And by October 1, 2020: Every person will need a REAL ID-complaint driver's license or another acceptable form of identification to fly within the United States.
Mainers, however, have not been pleased with REAL ID. Maine is still labeled as "granted extension" by the DHS; as in, not compliant but making progress.
And in 2007, Maine passed a law prohibiting licenses to be made REAL ID-compliant.
So, what do you need to do?
If you want to beat the rush (the deadline is October 1, 2020), you can head down to your local BMV headquarters and request one. You'll need all the documents you'd need for a regular license:
One document that establishes identity, date of birth, and lawful status
One document that establishes proof of social security number
Two documents that establish residency in Maine
You'll have your photo taken, pay the fees, and be good to go.
Penalties for Driving Without Insurance
Maine requires all drivers to have insurance. There are stiff penalties for not having it:
A fine between $100 and $500 and a suspension of license and registration until proof of insurance is shown
Remember: the penalty is much more severe if you've had an accident and failed to show proof. In addition to the fine and the suspension, you'll face jail time up to six months and forced to get an SR-22 before your license and registration are reinstated.
That'll force you to have insurance and pay more for it than if you got it in the first place.
Teen Driver Laws
Teenagers in Maine can apply for a learner's license (also known as a learner's permit) at 15 years old.
After teenagers have gone through the 70 hours of supervised driving (10 at night), they can apply for a driver's license, if they are 16 and have completed the mandatory holding period.
When a driver gets a restricted license, these rules are in place:
If you're a parent unsure about how to teach your teenager driving, Maine has The Parents Supervised Teen Driving Program.
It has an app that allows you to log trips, mileage, and duration, and its website has resources for driving in different environments, weather, among others.
Also, students who take a driver's education course and follow these tips could receive reduced car insurance rates.
Now, to the other side of the bracket: Older drivers.
Older Driver License Renewal Procedures
20.6 percent of Maine's population is considered elderly—65 years of age or older. This can present problems for drivers, as, while most elderly people are safe, the elderly have physical and cognitive challenges.
Older drivers (aged 65 and up) have to renew their licenses every four years. There are other rules for drivers 62 and above:
Proof of adequate vision at every renewal
Mail or online renewal not permitted
In some circumstances, the BMV will place an elderly person on a restricted license. Some restrictions include:
Requiring glasses or corrective contacts to be worn at certain times
Restricting driving to between sunrise and sunset
Restricting driving to a geographical area
However, the elderly are more likely to wear seat belts and engage in reckless driving less than their counterparts. This, at least insurance companies believe, makes them safer drivers overall, hence their low auto insurance premiums.
New Residents
So, you've moved to Maine. You've seen the moose, driven up the coast, tried the crabs. But now, you need to deal with the government.
New residents take note: When you move to Maine, you have 30 days to register your vehicle, according to Statute 351. Fortunately, registering is easy.
Take your title to your local government office
Present your out-of-state registration and insurance card
Pay fees.
You must also get a new driver's license within 30 days. This requires:
Providing proof of legal presence and residency
Completing a vision screening
Turning in your out-of-state license
Paying fees
Remember, when it comes to car insurance, you need to get at least the minimum liability coverage 50/100/25, along with uninsured/underinsured motorist and Med Pay. You can contact your insurance company for updated rates.
License Renewal Procedures
For the general population, the rules for license renewals are as follows:
License renewal: Every six years
Proof of Adequate Vision: First renewal after 40, and every other renewal after that
Mail or online renewal: Permitted, unless proof of adequate vision is needed
These rules are for adults up to age 65 who have their unrestricted license.
Negligent Operator Treatment System
In Maine, the term driving to endanger (similar to reckless driving) describes a situation where a person is driving in a way that endangers a person or property and is criminally negligent (has a disregard for the consequences) in doing so.
It's a serious crime.
But what is the cost?
It's steep.
There's another angle as well. If you're charged with an OUI (operating under the influence), it's possible to plead it down to driving to endanger charge, which is then sometimes called a wet reckless.
Aside from driving to endanger, there are numerous instances where a license might be suspended or revoked due to negligence and poor judgment. For a detailed list, visit this resource from the Maine legislature.
Compare Quotes From Top Companies and Save
Secured with SHA-256 Encryption
What are the rules of the road?
You've got information about the insurance coverages, the companies, even the initial state laws.
It's a lot sure. This guide is comprehensive.
Take a breath if you need one. You'll want to be refreshed. Because now we're getting to the life-saving information.
We mean that literally.
From seat belt laws to automation on the road, here are the rules of the road.
Fault vs. No-Fault
Maine is an at-fault state, meaning that the person who caused the accident is responsible for all damages and medical costs.
This concept has to do with a legal term called liability.
Liability is a duty or obligation, a stipulation that you owe something, monetary or otherwise. It means that you're responsible—in a legal sense—for damage to the other person's car, their injuries, and any other property damage that might have resulted.
Because legally you are on the hook, if you can't pay up, there are consequences.
To prevent these situations, Maine requires, you guessed it, minimum insurance. And fortunately, if you don't have insurance, the other person should have uninsured/underinsured motorist insurance, preventing a complete financial calamity.
Seat Belt and Car Seat Laws
Maine, like all the other states, has a seat belt law designed to improve car occupant safety. And there's a reason why:
The percentage of occupants wearing seat belts in Maine is less than the national average, and the rates of death are higher.
This is a major national problem as the National Highway Safety Traffic Association shows that of the more than 37,000 people who died in car accidents in 2017, 47 percent of them were not wearing seat belts. Here are the laws for Maine:
As this resource shows, Maine's seat belt adherence has risen significantly since 2007, but there's a lot of work to do.
Here are the restrictions for toddlers, children, pre-teens, and teenagers:
Car seats and safety restraints can reduce the mortality risk of infants and young children by 50 percent to 70 percent when used properly. And with car crashes leading to injuries for 120,000 children each year, these rules can help.
You must be 19 years old or older to ride in the bed of a pick-up truck, with the following exceptions:
You're an agricultural worker or trainee
You're a licensed hunter being transported to or from a hunting location
You are participating in a parade
You are a camper or hiker being transported in Baxter State Park
The cost of breaking these laws?
Fines of $50, $125, and $250 for the first through third offenses.
Keep Right and Move Over Laws
Maine's Keep Right law is simple: The left lane is only for passing and turning.
For over-65 speed limits, the legislature goes into more detail (legalese omitted):
An operator driving … with a speed limit of 65 or more miles per hour is restricted … to the right-hand lane and may use adjacent lanes for overtaking and passing … but must return to the right-hand lane at the earliest opportunity.
When it comes to moving over, the Maine police department put together this nice video:
When it's safe to do so, always move over for:
Law enforcement
Firefighters
Ambulances
Utility workers
Tow-truck drivers
Drivers with hazard lights on
It's the law and can save lives as well.
Speed Limits
Receiving a citation for speeding can raise your insurance rates, often by hundreds of dollars. Here are the speed limits for Maine. Keep in mind: They are the maximum speed limits and can vary according to town and road to road.
Ridesharing
Uber, Lyft, and other ride-sharing companies are popular due to their ease of use, for both customers and workers. Unfortunately, what doesn't get discussed (for workers) is the liability: What happens when you get in an accident, for your car and yourself.
In many cases, you might be covered under your normal insurance plan.
But sometimes not.
Many people in the field will recommend extra ride-sharing insurance—just in case the fine print in yours doesn't cover liability or damages.
In the case of Maine, there are just three options:
State Farm: Where you'll be on your deductible for all phases of work
Geico: Where you can switch from company to company with no problem
Progressive: Through its Transportation Network Company endorsement
As always, check with your insurance agent before signing up and driving. It may save you some trouble, in the event that there is an accident.
Automation on the Road
As of now, Maine is still in the testing phase with autonomous vehicles. One thing is for certain: They will need to have liability insurance.
What are the safety laws?
OUI Laws
OUI (operating under the influence) claimed 50 lives in 2017 in Maine, which amounted to almost 30 percent of all car crash fatalities.
Further, 26 percent of all car crash fatalities for those under 21 were classified as having alcohol-impaired driving.
This is higher than the national average.
Here are the stipulations to be arrested for an OUI:
The crime classifications:
First/second offenses: Class D crime (misdemeanor)
Third or any subsequent (within 10 years): Class C crime (felony)
A breakdown of the penalties:
Here are two things to remember:
Maine has a Zero Tolerance Law for those under 21. Anyone pulled over under 21 that has a breathalyzer show they even have a fraction of alcohol in their system loses their license for one year. Anyone who refuses the breathalyzer gets 18 months. Also:
Maine also has an Implied Consent Law.
What does this mean?
Essentially, as the Maine government wants to remind you:
It is important for Maine drivers to remember that a driver's license is not a right guaranteed under our Constitution. It is a privilege that is administratively issued and can be withdrawn by the State.
Anyone who gets a driver's license is legally consenting to be tested—blood, breath, or urine. This goes for breathalyzers. If you refuse a test and are found guilty, the punishment will most likely be steeper.
Marijuana-Impaired Driving Laws
Now, when it comes to marijuana.
At this time, there are no specific laws regarding marijuana and driving. Given recent events, it's possible that, like Colorado, specific laws for marijuana use and driving will be drawn up.
What are the distracted driving laws?
Distracted driving signifies any activity that takes our attention away from the road. This can be fooling around with the radio, doing make-up, searching for something beneath the seats. And, of course, it signifies text messaging.
As the National Highway Traffic Safety Administration writes:
Using a cell phone while driving creates enormous potential for deaths and injuries on U.S. roads. In 2017 alone, 3,166 people were killed in motor vehicle crashes involving distracted drivers.
So what are the laws in Maine for cell phones and drivers?
Texting is banned for all drivers and there's an all-cellphone ban for anyone with a learner's permit or intermediate license.
*However, it was until this past month (June 2019) that drivers were allowed to use handheld electronic devices while driving. As of June 28th, that is no more, as Governor Janet Hill signed a bill prohibiting all handheld electronic device usage for drivers.
This handheld ban applies for even when a car isn't moving.
Such as when stopped at a light or in traffic.
The law goes into effect on September 19.
For more details on the technology that leads to distracted drivers, click here.
Compare Quotes From Top Companies and Save
Secured with SHA-256 Encryption
How bad is vehicle theft in Maine?
The final chapter, end-game boss. What you need to know about:
Vehicle theft, fatalities, commute, times, and more.
Ready player one?
In every state, there are some vehicles stolen than others.
The FBI has organized 2016 theft statistics by town:
Both where you live and what you drive play a role. If you're concerned about someone stealing your vehicle, here are some safety tips:
How many road fatalities occur in Maine?
There are many factors that influence road fatalities, from what county in which you live to reckless driving and speeding, and, yes, even the time it takes for emergency medical services to get to you and get you to a hospital.
Of these, we've chosen ten major ones to share with you, starting with one we all know.
Fatal Crashes by Weather and Light Conditions
Weather and light conditions play a role:
Nearly half—74—of crashes occurred when visibility was hampered, although fewer people drive during those times.
Fatalities by County
Where you live is also a factor:
Are there a lot of traffic fatalities in the state?
Here, rural and urban vehicle fatalities are contrasted.
Maine is one of only a handful of states with this large of a discrepancy. There are a few reasons for that:
First, most of Maine is rural, with Maine having one of the lowest population densities in the country
Second, EMS response times in rural areas are generally slower, which can lead to more fatalities
Third, rural roads present some of the more dangerous in Maine, with drives through the mountains, forests, and along the coast
Fatalities by Person Type
Person type is a little bit of a misnomer. When we hear that, we think of demographics. In this case, person type means what kind of vehicle were you in or what was your role (pedestrian, bicyclist, etc.).
Almost entirely, deaths are rising across the board. The two biggest jumps from 2013 – 2017?
Motorcyclists, whose deaths jumped nearly 100 percent.
And, pedestrians, who went from 11 deaths in 2013 to 20 in 2017.
Fatalities by Crash Type
Next, a chart of vehicle fatalities organized by contextual elements:
Five-Year Trend for the Top 10 Counties
Here, a look at the top 10 counties with the highest fatalities:
Of the top 3 for 2017, Cumberland and York are the top 2 most populous counties in Maine, each with over 200,000 people.
Kennebec has about 120,000 people living in it, and also the capital of the state: Augusta.
Fatalities Involving Speeding By County
Speeding always plays a role in traffic fatalities:
Fatalities in Crashes Involving an Alcohol-Impaired Driver
Here are fatal crashes with a driver having over .08 BAC:
Teen Drinking and Driving
And teen drinking and driving:
A sobering statistic: Overall, in 2017, youth (under-21) in Maine had a much higher alcohol fatality rate compared to the youth in the rest of the country.
And while most of the nation is trending down with youth alcohol-impaired driving fatalities, Maine is trending up.
EMS Response Time
Both times are under an hour total, which is good, but rural response times take an average of 21 minutes longer than urban. It makes sense given the geography of Maine and the natural challenges of rural EMS, which include:
Long distances in-between hospitals
A sometimes difficult communication network
Lack of support or overreliance on volunteers
Fewer doctors in rural settings
These all contribute to fatalities, making Maine's rural fatalities toll rise further.
Compare Quotes From Top Companies and Save
Secured with SHA-256 Encryption
What is transportation like?
Transportation is important. To work, from work, to the gym, to the cake shop, getting around is crucial, especially in Maine as most of the state is rural. Here's a look at transportation in Maine.
Car Ownership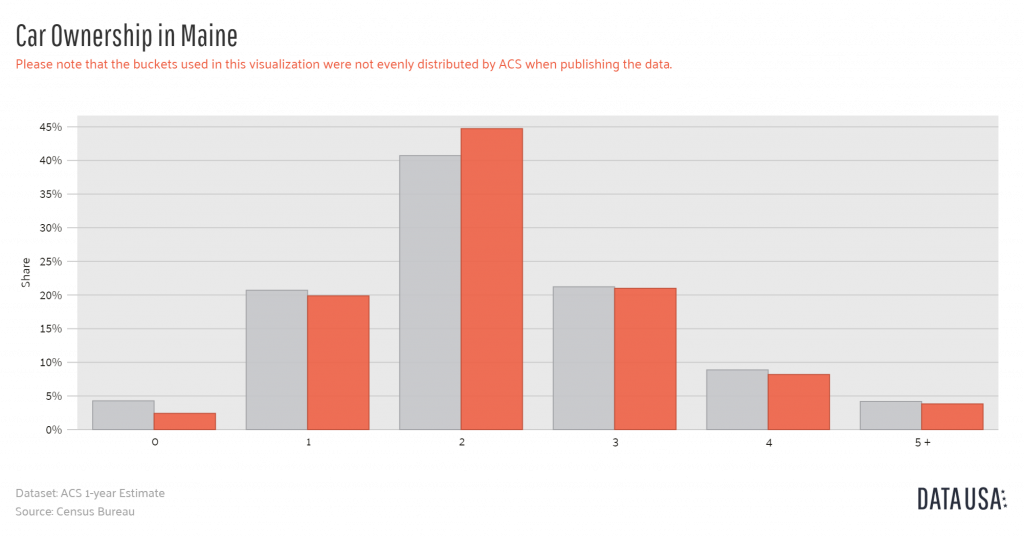 Mainers have an average of two cars per household, with three cars per household coming in second. Almost all Mainer households (more than 95 percent) have a car period.
Commute Time
Good news: Commutes in main are 22.6 minutes, which is considerably shorter than the average American commute (25.5 minutes) and the second lowest in the country. As for neighboring states, Maine beats New Hampshire by a clear margin.
However, 1.9 percent have super commutes, with each person taking over 90 minutes to get to work.
Here's the graph, with the percentage of people on the right and total commute time on the bottom.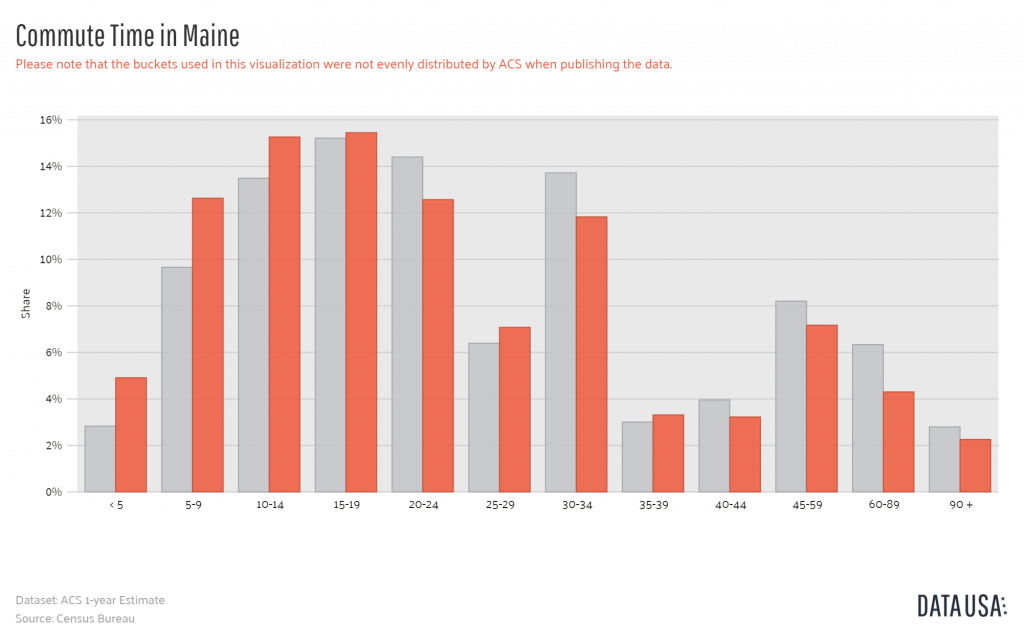 Commuter Transportation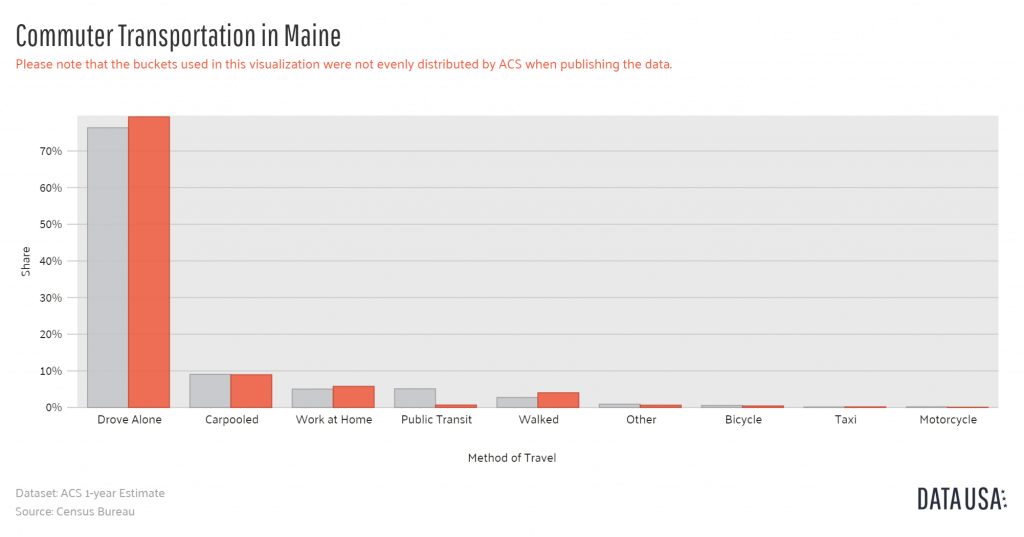 The quick stats:
78.6 percent of people drove alone to work
9.37 percent carpooled
5.92 percent worked from home
The two big discrepancies between Maine and the rest of the country? A higher percentage of Mainers walked to work, while a higher percentage of general Americans took public transport.
Traffic Congestion in Maine
Traffic congestion can cause long wait times, missed meetings, and bad tempers. Fortunately, congestion in Maine isn't all that bad (compared to the rest of the country).
A quick search of the major traffic congestion rating sites (Numbeo, TomTom, INRIX) revealed no Maine towns.
That is certainly good news.
Alright! You're all set. You have all the tools to make an informed decision about car insurance. Clear eyes, full hearts. Happy driving.
Ready to compare rates? Try our FREE online tool!