New York Car Insurance Guide (Cheap Rates + Best Companies)
Free Car Insurance Comparison
Compare Quotes From Top Companies and Save
Secured with SHA-256 Encryption

Like in most states, insurance in New York is a must. One thing that might surprise you though is the average rate quote for car insurance in New York and all of the factors that go into determining that rate.
With so many car insurance options, you can feel a little confused and wonder where to turn. What's the cheapest car insurance in NY? Which company offers the most coverage? Are rates different in New York City compared to upstate New York?
We made this car insurance guide to answer those and many other auto insurance-related questions. Among the information it offers is New York car insurance rates, companies, the factors that set prices, laws, and traffic statistics.
If you're ready to dive in, let's get started. Looking to buy New York car insurance? If you want to start exploring NY car insurance quotes, enter your ZIP to get free quotes from New York car insurance companies.
How much are average monthly car insurance rates in NY (liability, collision, comprehensive)?
The below car insurance aggregator from the National Association of Insurance Commissioners (NAIC) shows the price ranges from liability to full coverage. Expect the cost of car insurance to continue to rise in 2019 and beyond.
This table shows you the average rate quote car insurance in New York.
The average cost of New York car insurance tends to cost more than the national average, which isn't too surprising given that the Empire State ranks as the fourth-most-expensive for full coverage insurance.
As we mentioned earlier, New York has minimum insurance coverage requirements.
If possible, the insurance experts suggest buying more than the minimum amount required. If you want more information about additional coverage, you'll find it in the next two sections.
While rates may be higher in New York City, the rates don't affect the average as much as you might think. A good number of New York City residents don't have cars, instead opting for public transportation. While upstate New York may not be as crowded, insurers have to consider weather, crime rates, claim rates, and many other factors when issuing auto insurance quotes.
Compare Quotes From Top Companies and Save
Secured with SHA-256 Encryption
What are New York's minimum coverage requirements for car insurance?
New York is a no-fault insurance state. That means that if another driver causes an accident that harms you, you must file a claim with your own car insurance company to pay your medical bills and damages. It also means you don't have to wait for the other side to settle their books to get repairs, medical bills, and your rental car paid for. Generally speaking, drivers give up their right to sue over normal damages.
New York minimum auto insurance coverage requires drivers to have minimum liability insurance to pay for accident claims. Per New York law, your insurance coverage must meet these requirements:
$25,000 of liability coverage for bodily injury per person when you cause a car accident
$50,000 of total liability bodily injury coverage per accident you cause regardless of how many people are injured
$10,000 of liability coverage for property damage (per accident you cause)
$50,000 in no-fault (personal injury protection) coverage
Uninsured motorist coverage for bodily injury you sustain, limit to match bodily injury coverage
NOLO states that New York's no-fault car insurance system applies to personal injuries from car accidents, not vehicle damage. You can, however, file a claim for vehicle damage (or a total loss) against the driver responsible, without limitations.
One way to avoid filing a potential lawsuit is to know how much insurance you need for your car and buy more than the minimum required to pay for all your injuries or vehicle damage. Otherwise, you may have to pay or file a case for compensation.
While you're legally required to carry liability coverage, many drivers also choose to carry collision, comprehensive, and PIP coverage. These premiums cover your auto and medical bills even if you were at fault. Insurance companies work it out with each other in the background. Collision coverage only covers things that are directly collision related. So weather events, animal accidents, and other damage would only be covered under comprehensive coverage.
What are acceptable car insurance forms of financial responsibility?
New York law requires drivers to carry proof of insurance or financial responsibility. Drivers who can't provide proof will have their licenses suspended.
Acceptable forms of proof of insurance are:
A paper or electronic insurance ID card
A copy of your current car's insurance policy
A valid insurance binder (a temporary form of car insurance)
Surety bond
Register as a self-insurer (if you own 25 vehicles or more)
Cash/security deposit of $150,000 or more with the Department of Motor Vehicles (DMV)
Any of these are easy to carry in your vehicle or on your phone. If you do not have the proof on hand, officers may issue a ticket requiring you to provide the state with proof of insurance or have your license suspended.
How much are NY car insurance rates as a percentage of income?
In 2014, the average New Yorker's disposable after-tax income was $47,446. Compare that to the average cost of an annual full coverage rate, $1,327.82. Nearly 3 percent of residents' annual income goes to car insurance.
Americans themselves pay an average of $981.77 yearly for full coverage. New York's rates cost nearly $400 more.
Compared to neighboring Pennsylvania, New Jersey, Rhode Island, Connecticut, Massachusetts, and Vermont, only residents in the last three states paid less than New Yorkers.
Compare Quotes From Top Companies and Save
Secured with SHA-256 Encryption
What additional coverage options are available for NY car insurance?
The data below from the NAIC centers on more accident coverage options: MedPay, Personal Injury Protection (PIP), and uninsured/underinsured motorist coverage.
A loss ratio measures how much a company pays in claims to how much it earns in rates.
Looking at the percentages, if a company has a loss ratio of over 100 percent, it pays more in claims than it earns. However, if the loss ratio is too low, at 40 percent, the company pays fewer claims. Companies with ratios that aren't too high or too low have a balance of profits versus losses.
As shown above, the loss ratios from 2012 – 2014 are low, which could mean insurance companies don't pay all the claims they receive. PIP coverage requirements could affect these numbers, as insurance companies may pay those claims first.
New York ranks 50th in the U.S. for uninsured drivers — 6.10% of Empire State drivers are uninsured. Though the number is fairly low compared to other states (because New York requires it), you don't want to be one of them.
The state requires this coverage as part of its "no-fault" insurance system, and it helps pay for damages uninsured or underinsured motorists may cause.
What add-ons, endorsements, and riders are available for NY car insurance?
Below is more coverage you can add to a basic car insurance plan.
Guaranteed Auto Protection (GAP)

Personal Umbrella Policy (PUP)

Rental Reimbursement

Pay-as-You Drive or Usage-Based Insurance

Mechanical Breakdown Insurance

Non-Owner Car Insurance

Modified Car Insurance Coverage

Classic Car Insurance
Among Pay-As-You-Go or Usage-Based insurers, Allstate's Drivewise program operates in New York. Drivers who qualify may receive discounts of up to 30 percent. The program tracks users' driving habits through a telematics device installed in the vehicle's diagnostic port.
If you avoid speeds of 80 miles per hour or above and drive less than 30 miles daily outside of 10 p.m. – 4 a.m. without hard braking, you may get the maximum discount. Users must operate their vehicles at least 90 days over six months to qualify for the discount.
What are average monthly NY car insurance rates by age & gender?
We've partnered with Quadrant to bring you the data below. It's based on coverage the state population has purchased, and it includes rates for high-risk drivers and those who choose to buy more than the state minimum. That covers other types of insurance the state doesn't require.
As you'll see below, gender is a major factor in setting car insurance rates, but age affects them, as well.
Males in New York generally pay more than females for car insurance, but married men, who are less of a risk to insure, pay almost the same as married women.
Agewise, insurers tend to charge drivers 25 and younger, often with less experience than older drivers, more for car insurance. Auto insurance for a 25-year-old female tends to be less than that for the male counterpart.
Compare Quotes From Top Companies and Save
Secured with SHA-256 Encryption
What are the car insurance rates in New York's 10 largest cities?
Did you know that where you live is one of the car insurance factors affecting the price you pay?
Below are prices in the 10 most and least-expensive Empire State cities.
From the most expensive city — or borough — Brooklyn, to the least expensive, Corning, the price difference is $8,000.
Where are the cheapest NY auto insurance rates by zip code?
As we touched upon above, your location can affect your rates. Cities and towns with higher populations and accident rates are riskier to insure, so rates there may cost more. Here is a chart of New York zip code car insurance rates.
This table shows you the most expensive zip codes in New York.
Now check out the least expensive zip codes in the state.
How does your zip code compare? Is your address saving you money or costing you extra?
Where are the cheapest NY car insurance rates by city?
This is the same data by the city name.
Many of the most expensive boroughs and cities are in and around Brooklyn.
Where does your city rank?
Compare Quotes From Top Companies and Save
Secured with SHA-256 Encryption
What are the best New York car insurance companies?
With so many car insurers out there, it can be hard to determine which one offers the right coverage. Price may affect your decision, but there are other factors to consider, such as coverage levels.
This section will help you evaluate insurance companies based on their financial ratings, reviews, and complaints.
So, read on to find out more and determine who are the best car insurance companies in NY.
What are NY car insurance company financial ratings?
A.M. Best ranks companies based on their financial strength. And, as we discussed above, the loss ratio is part of that. These are their ratings for some of the top companies.
State Farm and USAA are among the companies to receive the highest rating of "A++," which shows that they remain profitable despite paying several claims regularly.
What are NY car insurance companies' consumer ratings?
J.D. Power's U.S. Auto Insurance Study measures car insurance customers' overall satisfaction.
Customer service can be a huge factor in your choice for the best auto insurance companies in New York.
New York Central Mutual was the only company to receive five Power Circles, which means that it's "among the best."
What are the NY car insurance companies with the most consumer complaints?
Every company gets complaints, but a true measure of customer service lies in how it handles them. The data below shows complaints about the top New York insurers in 2017.
At 44 percent, State Farm had the highest complaints and complaint ratio, but these numbers are fairly low compared to the number of customers they serve.
What are the cheapest car insurance companies in New York?
Below are the rates for the top insurers compared to the state average prices. Who has cheap car insurance in NY state?
Geico comes out on top as the cheapest company, at almost 77 percent less than the state average.
What are NY car insurance companies' commute rates?
With some insurers, the longer your commute, the more you'll pay.
Take a look at these 6 major factors affecting auto insurance rates in New York.
Nationwide, Progressive, and Travelers don't factor distance into their rates. Of the insurers who do, USAA had a price difference of less than $100 for 10- versus 25-mile commutes. Many of the rest charged as much as $150 or more from the shorter to the longer distance.
Compare Quotes From Top Companies and Save
Secured with SHA-256 Encryption
What are NY car insurance companies' coverage level rates?
Let's see how rates vary among the top insurers for high, medium, and low coverage.
USAA had among the lowest price difference, at roughly $25 from the lowest to the highest coverage, while Allstate had the highest difference (about $800).
What are NY car insurance companies' credit history rates?
Your credit score also affects your rates. Generally, consumers with excellent credit pay less than those who have poor credit.
Geico had the lowest rates for consumers with poor credit.
According to Experian, in 2018, New York's average credit score was 688, which is lower than the national score of 704. New Yorkers own an average of 3.34 credit cards and have over $6,000 of credit card debt.
What are NY car insurance companies' driving record rates?
Your driving record is one of the most crucial factors that affect the price of car insurance.
Nationwide has lower rates for drivers who have been in one accident compared to other insurers. Even if you have one speeding ticket, you may end up paying as much as $1,000 more for car insurance.
Compare Quotes From Top Companies and Save
Secured with SHA-256 Encryption
What are the largest car insurance companies in New York?
This is how the top insurers compare by loss ratio, market share, and direct policies written.
Which auto insurance companies in NY are in the lead when it comes to policies?
As with other data we've already looked at, Geico comes out on top. It has the largest market share and has written the most policies.
Number of Insurers by State
Domestic insurers were formed in New York law, while foreign insurers were founded out of state. Out of a total of 882 insurers who operate in the Empire State, 173 are domestic and 709 are foreign.
What New York car insurance laws do you need to know?
The Empire State has enacted lots of laws. It can be hard to keep track of them all, whether they cover car insurance, vehicle licensing, safety, or driving. We've simplified the complex aspects of the laws and will cover the ones that you need to pay attention to most.
So read on to learn more about the laws you should obey as a responsible citizen.
How New York Car Insurance Rates are Determined
In this section, we'll go over what sets New York car insurance rates and the laws governing windshield replacement, high-risk drivers, and fraud.
The State of New York and the Department of Financial Services set insurance rates based on the National Association of Insurance Commissioners' standards.
Insurance companies must get prior approval from the state insurance department before filing rates and forms in New York. For prices, the department requires prior approval only if they are a certain percentage above or sometimes below the rates the company has filed before.
Windshield Coverage
New York lets you replace a windshield with aftermarket parts if they are "equal or exceed the comparable OEM crash part in terms of fit, form, finish quality, and performance." If you use them, the information must appear on the estimate.
Insurers may also offer zero-deductible policies for windshield glass replacement. Comprehensive coverage, which covers damage from "acts of God" such as vandalism, theft, fire, and natural disasters, may also cover windshield replacement.
High-Risk Insurance
If you've been convicted of several driving offenses, such as driving without insurance or a DUI, insurance companies may consider you a high risk to insure. That may make it harder to get insured through the open marketplace.
But, "high-risk" drivers have an alternative.
The New York Automobile Insurance Plan (NYAIP) will cover motorists who have tried and failed to get automobile insurance within the past 60 days at rates not above those applicable under the plan. The coverage, however, isn't cheap. The average NYAIP policy in 2012 was $2,283.
Low-Cost Insurance
Though New York has a program to help high-risk drivers, it doesn't have one for low-income drivers.
California, Hawaii, and New Jersey are the only states with government-funded programs to help low-income drivers pay for their car insurance.
What do I need to know about NY car insurance fraud? 
Misrepresenting facts on insurance claims, submitting false claims, and faking accidents are among the most common forms of car insurance fraud.
According to the Insurance Information Institute (III), insurance applicants, policyholders, third-party claimants, and insurance professionals are among those who commit fraud.
Car insurance fraud is a serious crime under Article 176. New York law defines six degrees of fraud penalties:
Fifth degree: Committing any fraudulent act to get insurance payments improperly, which is a Class A misdemeanor (176.10).
Fourth degree: Committing insurance fraud and wrongfully receiving assets of more than $1,000 is insurance fraud, which is a Class E felony (176.15)
Third degree: Carrying out insurance fraud and unfairly gaining $3,000 or more in assets is insurance fraud, which is a Class D felony (176.20).
Second degree: Committing insurance fraud and getting $50,000 or more of assets is insurance fraud, which is a Class C felony (176.25).
First degree: Committing insurance fraud and obtaining $1 million or more in assets is insurance fraud, which is a Class B felony. (176.30).
Aggravated insurance fraud: Committing another act of insurance fraud within five years of a prior conviction, which is a Class D felony (176.35).
If you've been a victim of insurance fraud, you may file a complaint online with the New York Attorney General's Auto Insurance Fraud Unit.
Statute of Limitations
The statute of limitations is the time you have left to file a legal claim. In New York state, drivers have three years to file a personal injury or a property damage insurance claim or lawsuit.
Evidence can degrade and witnesses can be hard to keep track of over time, so it's best to file sooner rather than later.
What are the NY vehicle licensing laws?
Here we'll cover the laws that control getting and maintaining a license to drive in the Empire State. This includes the recent Real ID law, penalties, and driver licensing requirements.
Real ID
Starting October 1, 2020, to comply with the federal REAL ID Act, you'll need a REAL ID driver's license, permit, or identification card to board domestic flights or enter federal buildings.
A valid U.S. Passport is already REAL ID-compliant; you can use it to board a flight.
To apply for a REAL ID, you can visit your local Department of Motor Vehicles. Below are the original or certified documents the DMV suggests you bring:
Proof of identity, such as a valid license, birth certificate, or passport, with your full first, middle (if applicable), and last name. Your name, as it appears on your proof of identity, will be displayed on your card as required by federal law. If the name on your application doesn't match the one on your identity, lawful status, and social security proof, you must bring court- or government-issued proof. This includes a marriage license, divorce decree, adoption, or court order.
Proof of Social Security Number or Social Security Number ineligibility. If you have a valid NY license, permit, or ID card, you must bring your original social security card or W-2 with full SSN. If you do not have a New York State driver's license or identification card, you must bring your Social Security Card or a letter from the Social Security Administration proving your ineligibility to have a social security number.
Proof of your date of birth.
Proof of U.S. citizenship, lawful permanent residency, or temporary lawful status in the U.S.
Two different proofs of New York State residence such as a utility bill, bank statement, or mortgage statement (P.O. Box not acceptable). This address will be displayed on your card.
Watch this video to learn more about the REAL ID.
The next time you renew your license, make sure to get a REAL ID if you haven't already.
Penalties for Driving Without Insurance
Whenever law enforcement pulls you over, you must show your license, registration, and insurance.
As we mentioned before, in New York, you must carry proof of insurance or financial responsibility with you at all times. If you can't, according to the NY DMV, you'll face the following penalties:
A fine of up to $1500 if you're involved in an accident and a $750 civil penalty
License and registration suspension for up to one year if you're without insurance after 90 days and can't pay the below fees
If you let your insurance lapse, the DMV will charge you per day at the following rates:
For 1 – 30 days: $8 per day.
For 31 – 60 days: $10 per day.
For 61 – 90 days: $12 per day.
A lapse in insurance and a conviction for driving without insurance can cost you up to $2,400.
Teen Driver Laws
In New York, you must be at least 16 years and six months old to drive without adult supervision. Below are the requirements for getting a learner's license, per New York's graduated licensing law.
Young drivers with a learner's permit must follow these rules:
These are the requirements to follow to receive a full license:
Definitely follow the rules for new drivers in New York. Teen drivers face many obstacles, including inexperience behind the wheel.
Older Driver License Renewal Procedures
According to the Insurance Institute for Highway Safety, these are the requirements for older drivers to renew their licenses:
Older drivers can renew their licenses every eight years
They must show proof of adequate vision at every renewal
The DMV allows renewal by mail or online at every renewal, without restrictions.
New Residents
If you've moved from out of state, you must apply for a New York driver's license at a DMV office within 30 days after you establish your residency.
Your out-of-state license must meet the following requirements:
have a picture
be valid or expired for less than 24 months
have been issued at least six months before your New York license application
You can't exchange your license if it is or has been:
suspended or revoked
lost or stolen
a hardship or "employment only" license
non-renewable or non-transferable
The news report below details a new Empire State law that allows undocumented immigrants to get driver's licenses:
Your New York license is valid for five years from the day it was issued.
License Renewal Procedures
The IIHS reports that drivers with New York licenses must renew them every eight years and provide proof of adequate vision at every renewal. They may renew online or through the mail.
Negligent Operator Treatment System (NOTS)
NOLO states that in New York, reckless driving involves driving in a manner that unreasonably interferes with the free and proper use of a public highway, or unreasonably endangers other drivers.
Reckless driving is generally considered a misdemeanor in New York. These are the potential penalties:
First offense: up to 30 days in jail and/or $100 – $300 in fines
Second offense (within 18 months): up to 90 days in prison and/or $100 – $525 in fines
Third offense (in 18 months): up to 180 days in jail and/or $100 – $1,125 in fines
One reckless driving conviction can add five points to your driving record and increase your insurance rates.
Compare Quotes From Top Companies and Save
Secured with SHA-256 Encryption
What are the rules of the road in NY?
Below are some more driving laws. These laws regulate seat-belt and car-seat use, when you should keep right and move over, speed limits, ridesharing, and automation.
Fault vs. No-Fault
As a "no-fault" state, drivers must file claims with their own insurance company, even when they're not responsible for an accident. The Empire State follows a doctrine of comparative fault for personal injury cases.
This means that a judge or a jury assigns a percentage of fault or responsibility to each party involved in an accident. For example, if a plaintiff who ran a red light was 60 percent at fault, and the other driver, who was speeding, was 40 percent responsible, the judge would reduce the plaintiff's award by 60 percent.
Seat Belt & Car Seat Laws
Below are the seat-belt and car-seat laws in the Empire State.
Follow these car-seat laws to keep your child safe.
Regarding riding in the cargo areas of pickup trucks, it's illegal in New York except in the following situations:
If the trip is five miles or less.
If the trip is five miles or more and if one-third or fewer of the passengers are standing, if suitable seats are securely attached, or there are side rails and a tailgate.
If the trip is five miles or more and if fewer than five people aged 17 or younger are in the cargo area or if at least one person 18 or older is there.
Generally, riding in the back of a truck is pretty dangerous and should be avoided if possible.
Keep Right & Move Over Laws
If you drive slower than the average speed of traffic in New York, you must keep right.
However, according to AAA, when an emergency vehicle, tow truck, or a maintenance vehicle with flashing lights is traveling in the same direction, you must use care, reduce speed, and move to a nearby lane.
Speed Limits
These are the speed limits on New York roads.
Obey the speed limit to stay safe and save money on car insurance and fines.
Ridesharing
If you want to drive for rideshare services such as Uber and Lyft, you must have a license from the New York Taxi and Limousine Commission.
Automation on the Road
According to the Insurance Institute for Highway Safety (IIHS), New York is among the states that are currently testing automated or driverless vehicles. The tests require operators to be licensed and inside the car. They must also have liability insurance of $5,000,000.
What are the driving safety laws in NY?
New York State has several safety laws that control Driving Under the Influence (DUI) and marijuana-impaired and distracted driving. Let's explore the penalties involved.
DUI Laws
Driving while under the influence (DUI) is a crime in New York. Below are some facts about the legal Blood Alcohol Content (BAC) limit and the different levels of offenses:
The table below reveals more details about DUI penalties and fines:
These laws are strict for a reason and act as a deterrent. The safest thing to do to prevent severe injuries and death is to not drink and drive.
Marijuana-Impaired Driving Laws
New York doesn't have any specific laws about marijuana-impaired driving. However, that doesn't mean you can't get caught for impaired driving or driving under the influence.
Recreational marijuana use is illegal in New York, but the state legislature has considered legalizing it.
Distracted Driving Laws
With the rise of the smartphone, distracted driving has become more of a road hazard. Below are the New York laws controlling cell phone use while driving.
AAA states that "no person shall operate a motor vehicle while using a mobile telephone to engage in a call while the vehicle is in motion unless that person is using a hands-free device. Text messaging while driving is prohibited for all drivers."
These laws are primary enforcement, which means that a police offer can pull you over for using your cell phone.
What are New York auto theft rates?
Sometimes it's hard to handle driving hazards, especially in high-traffic areas like New York City, which is a reason why some people take public transportation.
The driving and safety laws we've covered are meant to protect you and others, yet the statistics make the dangers seem even more real. Now, we'll look at statistics regarding vehicle theft, traffic fatalities, and EMS response times.
So, let's find out about some of the biggest risks on the road.
Some vehicles are more popular to steal than others. These are the top 10 most-stolen vehicles in the Empire State.
As we mentioned earlier, many New Yorkers drive practical cars, such as the Honda Accord and the Toyota Camry, which top the list.
Vehicle Theft by City
These 2017 FBI crime statistics reveal which cities in New York have the most vehicle thefts. How does your city rank?
New York City had over 6,000 thefts in 2017.
Compare Quotes From Top Companies and Save
Secured with SHA-256 Encryption
What are the NY road fatalities?
Here we'll examine the fatal crashes on the road and potential contributing factors, including weather and light conditions, speeding, and alcohol impairment. This data comes from the National Highway Traffic Safety Administration (NHTSA).
But first, let's see which Empire State highway is the most deadly.
Most Fatal Highway in New York
According to Geotab, over the past decade, 156 crashes that led to deaths have occurred along Interstate 87 (I-87) from New York City to Montreal, Quebec in Canada.
Fatal Crashes by Weather & Light Conditions
The table below shows how many fatal accidents happened in different weather and light conditions in New York.
Despite the dangers of rain, snow, sleet, and darkness, most of the fatalities occurred in normal daylight conditions.
Fatalities (All Crashes) by County
Let's see how many fatal crashes took place in each Empire State county.
As you might expect, many of the fatalities occurred in more populated counties, such as Suffolk.
Traffic Fatalities: Rural vs. Urban
These numbers reveal how many traffic deaths happened in rural versus urban areas of New York.
Despite the remoteness of rural areas, the number of crash deaths between rural and urban areas was almost even from 2008 – 2017.
Fatalities by Person Type
These are the fatalities by type of vehicle and transportation used in New York.
Passenger cars were involved in the most accidents, while pedestrian deaths weren't far behind.
Fatalities by Crash Type
This is more information about the types of vehicles and the accidents that led to fatalities from 2013 – 2017.
During that five-year timeframe, most of the crashes involved single vehicles and roadway departures.
Five-Year Trend for the Top 10 Counties
These are the numbers of fatalities in the most populated New York counties from 2013 – 2017.
Generally, these statistics show that the higher the population, the more traffic fatalities tend to occur in a given county.
Fatalities Involving Speed by County
Speed is among the many factors involved in crash deaths.
Fortunately, few speeding-related deaths have happened throughout New York counties.
Fatalities In Crashes Involving an Alcohol-Impaired Driver
Another major contributor to crashes in New York is alcohol consumption.
Suffolk and Queens Counties were among those with the highest alcohol-related fatalities.
Teen Drinking & Driving
Let's look at the trends in underage drinking in New York.
Fortunately, New York is among the states with the lowest number of alcohol-impaired fatalities for those under age 21, ranking 46th out of 50 states. Nationally, according to The Foundation for Advancing Alcohol Responsibility, the average is 1.2 deaths per 100,000.
EMS Response Time
These are the EMS response times for crashes in rural and urban areas.
What is NY transportation like?
Response times in rural parts of New York were, unfortunately, three times higher than those in cities and suburbs. This may be due to difficulties getting to more remote areas.
Transportation
The below information from Data USA reveals how many cars New Yorkers own on average, the forms of transportation they take in their commutes and the average length of those commutes.
The gray bars represent the U.S. and the orange bars show New York.
Car Ownership
Just how many cars do New Yorkers own compared to the country as a whole?
30 percent of New Yorkers own two cars, which is more than 10 percent less than the nationwide average.
Commute Time
Here's how New Yorkers' commute times compare to the entire U.S.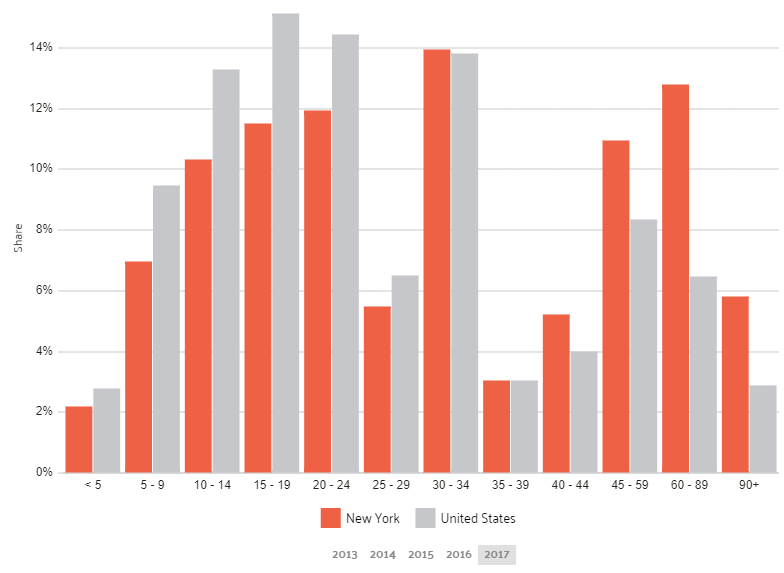 New York drivers face a longer commute time (32.2 minutes longer) than the average U.S. driver (25.5 minutes). Nearly 6 percent of New Yorkers have a "super commute" of 90 minutes or more, which is almost double the national average.
Commuter Transportation
Now, let's see which forms of transportation New Yorkers prefer for their commutes.
Most New Yorkers drive alone; however, especially in major metropolitan areas, like New York City, nearly 30 percent use public transportation.
Traffic Congestion in New York
Now, let's explore which major New York cities Inrix's Traffic Scorecard ranks as the most congested.
New York City — big surprise — is the 40th-most traffic-congested city in the world. Buffalo comes in at a distant second. Congestion in both cities costs commuters over $1,000 yearly in transportation-related costs, such as gas.
By contrast, the TomTom Traffic Index rates NYC at 42nd worldwide for the worst traffic congestion. The congestion level on highways and non-highways is 36 percent. That percentage increases during peak commute times — 55 percent in the morning and 69 percent in the evening.
In morning traffic, commuters spend an extra 17 minutes in their cars. That time increases in the evening to 21 minutes.
What about car insurance rates by model?
Like car owners elsewhere, New Yorkers tend to drive cars that are more practical than stylish. Across Central New York, these cars include the Toyota Camry and the Honda Civic, and lots of pickups and SUVs, such as the Chevrolet Silverado, the Toyota RAV4, and the Nissan Rogue.
Though New York City itself revered the car in a 1951 Museum of Modern Art exhibit that showcased its art and design elements, with the vast transportation system, city residents don't always own cars.
Car racing is a popular Empire State pastime, with the home of the Watkins Glen International race track in upstate New York and several more racing ovals and road courses statewide.
We've reached the end of our comprehensive car insurance guide. Were you satisfied with everything you learned? We hope you found it helpful.
And if you're ready to research New York car insurance quotes, enter your ZIP to get affordable car insurance rates in New York.