Driving During COVID-19 [Trends & Savings]
The decrease in driving during COVID-19 has created significant auto-related savings. During the coronavirus pandemic, Americans only spent an average of six minutes a day driving. Full-time workers saved an average of $97 per month because of the substantial drop in their commute time. Shopping around for car insurance quotes during COVID-19 can also help drivers find savings.
Free Car Insurance Comparison
Secured with SHA-256 Encryption
UPDATED: Jun 17, 2022
It's all about you. We want to help you make the right coverage choices.
Advertiser Disclosure: We strive to help you make confident car insurance decisions. Comparison shopping should be easy. We are not affiliated with any one car insurance company and cannot guarantee quotes from any single provider.
Our insurance industry partnerships don't influence our content. Our opinions are our own. To compare quotes from many different companies please enter your ZIP code on this page to use the free quote tool. The more quotes you compare, the more chances to save.
Editorial Guidelines: We are a free online resource for anyone interested in learning more about car insurance. Our goal is to be an objective, third-party resource for everything car insurance related. We update our site regularly, and all content is reviewed by car insurance experts.
The lowdown...
During the coronavirus pandemic, Americans have only spent an average of six minutes a day driving
Over a quarter of U.S. drivers reported stopped driving entirely during the COVID quarantine
The weekly average driving time in the U.S. went from nearly six hours down to 42 minutes
U.S. residents are saving about $97 a month on gas alone without having to commute to work
The COVID-19 pandemic is a powerful reminder to be careful what you wish for. The traffic jams and stressful commutes that we've always scorned have essentially vanished overnight. Clearer skies have returned, bluer waters have surfaced, and the frustration of sitting in bumper-to-bumper commute traffic trying to drive safely feels like a thing of the past.
Unfortunately, many of the reasons behind this are far from uplifting: Millions of jobs have been lost, and indefinite quarantines have been put in place. More people are off the road because they don't have an income. Unfortunately, this doesn't have an immediate impact on your insurance premium. Getting more quotes is also the last thing on many minds. Luckily, many independent insurance agents have stepped up to the plate to help their customers get lower auto insurance rates on renewal.
To understand the impact of the pandemic, we spoke to more than 1,000 licensed motorists about driving during COVID-19. These individuals, like the rest of the world, have had to cut back on driving or stop entirely.
This group was able to show us how much time and money they were saving by eliminating their commutes, how they were navigating car payments during this time, and which select addresses they were still putting into their GPS.
Even though people are driving less during COVID-19 times, drivers still need car insurance to operate a car legally on the road. Many drivers may be confused about which coverages they need to keep and how insurance companies figure out a particular driver's car insurance rates.
Truthfully, there are many factors that affect the price of car insurance. Knowing more about them can help you understand why your car insurance rates are the way they are and how you can lower them.
Whether you are stuck at home due to COVID-19 or venturing out, if you're driving a car, you need car insurance. It protects you financially if you're in an accident. Even minimum coverage is better than none. Lowering your coverage limits isn't necessarily the best choice if you're struggling financially, though.
Below, we will cover everything you need to know about driving during coronavirus and how to save on your car insurance. If you want to find savings right away, enter your ZIP code into our free online quote comparison tool to see the best car insurance rates in your area based on your demographic information.
If you're curious (or just stuck in quarantine), you'll want to keep scrolling.
Do Drivers Drive Less Because of COVID-19?
Did U.S. drivers cut time in their cars? Before COVID-19 took hold, driving claimed an enormous percentage of Americans' time. On average, respondents spent nearly six hours every single week behind the wheel of a car. These lengthy car rides and stressful commutes were contributing substantially to many neck and back problems, as well as a horrifying number of vehicle accidents. Anything over a few miles in commutes also led to higher auto policy premiums.
During the pandemic, however, drivers were on the road for just a quick six minutes each day, on average. Another 27% of respondents had stopped driving their cars altogether.
For the 73% who chose to continue driving during the pandemic from time to time, their new normal looked nothing like the past. More than half of drivers said that when they did drive, they just got in their cars and drove around aimlessly.
Forty-two percent said they took a loop around the neighborhood as part of their new normal. 40% were still able to go to parks, despite the fact that many were closed. Of course, this also varied by state with different restrictions depending on where you live. With fewer hours on the road, drivers were naturally safer.
Compare Quotes From Top Companies and Save
Secured with SHA-256 Encryption
Are Drivers Saving Money Due to COVID-19?
Is COVID-19 creating significant driving-related savings? One of the first places COVID-19 prevented us from driving was the office, but it also reduced the corresponding gas budget. According to the full-time employees we spoke to, their pre-COVID commutes cost them $124 in gas each month.
After COVID? Just $27. That means that the lack of a commute during COVID-19 saved people $97 a month on gas costs alone, not to mention the priceless clean air that many major cities can now breathe or the countless lives saved by the sharp decrease in car accidents.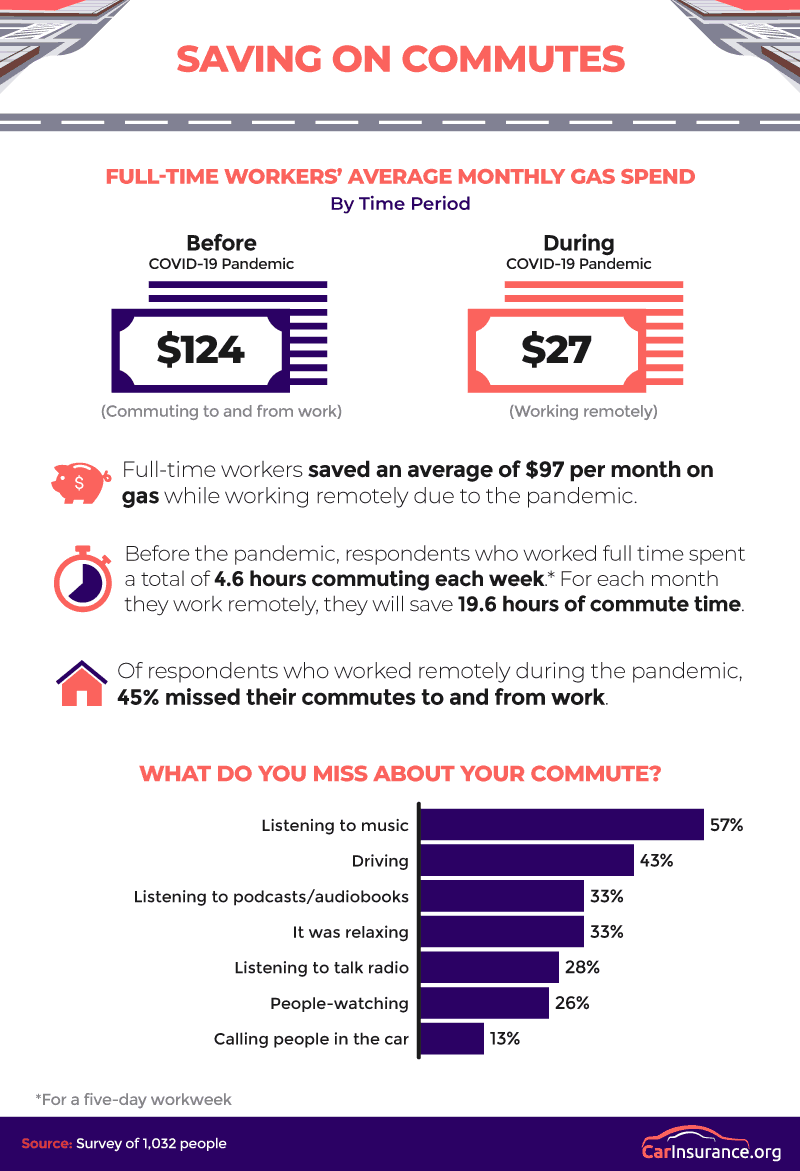 Budgets and air quality weren't the only two things that were saved: Time was perhaps the biggest gain of all. In terms of commuting, full-time employees saved 19.6 hours – or nearly a full 24-hour day – of time every month.
Even though this sounds positive (commutes have been shown to correlate with stress and health issues), quarantine may have us missing even this piece of normalcy more than we care to admit. A little less than half of the respondents told us that they actually missed their commutes.
Most often, they yearned for the days of listening to music in the car (57%), driving (43%), and listening to podcasts and audiobooks (33%). We'd be remiss if we didn't mention that all of these things are still possible without an office as your destination.
Of course, some drivers lowered their insurance rates. Some auto insurance companies offered automatic discounts to all loyal customers. Savings on auto insurance costs were highly variable.
Free Car Insurance Comparison
Compare Quotes From Top Companies and Save
Secured with SHA-256 Encryption
Have Drivers Cancelled Their Auto Insurance Policy Due to COVID-19?
Are people cancelled or deferring their auto insurance due to the COVID-19 quarantine? Since respondents were hardly using their cars, we started to wonder whether they were still making car insurance payments.
Most respondents said they were still making payments on their monthly premiums, but 21% were considering canceling payments during the pandemic. 4% had already done so. One could also speculate some drivers who previously paid their premiums at once moved to smaller monthly payments. While car payments, mortgage payments, and certain other bills can be deferred, auto insurance companies have not generally offered the same option.
Though many don't know you can negotiate your payment with your insurance company to reduce the cost of car insurance and get insurance discounts, thirteen percent called their car insurance company to inquire about a refund for their car insurance premiums. This was true regardless of whether personal auto insurance customers were offered temporary COVID-19 discounts to offset costs.
If you have not already thought to do this, know that 82% of car insurance companies, like Geico and Liberty Mutual, are extending refunds and credits to their policyholders during this time. Millennials, who many argue are the hardest hit financially by the coronavirus, were the most likely generation to stop or consider stopping their car insurance coverage.
Uber, one of the biggest financial success stories during the glory days, has also announced that it plans to suffer a $2.2 billion loss due to the pandemic. That said, the company has still managed to provide some crucial delivery services to those in need during the pandemic.
Still, their basic service of picking up a passenger and dropping them off at another location has come to a near-halt. Only 6% of respondents we spoke to had used a ride-hailing service at all, Uber or otherwise, during the pandemic. When reopening, many transportation services including the city buses have made significant adjustments to adapt.
Has Car Buying Slowed Due to COVID-19?
If you are leasing or have financed a car, keep in mind insurance may be part of your contract. Lenders require a certain amount of coverage with low deductibles to cover their risk no matter how much or how little you drive. Many have allowed people to delay car payments, but what about new purchases?
Is car buying delayed due to the coronavirus pandemic? Car buying, like car driving, also took a serious hit during the outbreak. Part of the reason for the delay in car buying is that a shortage of new vehicles and drastic price increases have made it a poor time to shop, with cars becoming worth more used than new.
Of the 39% of respondents who were actively planning to buy or lease a car between March and May 2020, 71% had decided to wait until later to do so.
After the pandemic ends, 29% said they would be less likely to lease or buy a car than they would have before. That said, another 24% said they were more likely. Perhaps they've been saving enough or maybe they're just really looking forward to hitting the open road again. Either way, respondents said it would likely take them an average of 5.4 months from April 2020, or until October, to be ready to make their next car purchase or lease.
Compare Quotes From Top Companies and Save
Secured with SHA-256 Encryption
Will everything get back to normal after coronavirus?
Despite such turbulent economic and emotional times, the data found here was actually uplifting; the few merits of a quieter, paused life deserve some recognition. Respondents were saving hundreds of dollars, car insurance companies were offering refunds, and stressful, lengthy commutes were finally getting a rest. Even though car purchases may need to wait, drivers' first destination after the pandemic will likely be extra appreciated.
If you're shopping or considering new auto coverage, let our team at CarInsurance.org help you. We help consumers like you research, find, and obtain the coverage that best suits your needs. To learn more about your options and even get a customized car insurance rate by your state, check out our car insurance services today.
Free Car Insurance Comparison
Compare Quotes From Top Companies and Save
Secured with SHA-256 Encryption
Frequently Asked Questions: Traveling and COVID-19
Now that we've covered the topic of commutes during COVID, let's get to your frequently asked questions. They include coronavirus travel restrictions. Is it safe to drive in a car with someone during COVID? Many people want to know about safety measures you can take when driving someone with COVID and issues about international travel, such as 14-day quarantine states.
#1 – Should I travel during the COVID-19 pandemic?
Whether you travel is up to you and your risk tolerance. Many people are traveling strictly within their own country, as they perceive it to be safer, and avoiding mass transportation like flying.
#2 – What are the CDC guidelines for driving a passenger with COVID-19?
The general guidelines are the same for when you are in public with other people: separating yourself from the passenger by six feet if possible, wearing masks, using hand sanitizer, and more. It may also help to open the windows and let the air circulate or rush in and out of the car, reducing the chance of transmission.
#3 – What are the steps you should take after traveling during the COVID-19 pandemic?
One of the first steps you can take is getting tested for COVID-19, which will determine if you need to quarantine or not after your trip.
#4 – Do I need to get tested for COVID-19 before traveling?
If you're traveling to a foreign country, it is likely you will need to get tested and be able to present the test upon arrival. The need to get tested before traveling within the country depends a great deal on the country in question and its laws or policies towards COVID-19.
#5 – Can antibiotics treat the coronavirus disease?
No, the novel coronavirus is a virus, meaning that antibiotics (which are created to treat bacterial infections) have no effect against it.
#6 – Are masks effective against the coronavirus disease?
Masks are recognized as one of the most effective methods in stopping the transmission of the virus throughout a population.
#7 – Can you contract the coronavirus disease from a package in the mail?
No, it is very, very unlikely to contract the coronavirus disease from a package in the mail as it can only last a number of hours on a surface before dying.
#8 – Could headache be a symptom of COVID-19?
Yes, headache can be a symptom of COVID-19, along with fever, running nose, or other flu- or cold-like symptoms.
Methodology: Examining Driving Patterns During Covid-19
We used Amazon Mechanical Turk to survey 1,032 people about their driving behaviors before and during the COVID-19 outbreak.
For respondents to be included in our data, they were required to complete the entire survey, take the survey only once without multiple attempts, and pass a midsurvey attention-check question.
Participants who failed to do all of these were excluded from the study. The survey ran from April 10, 2020, through April 13, 2020.
Of all respondents, 52% were men, 48% were women, and less than 1% identified as nonbinary. Forty-six percent of respondents were millennials (born 1981 to 1997); 39% were from Generation X (born 1965 to 1980); and 15% were baby boomers (born 1946 to 1964).
The average age of respondents was 41 with a standard deviation of 12 years. In terms of employment, 67% were employed full-time; 10% were self-employed; 10% were unemployed; 9% were employed part-time; and 4% were retired.
Of those who were employed full time or self-employed and had been working in an office before the COVID-19 pandemic, 68% were now working fully from home with no commute.
The data we are presenting rely on self-report. There can be many issues with self-reported data, such as selective memory, telescoping, attribution, and exaggeration. In finding averages of quantitative values, we removed outliers so the data were not exaggerated.
Compare Quotes From Top Companies and Save
Secured with SHA-256 Encryption
Fair Use Statement
Sharing is caring, especially during a pandemic. If you know someone else in quarantine who could use a little pick-me-up, feel free to share this study. Just be sure your purposes are noncommercial and that you link back to this page so its contributors can receive credit for their work.
Yes, driving has been cut down a great deal due to these pandemic times. However, even if you're just using your car to drive to the grocery store, you still need to have car insurance during COVID-19. Plug your ZIP code into our free online quote generator to receive the best rates for your area.