Arizona Car Insurance Guide (Cheap Rates + Best Companies)
Free Car Insurance Comparison
Compare Quotes From Top Companies and Save
Secured with SHA-256 Encryption

If you're looking for some sun and some fun, Arizona may be the place for you! The "Valentine State" as it's affectionately known, is located in the southwest of the United States and is sandwiched in the middle of Utah, California, New Mexico, and Mexico.
It's well known for its desert climate and decently warm summers, but more famously, Arizona is also home to the Grand Canyon.
Driving in such a gorgeous state sounds idealistic, with all of the amazing scenery and warm temperatures year-round. You have to wonder though, what kind of car insurance works best? It's required in every state to have car insurance, and Arizona is no different. So what kind of coverage should you be looking for in the Valentine State?
We're here to help the people in Arizona. We don't want you to have to waste so much time and energy researching everything. We've made up this comprehensive guide to help cover everything you'll need to know about getting the best coverage in Arizona.
Want to start comparing today? Use our FREE online tool! All you have to do is enter your zip code to get started!
What are Arizona car insurance coverage and rates?
Car insurance is legally required in every single state in the nation. Each state varies in what they require for insurance, so making sure that you have the coverage you need to drive in Arizona is vital. In this section, we're going to go over the insurance coverage and rates you'll need to know about in Arizona.
We'll discuss everything from what minimum coverage you'll need to have to drive to which cities and zip codes are the most/least expensive.
We want you to feel comfortable with your decision by the time you finish reading this guide. You can rest easy knowing we're going to cover everything you'll possibly need to know to get the optimal insurance coverage you'll need.
Compare Quotes From Top Companies and Save
Secured with SHA-256 Encryption
What are Arizona minimum coverage requirements?
Arizona, like every other state in the nation, has what's called minimum liability coverage. This is the minimum insurance coverage you are allowed to have in order to legally drive in the state. Under Arizona law, it's required to have what's known as a 15/30/10 minimum coverage. Below we've broken down the minimum insurance amounts and what they mean.
15 = $15,000 to pay for injuries for ONE person
30 = $30,000 to pay for injuries from any ONE accident
10 = $10,000 to pay for property damage
This minimum coverage is pretty low compared to other states, but keep in mind that this is the MINIMUM coverage you are supposed to have. If you were to get into a costly accident, you'll likely run out of money before you finish paying for all of the costs of the accident.
You'd then have to pay the rest out of pocket. So making sure you get MORE than the minimum coverage is going to be extremely important in getting the best coverage to protect YOU.
What are acceptable forms of financial responsibility?
Forms of financial responsibility, also known as proof of insurance, is the documentation you are required to carry with you while you are operating a vehicle. It is proof that you carry the minimum liability insurance and are a lawful driver.
There are several forms of financial responsibility that are acceptable:
Liability Insurance ID cards (must be valid and up-to-date)
Copy of your car's current insurance policy
Image of your insurance card on your mobile device
In addition to these standard forms of financial responsibility, Arizona also will accept any of the following according to the NAIC:
Certificate of Insurance (Statutes 28-4077 or 28-4078)
Bond/Certificate of Deposit
Cash in the Amount of $40,000 (statute 28-4084) [elaborated in a later section]
You must carry at least one of these forms on your person while you are driving a vehicle. If you happen to be pulled over by law enforcement, stopped at a traffic stop, or are in an accident, you will be required to show one of these to prove financial responsibility.
If you do not have the required minimum, or you do not have proof on your person, you could be facing some tough penalties!
If you are caught without your proof of insurance, your first offense could have you facing the following penalties:
$500 fine minimum
License/registration suspension for 3 months
So you could end up unable to drive for 3 months just for not having your proof of insurance on you!
If you do have insurance and are caught without it, you can reinstate your privileges by filing an SR-22 form which requests that your insurer sends the Arizona DMV the proper documentation to prove that you are insured.
Filing this form may result in increased insurance rates from your provider, and you'll be required by law to carry the SR-22 form for three years. So make sure you have one of the above forms of financial responsibility with you at all times!
How much are premiums as a percentage of income?
Your insurance rates are affected by a term known as 'disposable income per capita'. What does this mean and why does it affect your insurance rates? It is how much the average state citizen makes each year after taxes. So in the case of Arizona, the average annual per capita disposable income is $34,321.
This means that the average Arizona citizen makes $34,321 per year after taxes. If you break this down even further, this means that the average monthly disposable income would be $2,860.08. So all of the bills you have each month (health insurance, groceries, Netflix account) all come from this monthly income.
The average full coverage premium for car insurance in Arizona is $961.88, meaning the average Arizona citizen is paying $80.16 per month for car insurance.
To help put this into perspective, the average annual car insurance rate for the nation is $981. This means Arizona citizens actually pay LESS than most of the other states in the nation. Arizona is actually, because of this, the 14th cheapest state in the nation for car insurance. Way to go Arizona!
Compare Quotes From Top Companies and Save
Secured with SHA-256 Encryption
What are average monthly car insurance rates in AZ (liability, collision, comprehensive)?
The information listed below is from the National Association of Insurance Commissioners, a leading source for insurance coverage.
These rates are likely to be higher for 2019 and on. Make sure to make the right fit for you!
Let's take a look at the average monthly car insurance rates.
Do you need additional liability coverage?
So how do you know whether an insurance provider is 'healthy'? You check how financially healthy they are by something known as a loss ratio. A company with a loss ratio too high (over 100 percent) is losing money.
A company with too low of a loss ratio isn't paying out as much in claims as they thought they would. You want to find that sweet spot right in between.
From the data above you can see that the loss ratios have decreased to more healthy ranges over the past few years.
What is MedPay and Uninsured/Underinsured Motorist coverage? What exactly does it do for you?
MedPay Coverage is the coverage that covers your medical expenses after an accident
Uninsured/Underinsured Coverage is the coverage that helps cover medical costs for you in the case of being involved in an accident with an uninsured/underinsured driver
Med Pay and Uninsured/Underinsured Motorist coverage are optional in Arizona, but it is definitely coverage you should HIGHLY consider getting. These types of coverages are most important in the case of an accident.
If you were to get into an accident with someone who is uninsured, they will likely go bankrupt before they are able to pay for all of the costs from the accident. Including any injuries of YOURS.
This means if they aren't able to pay for everything and end up going bankrupt, all of those costs then will fall on you. If you were to have these coverage types, however, it gives you that protection that none of those costs will come out of your pocket.
In Arizona, 12 percent of motorists are uninsured. This places Arizona as 24th highest number of uninsured drivers!
Bottom line? Keep your cash in your wallet and consider adding Med Pay and Uninsured/Underinsured Motorist coverage to your policy. It could mean a world of difference in the future!
What add-ons, endorsements, and riders are available?
So now that we've established what the minimum coverage is, what all can you add to your policy? Searching for all the additional options can be exhausting and time-consuming. It can be rewarding however by getting that additional coverage you need.
We've collected a list to make things a little more convenient for you. They are some of the most affordable coverage options to add to your policy. Take a look at the coverage options below and see if they're the right fit for you.
Rental Reimbursement
Mechanical Breakdown Insurance
Non-Owner Car Insurance
Modified Car Insurance Coverage
Classic Car Insurance
Pay-As-You-Drive (Metromile)
Compare Quotes From Top Companies and Save
Secured with SHA-256 Encryption
What are rates in Arizona by age and gender?
As unfortunate as it is, your gender and even your age can sometimes play a role as to the amount you'll pay for your insurance premium. Below we've gone through and listed both the gender and the age differences among different insurance providers for insurance rates.
Luckily in Arizona, a lot of companies have done away with gender differences for married individuals by charging the same rates for both males and females. Companies such as Allstate F&C, American Family Mutual, and State Farm Mutual charge the same rates for both married individuals. Age, however, still plays a large factor in the insurance rate.
The older the person, the lower the insurance premium tends to be. Vice versa for younger individuals typically paying more. You can see from the data above the group that pays the most for insurance rates in Arizona are single 17-year-old males. This is typical, as most insurance providers see teenage boys as more reckless drivers than teenage girls.
Where are the cheapest insurance rates by Zip code?
Where you live in Arizona can affect your car insurance rates as well. We've gone through and collected data on car insurance rates by zip code.
Check the lists below to see where your zip code falls!
The next list shows the most expensive zip codes.
Where are the cheapest insurance rates by city?
We've also collected data on car insurance rates by city.
Don't see your city? Check if it's on the list of most expensive cities for car insurance.
Compare Quotes From Top Companies and Save
Secured with SHA-256 Encryption
What are the best Arizona car insurance companies?
Now that you have an idea of how car insurance rates and coverage are in Arizona, we'll move on to talk about the car insurance companies in the state.
There are nearly 1,000 licensed providers in Arizona who offer car insurance!
Don't sweat it just yet, we're here to help you navigate through all of these companies to help you find the perfect coverage for you. We'll go over topics such as insurance providers' financial ratings to complaint indexes, and even how particular factors differ between companies (such as driving record, credit history, etc). Keep reading to find out more!
The Largest Companies' Financial Ratings
Did you know that there's a system for measuring how financially healthy an insurance provider is? It's something known as an A.M. Best Rating system. It's a global credit rating agency that tends to have a heavier focus on the insurance industry. Just like a provider can run your credit history and check out your financial strength, you can check out theirs with this.
We've gone through and provided the top ten insurance providers ratings below.
What does all of this mean? The higher the financial rating, the more pluses go behind the letter, and the more likely a company has the funds to pay out claims. So, for example, State Farm in Arizona is rated as A++. This means that it has one of the highest financial ratings in the state!
Companies with the Best Ratings
Happy customer, happy provider right? A good customer satisfaction rating means that a company is doing something right, and are providing the best service for that consumer. J.D. Power released the information below about the provider's customer satisfaction rankings in the Southwest.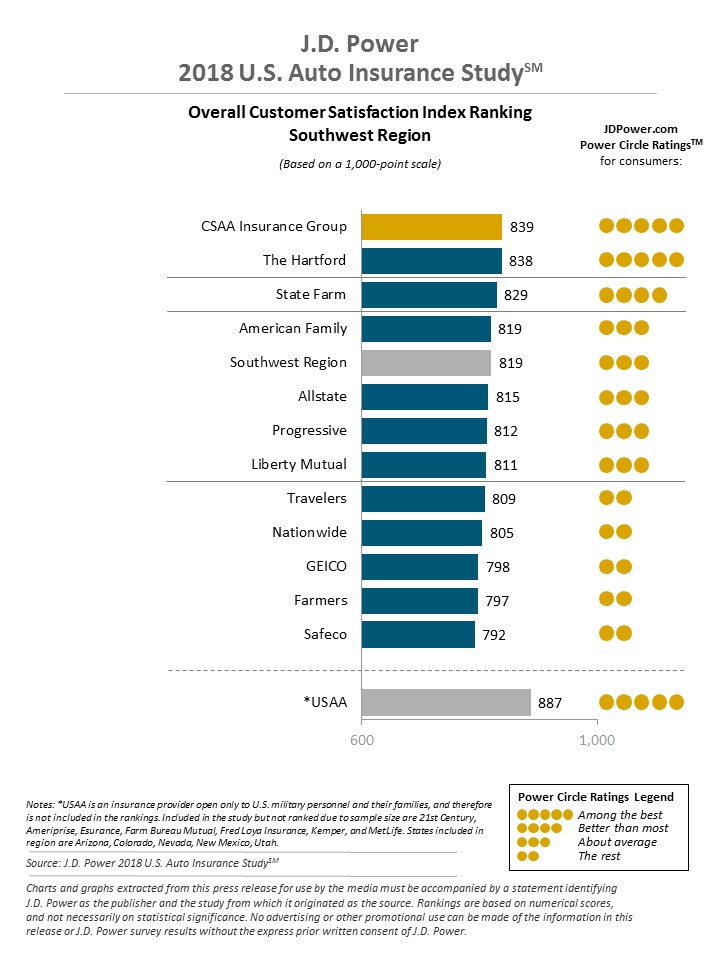 Companies with the Most Complaints in Arizona
We've seen the good side of customer satisfaction, but what about the other side? Which companies have the most complaints in Arizona? Every company is going to have their share of complaints, and the bigger the company the more likely they are to have complaints. We've gone through and listed the number of complaints about some of the bigger companies in Arizona.
Based off of these numbers, we were able to come up with a complaint ratio for these companies. This ratio is made up of the number of complaints made divided by the number of justified claims made and then multiplied this number by 100.
Although it is definitely something to consider, it doesn't necessarily mean a company is bad. It more along the lines is an indicator as to how that company handles complaints and customer satisfaction.
What are Arizona car insurance rates by company?
Shopping around for car insurance is what's going to help you save money while still getting the best coverage for you. Below is some information about the rates across various companies in Arizona.
| Company | Average Annual Rate | Compared to State Average | Percentage |
| --- | --- | --- | --- |
| Allstate F&C | $4,899.96 | $1,089.94 | 22.24% |
| American Family Mutual | $4,150.43 | $340.40 | 8.20% |
| Farmers Ins Co of AZ | $4,995.73 | $1,185.70 | 23.73% |
| Geico Cas | $2,262.79 | -$1,547.24 | -68.38% |
| NICOA | $3,493.23 | -$316.80 | -9.07% |
| Progressive Advance Ins | $3,574.85 | -$235.18 | -6.58% |
| State Farm Mutual Auto | $4,750.62 | $940.60 | 19.80% |
| Travelers Property Casualty | $3,079.96 | -$730.06 | -23.70% |
| USAA | $3,082.66 | -$727.37 | -23.60% |
As you can see, by comparing some of the different companies in Arizona, you can save thousands of extra dollars. For instance, Geico offers policies that are almost 69 percent LOWER than the state average.
Moral of the story? Don't pick the first policy you find, as you could be spending thousands of extra dollars!
What are the cost of commutes by carrier?
A lot of companies calculate your insurance rates based on how far your daily commute is. The longer your commute, the more you could be spending.
Luckily in Arizona, a lot of companies are offering the same rates despite your commute length. There are still some, however, that do charge more for longer commutes. The differences are rather small, less than $100 difference, but that still is money out of your pocket that you could be spending on other things you need.
Compare Quotes From Top Companies and Save
Secured with SHA-256 Encryption
What are coverage level rates in Arizona?
The rule of thumb has always been, the more you pay the better your coverage, right? Don't let some of the higher rates discourage you from getting the coverage you need. The difference between a low coverage plan and a high coverage plan could be as little as a hundred extra dollars per year.
American Mutual, for instance, only differs in high/low coverage plans by $177.84. So for only $177.84 more per year, you could have a must higher coverage protects you the most. But also keep in mind that by shopping around, you could also be paying less for a higher coverage level plan.
For example, you would save $1,237.73 getting a high coverage plan with Geico versus getting a low coverage plan with American Mutual.
The key is to make sure you shop around because you could end up paying more for less!
Take a look at these 6 major factors affecting auto insurance rates in Arizona.
What are credit history rates?
Not surprisingly, your credit history also plays a big factor in the insurance rates you're offered. The better your credit score, the better your rate is going to be.
You could be paying thousands of extra dollars each year just based off your credit alone. Based on the data above, for example, you could be paying $2,298.28 more with Allstate if you were to have a poor credit history.
The average national VantageScore is 675. The average VantageScore for Arizona is 669. Arizona actually has a LOWER credit score than most other states!
What are driving record rates?
How you drive also plays a pretty big factor in your insurance rates. The safer of a driver you are, the cleaner your driving record is and the less you'll have to spend to get the coverage you need. When you start factoring in things such as accidents, speeding, and DUI charges, rates tend to skyrocket.
Having just one of these things on your driving record could cost you thousands of dollars per year. Make sure you buckle up and drive safely out there! Cruise your way to savings by being a safe driver.
Check out the video below from IIHS to learn more about how to drive safely, even with hazardous roadside conditions.
Number of Insurers in Arizona
Arizona has a pretty diverse choice of insurance providers in the state. In total, there are 983 providers, 40 of which are considered domestic providers and 943 of which are considered foreign providers. What exactly is the difference between a domestic provider and a foreign provider?
Domestic Insurer

– an insurance company admitted by and formed under the laws under the state in which insurance is written

Foreign Insurer

– an insurance provider which was formed under the laws of another state, but is still doing business in Arizona
How does this affect you? It doesn't really. The only thing to factor in is if you have a foreign provider that they are giving you the minimum liability coverage for Arizona (15/30/10). As long as you have at least that on your policy, you have nothing to worry about.
Compare Quotes From Top Companies and Save
Secured with SHA-256 Encryption
What Arizona state laws should you know?
When it comes to how you drive on the road, each state has its own set of rules and laws. After all, no state is exactly the same, so why should the laws be? That said, navigating through all of these rules and regulations can be confusing, especially for new residents.
You need to know your state's laws before you start driving, as the last thing we want is for you to break a law you didn't even know existed!
We want you to be safe on the Arizona roads. Read through this section for some of the most important laws you'll want to familiarize yourself with. Some of the topics we'll go over will be high-risk insurance, statutes of limitations, license renewal procedures, and more.
When you've chosen the car insurance provider and policy that's best for you, you'll need to file the appropriate forms to the DMV. Once filed, there is a 30-day waiting period after those forms are filed for them to be effective. This means that you'll need to wait 30 days after filing for insurance before you can effectively use it.
So make sure you count for the amount of time it will take once you file for car insurance!
High-Risk Insurance
Did you know that after a certain amount of driving violations, you are considered a high-risk driver?
It can be costly to be a high-risk driver, as a lot of insurance companies will charge high rates in order to provide you with any coverage. On top of that, if your driving record is bad enough, you may not even be able to find a car insurance provider willing to provide you with any coverage at all.
You still need to have insurance in order to drive in Arizona, so what do you do?
Luckily there is something known as the Arizona Automobile Insurance Plan (AZ AIP) that was formed to ensure all drivers can have access to insurance coverage, regardless of their driving records. All licensed Arizona auto insurers must participate in this plan in order to do business in the state.
If you are accepted into this program, a designated company will have to accept you and provide the necessary insurance coverage.
This also means you will not be allowed to select which insurer you would prefer, but would have to take the terms and rates that the company you are designated to give to you.
How do you qualify for this type of insurance? All Arizona motorists are eligible for AZ AIP, as long as you have a valid driver's license.
There are a few exceptions for this insurance plan, and you can actually be turned down by your assigned insurer for any of the following reasons listed below.
Outstanding premium payments owed to an insurance company
Your previous policy had been canceled within 12 months of missing your vehicle inspection
You own an antique vehicle (older than 25 years) or has a cash value of more than $25,000 (AZ AIP can refuse you coverage for physical damage insurance)
If you have a clean driving record, you won't have to worry about this. However if you are considered a high-risk driver, just know that you can find the coverage you need, so worry not. It may not be the most cost-effective, but as you want to make you have insurance to be a lawful driver, at least you have something to fall back on.
Low-Cost Insurance
Arizona is, unfortunately, one of the many states that does not offer low-cost insurance solutions for low-income households. Don't let this get you down though! There are still ways to cut down on the costs of car insurance, such as being a safe driver with a clean driving record.
There are also many discounts you may qualify that you didn't even know about! Check out some of the most common car insurance discounts below to see if you might qualify for one, if not more!
Accident-Free Discount
Driver Training Discount
Good Driving Discount
Good Student Discount
Company/Team/School Discount (for example a lot of companies offer their employees discounts if they are traveling for their jobs)
Homeowner Discount
'Green' Discount (you use a paperless billing system)
Windshield Coverage
Did you know that some states require that your policy includes windshield coverage? Arizona doesn't require drivers to have this type of coverage, however, Arizona providers do offer optional "full glass" or "safety equipment" coverage you can add to your policy. These coverages help pay for any windshield repairs with no deductible.
If you find yourself needing to repair/replace your windshield, you can use aftermarket parts but the insurer has to provide written notice that those parts are being used. You also have the right to choose whoever you like to do the repairs to your windshield and whether you want to replace the windshield altogether or just to repair it.
This may seem like fairly standard practice, but there are some states in the nation that have very specific requirements for these types of things.
Although you're not required to have windshield coverage in Arizona, it definitely is something to consider when selecting your policy. It could end up saving you a lot of money down the road if something ever does happen to your windshield.
Automobile Insurance Fraud in Arizona
Insurance fraud is a serious crime in the United States. From 2013-2017, property/casualty fraud amounted to $30 billion each year! So you can imagine, with amounts like this, insurance fraud is taken very seriously.
How does this directly affect you, even if you're not the one committing insurance fraud? If companies weren't losing that much money from insurance fraud, you'd be paying lower insurance rates!
Auto insurance fraud can be committed in any of the following ways according to the IIHS:
Making false claims (faking a claim)
Adding "extra" costs onto a legitimate claim that aren't legitimate
What are some of the consequences if you do commit auto insurance fraud?
Ouch! That's some hefty fines and prison time! Moral of the story? Don't commit insurance fraud and you'll be safe!
Statute of Limitations
The statute of limitations is the amount of time that you have in order to make a claim. In Arizona, you have two years to make a claim for both personal injuries as well as property damages.
This amount of time might seem pretty long, but when you're dealing with the repercussions of being in an accident (having to go to the hospital to treat injuries, dealing with vehicle repairs, etc), that time can go by in a flash. Make sure you make your claim as soon as you can so you can get the payment you need!
Self-Funded Insurance
As mentioned briefly in the Forms of Financial Responsibility section, there is the option of self-funding in Arizona. What this means is that you can opt out of your typical insurance coverage and can still be a lawful driver. To do this, you will need to keep a $40,000 certificate of deposit (CD) account that is assigned to the Office of the Arizona State Treasurer.
In order to set this account up, you need to contact the Arizona State Treasurer's Office. Once this is deposited and verified, you will need to carry proof of this certificate of deposit on you while you operate your vehicle.
What are the vehicle licensing laws?
There are a couple of things you'll need to know in order to register your vehicle and renew your registration.
Registering Your Vehicle
In order to register your vehicle, there are a couple of items you will need to present:
Emissions Test
Vehicle Insurance
Proof of Ownership / Loan Information
Signatures of the applicant(s)
Plates (out-of-state drivers will have to surrender their license plates)
Those who do not have all of their documentation completed can apply for a Ninety Day Registration until they can complete all of the documentation.
Emissions Test
If you live in/commute to Tucson or Phoenix, your vehicle will need to pass an emissions test in order for it to be eligible to register. Below we've listed how often your vehicle will need to be tested (based on vehicle model year and Gross Vehicle Weight Rating):
There are a couple of things that will automatically fail a vehicle for inspection, so make sure you have your car fixed up and ready for inspection before getting tested.
Penalties for Driving Without Car Insurance
As we've stated many times previously, in order to drive in Arizona, you are required to have the minimum liability coverage. If you don't and you are caught without it, you could be facing some pretty serious penalties.
First Offense: $500 minimum fine and three months of license/registration suspension
Second Offense (within three years): $750 minimum fine and six months of license/registration suspension
If you need a reminder of what forms of financial responsibility you need in order to prove you are insured, click to jump back up to the Forms of Financial Responsibility section.
Teen Driver Laws
If you are a teen driver or are the parent/guardian of a teen driver, there are a few rules you need to know. There are special requirements that a teen has to adhere to in order to get their license.
They have to go through three different types of licenses, a learner's license (also known as a learner's permit), an Intermediate License, and finally an Unrestricted License. Below we've listed the process for each type of license.
Older Driver License Renewal Procedures
In order to keep everyone on the road safe, Arizona has a few rules for older drivers in the state. After citizens are 65 years and older, they will need to renew their licenses every five years. In addition, they will be required to do a vision test at each renewal, regardless of age.
An older driver may have their license revoked if deemed necessary by a physician or a concerned family member/individual. A road test may be required if any impaired driving has been reported about the driver. Restrictions may also be deemed appropriate, and could include any of the following:
Golf Cart Driving Only
Daylight Driving Only
No Freeway Driving
Driving only within a set distance from that person's home
So if you are starting to enjoy the retired life, make sure you stick to these rules so you can continue to lawfully drive in Arizona.
New Residents
Thinking of getting a permanently better view of the Grand Canyon? Well, if you are a new resident to the Valentine State, there are a few things you will need to do in order to get your license and registration.
First, according to the Arizona Department of Transportation, you will need to get an Arizona driver's license if any of the following applies to you:
You work in Arizona (aside from seasonal work)
You are registered to vote in Arizona
You have children that attend school and you pay regular resident tuition rates
Your business is based, operated, and has an office in Arizona
You obtain a state license or pay school tuition fees at the same rate as Arizona residents
Your business operates vehicles that transport goods/passengers within Arizona
You have resided in Arizona for 7 months or more, regardless of permanent residence
So you fall under at least one of these qualifications and you need to get your license. How do you go about getting your Arizona license? There are a few steps that you will have to go through in order to get your license:
Start your online application
Go to the MVD office or an authorized third party office
Testing – which may include a vision test but will likely not include a written/road test if you have a valid out-of-state drivers license
Identification in the form of a Social Security Number and a Driver's License or State ID
License Renewal Procedures
After a set period of time, all drivers are required to get their license renewed. It varies from state to state as to how long that period of time, and what all is required at the time of renewal.
Arizona has a few regulations about citizens renewing their licenses:
License Renewal Cycle: once every 12 years for the general population, every five years for people 65 years and older
Proof of Adequate Vision: every renewal
Mail/Online Renewal Permitted: no
So the unfortunate news is that you won't be able to avoid the DMV lines when you need to renew your license, as you will have to go in person so that you can get your vision checked. The good news to that is that you're making sure all citizens are able to see properly before getting behind the wheel.
This might not seem like a big deal, but if an individual with poor vision is driving, it could lead to more accidents, and worse, more fatalities on the road. Arizona is one of the many states trying to make sure all of its citizens are safe and well when behind the wheel.
Negligent Drivers
As stated many times previously, Arizona takes the safety of its drivers very seriously. If you are driving dangerously while on the roads, you could face some serious trouble as a result.
Reckless (negligent) driving is considered as one of the more serious misdemeanor offenses in Arizona. A first-time offense results in a class 2 misdemeanor, which has a maximum penalty of four months in jail and a $750 fine.
In addition, the driver may also face additional consequences such as points on their driver's license.
As this offense is one of the most serious moving violations, it places eight points on the person's license. They will also be required to complete Traffic Survival School. Just for a first-time offense!
If you are a safe driver, this won't be a problem for you. So make sure you follow all the rules of the road to be the safest driver you can be!
Points System
Arizona has a very specific point system for drivers and any moving violations that may be committed. In essence, if you commit any moving violation, you could have points added onto your license.
Too many points on your license could result in your license being suspended (8+ points in a 12 month period), and you may be required to attend Traffic Safety School. To make things easier for you, we've gone through and listed all of the violations and the points you'd be facing.
If you drive recklessly in any way, you'll be facing 8 points immediately added to your license!
What are Arizona's rules of the road?
Knowing the rules of the road is going to be so important for you to drive without having to worry about breaking the law. If you don't, you'll be facing the point system above, fines, and potentially jail time. Don't lose your hard-earned money and time over this. Keep reading to learn more about Arizona's rules of the road.
Fault versus No-Fault
Arizona is an at-fault state. This means that if you are involved in a vehicular accident, whoever is at-fault is then responsible for paying for the other driver's medical and property costs.
If you are involved in an accident with someone who is uninsured, and they are at fault, they likely won't be able to completely pay off all the costs of the accident.
They may end up bankrupt before they are even able to pay for any injuries you may have sustained or damage to your vehicle. This means some of the costs will fall onto you, even though the accident wasn't your fault!
Make sure you are completely covered in the case of an accident with uninsured/underinsured coverage, it could save your bank account later!
Keep Right and Move Over Laws
Keep right laws are fairly simple to understand in Arizona. If you're driving slower than normal traffic, keep in the right lane except when passing another motorist or turning left. Not so bad, right?
Move over laws ensure that particular vehicles (ones with emergency lights flashing) are able to get to their destination quickly, or if one of these vehicles are stopped on the roadway, other drivers take extra caution to get around them.
In Arizona, drivers must do the following for these types of vehicles:
If on a highway having at least two lanes proceeding in the same direction as the approaching vehicle, proceed with due caution and if possible, with due regard to safety and traffic conditions, yield the right of way by making a lane change into a lane not adjacent to that of the emergency vehicle
If changing lanes would be impossible or unsafe proceed with due caution and reduce speed, maintaining a safe speed for road conditions.
Need a reminder of what kinds of vehicles you will need to move over for? If any of the following vehicles with flashing lights are approaching, move over:
Law Enforcement
Ambulances
Firetrucks
Utility Workers
Tow-Truck Drivers
Drivers with their hazard lights on
Speed Limits
Every road you will drive on in the nation is going to have a speed limit, and they are set for very specific reasons. Whether it is due to where the road is located, the kind of road it is, or other factors. In Arizona, there are different types of roads and therefore different speed limits for each kind.
Knowing these speed limits will not only help you drive safely on the road but also will prevent you from getting driving citations for driving over the speed limit.
If you are caught driving within 10 mph over the speed limit, you could be pulled over by law enforcement and given a citation known as a "waste of finite resources". This citation is considered a civil offense, meaning it only carries a $15 fine and no points to be added to your license.
It helps prevent you from getting a criminal offense which will involve points against your license and more hefty fines. So if you're looking to save some cash, just make sure you follow all of the speed limits above.
Seat Belt and Car Seat Laws
Seat belts were created to save lives, and are required to be worn while driving in Arizona. Below we've compiled the seat belt laws in Arizona.
Riding without a seat belt is not considered a primary offense (with the exception of children under 8 years old) so you won't necessarily get pulled over for that alone. If you commit another driving violation and are pulled over, however, you may still be cited for not using a seat belt.
Wearing your seat belt isn't considered a primary offense, but violating Car seat laws is. Below are the child safety laws for driving in Arizona.
Watch the video below from IIHS to learn more about the importance of proper seat belts and car seats.
Ridesharing
Ridesharing has exploded in popularity over the past decade, with companies such as Uber and Lyft dominating the market. It can be an extremely useful tool for citizens, able to get to where they need to go with the push of a button.
If you wish to work for one of these companies, they will require that you have what's known as ridesharing coverage. In Arizona, House Bill 2135 was passed in 2015 requiring ridesharing services to carry $250,000 worth of liability coverage when a passenger is present.
This amount is identical to taxi drivers, who are required to have the same coverage. Not all insurance providers offer this type of coverage, but in Arizona, the following insurers do offer this type of coverage:
Allstate
Farmers
Geico
Mercury
USAA
Keep in mind, this coverage is in ADDITION to the minimum liability coverage you are required to have. So if you are considering working for one of these companies, remember that if you are insured under a provider that doesn't have this type of coverage, you may be required to get an additional policy/change policies in order to get this coverage.
Automation on the Road
Arizona is one of the few states that has already authorized the full deployment of automated vehicles on their roads. Depending on the level of vehicle automation, an operator may be required to be in the vehicle.
They do not require that the operator has to be in a 'fully autonomous vehicle' as long as that vehicle can achieve 'a minimal risk condition' in the event of failure. If an operator is required, however, that operator is also required to be lawfully licensed in the state of Arizona.
This is all in thanks to a 2015 executive order from the governor, making Arizona one of the leading states in testing and deploying automated driving technology.
DUI Laws
Driving Under the Influence (DUI) in Arizona is taken extremely seriously, as in 2017 alone there were 278 fatalities due to alcohol-impaired drivers. Due to this, Arizona has many laws regarding this in order to protect Arizona citizens.
Washout/Lookback period means that if you have a repeat of this offense in that time frame, you will be bumped up to the next level of penalty. Speaking of that, what are the penalties of by offense for a DUI conviction?
Your BAC determines how severe the penalties are. If your BAC is above 0.15 percent, you may be faced with an Extreme DUI conviction, which carries the following penalties:
First Offense:

Imprisonment: minimum of 30 consecutive days
Fine: minimum of $2,500
Ignition Interlock Device: required
Other: Alcohol screening/education/treatment as well as to perform community service

Second Offense:

Imprisonment: minimum of 120 days
Fine: minimum of $3,250
Ignition Interlock Device: required
Other: Alcohol screening/education/treatment, performing community service, and license is revoked for one year
What in the world is an ignition interlock device? It is an instrument that tests breath alcohol levels and is connected to the ignition and power of the vehicle. So if you were to have this device installed in your vehicle, you have to blow into the device in order to get your vehicle to turn on at all.
If you have been drinking and blow into the device, the vehicle will not start. If you have not been drinking and your vehicle turns on, you will be tested randomly while you are driving and will have to blow into the device in order to continue driving.
Arizona even takes a step further and has a third level of DUI convictions known as an Aggravated DUI. This applies to someone who commits a DUI under one of the following conditions:
License is suspended, revoked, or canceled
Third DUI in 84 months
Has someone under the age of 15 years old in the vehicle
Refusing to submit a blood alcohol content test while under an ignition interlock device requirement
Aggravated DUI Penalties are as follows:
Imprisonment: no more than two years
License Revoked: one year
Ignition Interlock Device: required
Other: Alcohol screening/education/treatment and performing community service
Think that if you refuse to do a BAC test you won't get in trouble? Wrong! If you refuse BAC testing, you automatically lose your driving privileges for 12 months for a first refusal, and 24 months if you refuse a second time within seven years.
In the video below, a group of guys decided to try to see how sober driving compared to driving after drinking in a controlled setting. Check out just how different their driving was! *Note: Do NOT try this at home!
Bottom line? Don't drink and drive! Arizona takes these offenses extremely seriously, and for good reasons. If you are out on the town and want to have a drink with some friends, you have options!
Get someone to be the designated driver who doesn't drink, or get a ridesharing service to take you home.
Don't try and drink and drive because you WILL be caught, and you WILL have to face the consequences. It's not worth it! Avoid all of that and just wait to have that drink when you are in a safe place, or you know you have a ride home!
Marijuana-Impaired Driving Laws
A lot of states have been allowing the legal distribution of marijuana, and with this, a lot of states have been adding laws about driving while under the influence of marijuana. Arizona has a mixed-status for legalization.
It is allowed for medicinal purposes but has NOT been decriminalized in other cases.
So if you are ever caught with it without proper medical documentation, you will be charged for having it. In addition, Arizona has a zero-tolerance for THC and metabolites while driving.
If you are caught driving while marijuana-impaired or other drugs, you will be charged with a DUI and will face the same penalties as listed above.
Rule of thumb? Don't drive while impaired by ANY substance!
Distracted Driving Laws
All it takes is a second of you not paying attention to the road for an accident to happen. Notorious for these distractions are cellphones. According to the NHSTA, distracted driving accounted for 3,450 deaths in 2016 alone.
To help combat this, Arizona has come up with some laws restricting cellphone use and texting while driving, shown below.
Secondary enforcement means that law enforcement can only pull a driver over if they are committing another primary violation (such as speeding, running a red light, etc.). This should not discourage you from keeping your phone silent while you are driving.
If you feel like you'll be distracted by your phone while driving, put it in airplane mode or silent mode so it doesn't bother you. That text can wait!
Compare Quotes From Top Companies and Save
Secured with SHA-256 Encryption
Is there a lot of vehicle theft in Arizona?
We've covered many topics on insurance rates/coverage, state laws, and insurance companies in the state of Arizona. Now that we've gotten all of that out of the way, we can move onto the final section, facts about Arizona that you absolutely need to know.
We'll discuss different factors that affect your overall driving experience while out on the road.
Keep reading to find out the can't-miss facts for Arizona!
The unfortunate part of owning a vehicle is that there is a chance of it getting stolen. Every state has vehicles that are more prone to being stolen, and they're not the makes and models you would expect. Less BMW and Royals Royce, and more Honda and Ford.
Watch out Chevrolet Pickup owners!
Where you live also makes you more or less prone to vehicle theft. The FBI created a report in 2013 on Arizona's vehicle thefts by cities. Check out the data below to see if your city is on the list!
How many crash fatalities occur in Arizona?
As devastating as it can be, fatalities do happen on the road. There are a multitude of different reasons and factors for why these fatalities occur, and we've compiled a few of these factors for you. Arming you with this knowledge will hopefully keep you wary of these situations while driving, and therefore keep you safe!
Road Type
What type of road you drive on affects the number of fatalities. Typically what you'll see is a general trend for rural roads to see more fatalities than urban roads.
This is usually due to the fact that rural roads tend to have higher speed limits, which therefore means any impacts are far more deadly.
This trend isn't the case in Arizona however. Urban roads see more fatalities than rural roads. This is likely due to the fact that urban roads are busier than rural roads, and therefore have more drivers on it at one time. Rush hour traffic is a prime example of that.
Back in 2008 and 2009, rural roads did see more fatalities, but with the popularity of interstates and freeways increasing, this then increased urban road fatalities and decreased rural road fatalities.
Person type
Who is on the road can affect the rate of fatalities as well, but not in the way you might think. We're not talking about demographic information such as race, gender, or anything like that.
Person type, in this case, is more about the type of vehicle being driven and whether or not the person in that vehicle is an occupant, a pedestrian, or a cyclist.
Crash type
How a crash occurs also factors in. Was it a single vehicle that was in an accident? Did the vehicle rollover during the accident? Was someone speeding just before the accident?
Five-Year Trend by County
We went through the data for the top-10 counties in Arizona with the highest fatality rates and created a five-year trend. The trend is from fatality rates from 2013 to 2017.
Speeding
Speeding is one of the major causes of driving fatalities in the nation. Speed limits were created for a reason, and when drivers exceed that limit, they can lose control of their vehicle and end up in an accident. We found the number of speeding fatalities in each county in Arizona from 2013 to 2017 and listed it below.
Alcohol-Impaired Driving
Another major contribution and one of the most avoidable, to vehicular fatalities is drunk driving. We've gone through the alcohol-related fatalities for each county from 2013 to 2017 in Arizona.
Arizona is currently the 18th most dangerous state for DUI arrests
Teen Drinking and Driving
Something to keep in mind for the DUI fatalities above, this INCLUDES teen drivers. The information below is the statistics for teen drivers in Arizona for driving under the influence of alcohol.
Arizona is the 14th most dangerous state for DUI arrests for teen drivers under 18 years old!
EMS Response Time in Arizona
Should you ever get into an accident and need medical help, you'll need to call the Emergency Medical Services (EMS). It could mean the difference between life and death, and how quickly the EMS is able to get to you and get you to the hospital, is critical.
These times are relatively good, especially for accidents that have occurred in urban areas. The time from the crash to getting to the hospital in urban areas is half an hour, which is really good!
Rural areas see a little longer time period, with the wait being a little over one hour, but this is likely due to the location of these rural areas in relation to the distance of the nearest hospital.
What is transportation like in Arizona?
Car ownership is vital for your transportation to and from places such as work, school, and so on. Arizona has several interesting transportation statistics compared to national averages.
Car Ownership
Across the nation, the average number of vehicles owned is two. Arizona is no different, with it being represented in the chart below in orange.
Commute Time
Commuting through traffic to and from your destinations can be exceedingly frustrating, but luckily for Arizonans the average commute time is 23.7 minutes. This is shorter than the national average of 25.3 minutes!
Commuter Transportation
Do you prefer to carpool? Drive alone? Or maybe you work from home? Well in Arizona, commuters typically drive alone to their destination by a large margin of 76.5 percent.
Traffic Congestion in Arizona
Arizona has three cities that made into onto INRIX's Scorecard for global traffic. This makes sense, as Phoenix is the fifth largest city in the United States. The good news though, is that even though it is such a large city, it only ranks 140th for traffic congestion.
So while you may be spending a large chunk of your time stuck in traffic there, you'd still be spending less time than some other cities do.
We've gone over everything you'll need to know to be a safe driver in Arizona, and how to find the best insurance coverage to fit YOUR needs. We hope this comprehensive guide was able to give you the confidence you need!
Don't forget to check out our FREE online tool to help you compare rates! All you need is your zip code and you're able to compare instantly!