The 20 Most Dangerous U.S. Cities for Cyclists [+Death Totals]
The 20 most dangerous U.S. cities for cyclists are Miami, Phoenix, Fort Lauderdale, Modesto, San Antonio, Oklahoma City, Lafayette, Arlington, Charlotte, Bakersfield, Lakeland, Memphis, Baton Rouge, Stockton, Chula Vista, Pompano Beach, Dayton, San Bernardino, Abilene, Cape Coral. According to the NHTSA, there were 857 cyclist deaths nationwide in 2018, an over twenty percent increase since 2010.
Free Car Insurance Comparison
Secured with SHA-256 Encryption
UPDATED: Jan 18, 2021
It's all about you. We want to help you make the right coverage choices.
Advertiser Disclosure: We strive to help you make confident car insurance decisions. Comparison shopping should be easy. We are not affiliated with any one car insurance company and cannot guarantee quotes from any single provider.
Our insurance industry partnerships don't influence our content. Our opinions are our own. To compare quotes from many different companies please enter your ZIP code on this page to use the free quote tool. The more quotes you compare, the more chances to save.
Editorial Guidelines: We are a free online resource for anyone interested in learning more about car insurance. Our goal is to be an objective, third-party resource for everything car insurance related. We update our site regularly, and all content is reviewed by car insurance experts.
Commuters looking to reduce their environmental footprint may want to think twice about safety before hopping on a bike. According to the National Highway Traffic Safety Administration, the number of cyclist deaths has been rapidly increasing over the past several years. In 2017 alone, there were 783 cyclist fatalities nationwide, a 25 percent increase since 2010.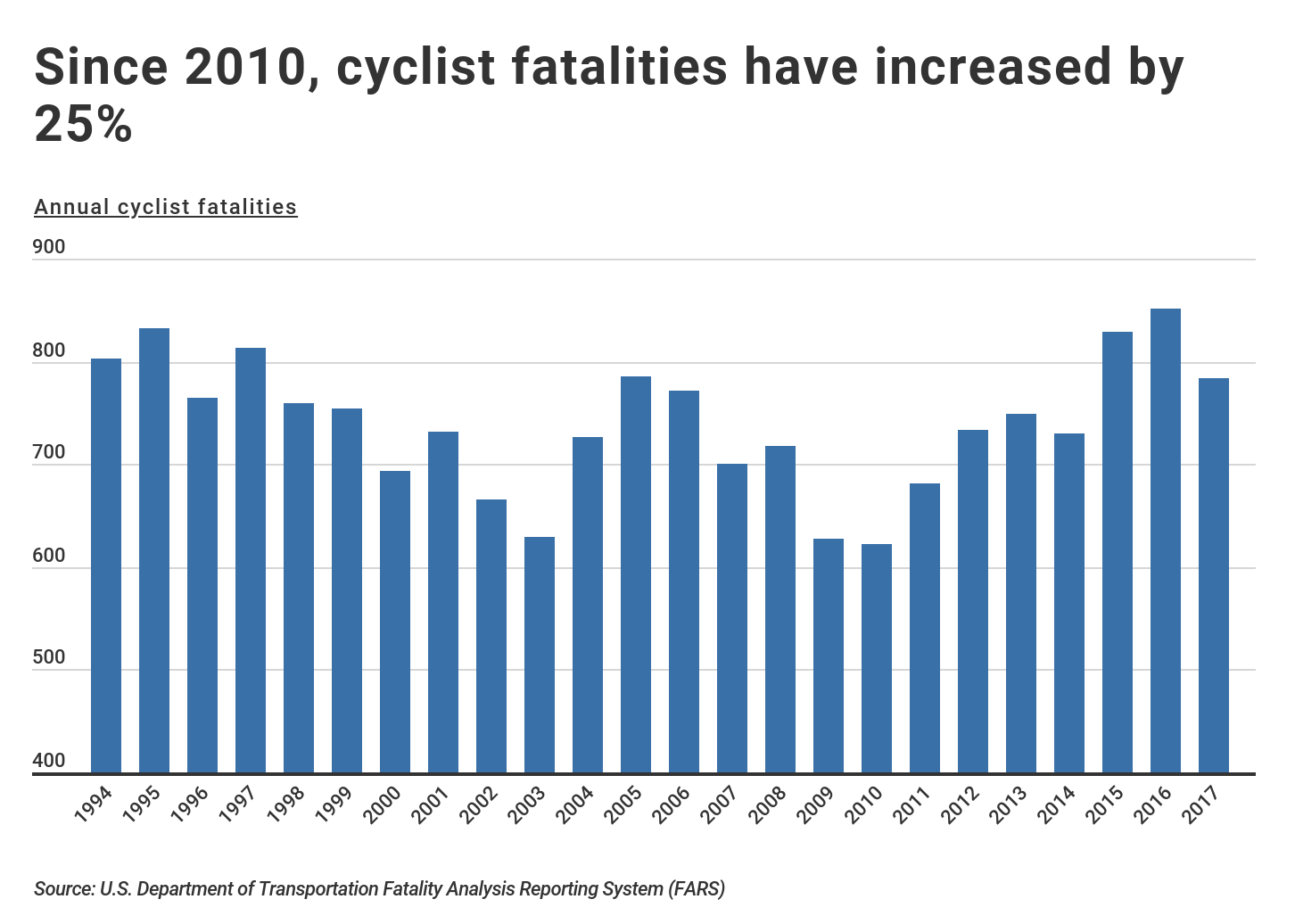 Increases in cyclist fatalities have occurred alongside increases in bike share programs and the number of cyclists commuting to work. In 2017, there were nearly 800,000 commuters nationwide who rode their bicycles to work, representing 0.5 percent of all commuters. While the share of bike commuters has remained steady in recent years, the fatality rate per 100,000 bike commuters is at a ten-year high.
Although cyclist fatalities have been on the rise nationwide, the risk varies widely by location.
Between 2014 and 2017, California, Florida, and Texas, were responsible for about 41 percent of all cyclist fatalities in the U.S., despite accounting for only 27 percent of the population.
When comparing fatality rates (per commuter or per resident), the most dangerous areas are clustered in the Southeastern U.S. Despite warmer weather, these states also report below-average rates of bike commuters—possibly the result of dangerous riding conditions. These states also are some of the worst states for fatal crashes during a time period that affects many cyclists: daylight saving time switches.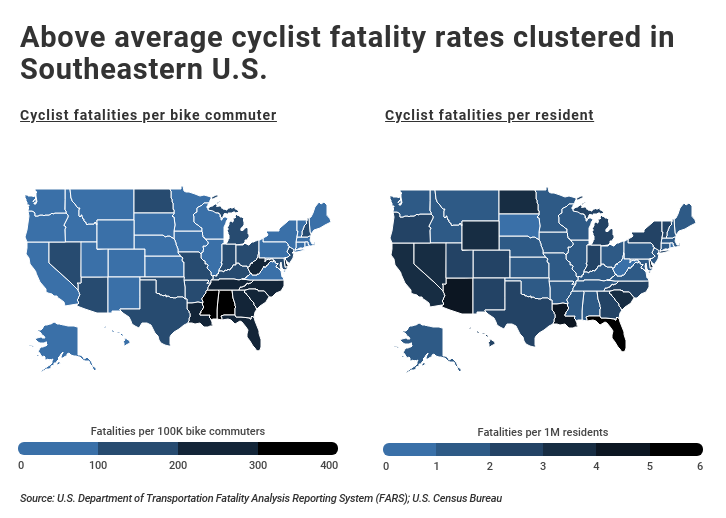 With the rise of bike share programs and an increased emphasis on more environmentally friendly modes of transportation, cycling is likely to continue growing in popularity, especially in major cities. To identify which cities are most dangerous for cyclists, our researchers here at CarInsurance.org analyzed fatality data from the National Highway Traffic Safety Administration's Fatality Analysis Reporting System for the period 2014-2017, as well as population data from the U.S. Census Bureau's American Community Survey.
They ranked cities by the number of bike fatalities per 100,000 bike commuters. Only cities with at least one cyclist fatality per year and at least 100,000 residents were included in the analysis. Consistent with the findings at the state level, 13 of the 20 most dangerous cities for cyclists are in Florida, California, or Texas.
Keep reading to discover the full list of the most dangerous cities for biking in the United States.

Top 20 Most Dangerous Cities for Cyclists
Alamy Stock Photo
#20 – Miami, Florida
Annual bike fatalities per 100K commuters: 193
Annual bike fatalities per 1M residents: 9.0
Total bike fatalities (last 4 years): 16
Share of fatalities where cyclist wore a helmet: 0%
Number of bike commuters: 2,073
Population: 443,007
Alamy Stock Photo
#19 – Phoenix, Arizona
Annual bike fatalities per 100K commuters: 201
Annual bike fatalities per 1M residents: 6.5
Total bike fatalities (last 4 years): 41
Share of fatalities where cyclist wore a helmet: 12%
Number of bike commuters: 5,090
Population: 1,574,421
---
DID YOU KNOW?
Making smart choices behind the wheel can be both safer and cheaper. Learn driver safety tips and how to save money on gas here at CarInsurance.org.
---
Alamy Stock Photo
#18 – Fort Lauderdale, Florida
Annual bike fatalities per 100K commuters: 204
Annual bike fatalities per 1M residents: 14.1
Total bike fatalities (last 4 years): 10
Share of fatalities where cyclist wore a helmet: 0%
Number of bike commuters: 1,225
Population: 177,175
Alamy Stock Photo
#17 – Modesto, California
Annual bike fatalities per 100K commuters: 239
Annual bike fatalities per 1M residents: 4.8
Total bike fatalities (last 4 years): 4
Share of fatalities where cyclist wore a helmet: 0%
Number of bike commuters: 419
Population: 210,166