California Car Insurance Guide (Cheap Rates + Best Companies)
Free Car Insurance Comparison
Secured with SHA-256 Encryption

If you are looking for a place to live that has it all, you have chosen wisely. California truly does have it all. From oceans to mountains, cities to farmlands, and deserts to woodlands, you'll find it all within this state.
Regardless of whatever your favorite pastime is, the chances are that you're probably going to have to drive to participate in it. Of course, if you drive, you'll need California car insurance. Does Freeway Insurance in Beaumont, CA offer good rates? Which insurance provider can help you get the best coverage? That's what we're here for.
With a population pushing 40 million, California has more residents than any other state in the U.S., yet it doesn't even make the top ten for population density. What does that mean? There are still places to get out, stretch your legs, and connect with nature.
Before you get behind the wheel in California, we'll take you through everything you need to know, including which car insurance companies offer the best rates, factors that affect the price of car insurance, and more to help you get started down your path to making an informed choice in car insurance.
Smart insurance shopping means knowing how to find companies have the best ratings coupled with affordable rates vs. trying to shop with unknown insurance companies just to get a cheap rate.  In order to feel like you've gotten the best deal, you'll want to find a policy with the right coverage, great service from your insurance company, along with reasonably priced rates.
One awesome resource we have to help you is a quote comparison tool. Enter your ZIP code right here to get started, and you'll receive several rate quotes for car insurance in California. You might be surprised when you see how much you could save.
What are the average California car insurance coverage and rates?
You could spend a solid part of your week figuring out what kind of insurance you need and where to get it. Or you could find everything you need to know right here and go do something fun with all your extra time.
We'll cover what's required, optional car insurance coverage, and what you can expect for rates, including average car insurance rates in San Diego, Sacramento, CA, and more.
Compare Quotes From Top Companies and Save
Secured with SHA-256 Encryption
What is the California minimum car insurance coverage requirement?
Like in most states, California has a minimum car insurance coverage requirement in order to legally drive in the state. Comprehensive and collision insurance are not mandatory in California.
Liability coverage, however, is the required minimum coverage in the state. If you damage property or injure a person in an accident, you're liable for the costs incurred. Liability coverage helps you pay for that.
What is considered full coverage in California? Well, the bare minimum that you must carry to comply with California car insurance requirements is as follows:
$15,000 – Bodily injury liability per person
$30,000 – Bodily injury liability per accident
$5,000 – Property damage liability
You'll often see those amounts shortened to this format: 15/30/5.
Now, before we go any further, we want to make a case for getting a higher level of coverage. If you've been to a hospital recently, you're well aware of how expensive it is. Having to play out-of-pocket for a hospital visit probably isn't worth getting cheap car insurance.
If you cause an accident and the other party sustains a major injury that requires surgery and therapy, the costs can quickly exceed the $15,000 in minimum coverage required.
The $5,000 requirement for property damage is among the lowest in the nation. The average vehicle is worth far more than that, and a new vehicle could be in the $60,000 price range. If you cause significant property damage, your measly $5,000 of coverage will not go very far at all.
So, what? If the costs of the accident exceed your insurance limits, you could be liable for the difference. If you have assets right now, or you plan to have assets in the future, just one accident could throw you into a financial pit from which you might never recover.
A more realistically protective starting point for liability limits is 100/300/100, and higher levels would provide even better protection. It really is something to consider when you are purchasing your auto insurance policy.
What are forms of financial responsibility in California?
In California, you must carry proof of financial responsibility in your vehicle at all times. The following forms are acceptable:
A document or identification card from your insurance company.
A DMV authorization letter if you are a cash depositor or are self-insured.
California Proof of Insurance Certificate (SR-22) form for broad coverage or owner's policy.
Evidence that the vehicle is owned or leased by a public entity defined in California Government Code §811.2.
A Notification of Alternative Forms of Financial Responsibility (REG 5085) form for a vehicle covered by commercial or business policies and being registered for the first time.
A Statement of Facts (REG 256) form certifying the motor carrier has evidence of insurance on file with the Public Utilities Commission or DMV pursuant to CVC §34630.
If you go with the cash deposit option, you'll need to deposit $35,000 with the DMV. You can also go with a surety bond for $35,000 from a company licensed to do business in California.
Far and wide the most common form of financial responsibility, and the focus of this guide, is a standard car insurance policy.
How much percentage of income are premiums in California?
Want to know how much of your income you spend on auto insurance coverage in California? Take a look at this table.
Disposable personal income (DPI) is the money that is left after income taxes have been paid. Nationally, the average percentage of DPI paid for car insurance is 2.34 percent. Californians pay less of their income to car insurance than the average American.
When you compare the percentage of income going to car insurance with the states adjacent to California, you'll see that California's percentage is lower than Oregon's, Nevada's, and Arizona's.
If you want to see what percentage of your income is being paid to car insurance, use our tool right here. You can use this car insurance calculator if you live in Los Angeles or anywhere else in the state
Compare Quotes From Top Companies and Save
Secured with SHA-256 Encryption
What are the core coverages in California?
Take a look at this table to see average rates for liability, comprehensive, collision, and full coverage in California compared to national averages of the same.
Overall, California residents pay less for car insurance than the average American. The collision part of full coverage is higher than the national average, but the lower cost for the other coverages makes up for it.
The above chart shows the monthly car insurance cost in California and every other state in the country.
What additional liability is available in California?
There are a couple of options for car insurance to protect yourself. Medical Payments (MedPay) will pay for your medical costs up to the limits in your plan regardless of who is at fault in an accident.
Uninsured/Underinsured motorist coverage will also pay for your injuries if you're hurt in an accident when the at-fault party doesn't have insurance or doesn't have enough insurance.
You might also want to consider uninsured/underinsured property damage coverage. Considering $5,000 is all the property damage liability required in California, if your car is worth more than that, you could find yourself with a lot less compensation than you need.
Uninsured/underinsured property damage coverage would kick in once the other party's insurance (or lack of insurance) is exhausted.
California's uninsured motorist rate is 15.2 percent. That's pretty high, in fact, only 11 states have a higher percentage. If an uninsured motorist causes a crash with you, you'll be wishing you would have bought uninsured motorist coverage!
This table displays the loss ratios for MedPay and uninsured/underinsured motorist coverages in California. Both are in good shape, as a healthy range is considered to be between 40 and 74 percent. The number given is the dollar amount paid to claims for every $100 earned in premiums.
If the loss ratio was approaching or exceeding 100 percent, you could expect steep rate hikes so the companies could keep up with claims. Such a scenario is not happening in California with MedPay and uninsured/underinsured motorist coverages.
What add-ons, endorsements, and riders are available in California?
You can speak to a licensed insurance agent to find out if you need any additional coverage with these add-ons, endorsements, or riders:
Guaranteed Auto Protection (GAP)

Personal Umbrella Policy (PUP)

Rental Reimbursement

Emergency Roadside Assistance

Mechanical Breakdown Insurance

Non-Owner Car Insurance

Modified Car Insurance Coverage

Classic Car Insurance

Pay-As-You-Drive Insurance

Usage-Based Insurance
Usage-based insurance is a popular option some insurance companies offer.
By choosing a usage-based plan, you allow the insurance company to monitor your driving through a telemetric device installed in your vehicle or through an app. You are then rewarded for good driving habits.
Pay-as-you-drive plans take usage-based plans a step further. You only pay for the miles you drive! For example, Metromile offers exclusively pay-as-you-drive plans. Some of the major companies, like Allstate, are offering similar plans.
Compare Quotes From Top Companies and Save
Secured with SHA-256 Encryption
Does gender and age affect my car insurance in California?
Until 2019, car insurance companies in California used gender for auto insurance rate adjustments. The resulting differences in prices between men and women sometimes favored men and sometimes favored women. However, gender as a factor in adjusting insurance rates is no longer legal in California.
Universally, 17-year-old males paid significantly more for car insurance than their female counterparts. The statistics for male teen drivers back up the argument that they present more risk to the insurance company. More risk equals higher rates.
Genderless car insurance rates are one of the natural outcomes of California's law that adds a third choice to the gender options for drivers' licenses and birth certificates. The choices are:
This law went into effect on January 1, 2019, and car insurance companies were given six months to comply with gender-neutral rates.
For the most part, residents haven't experienced a huge impact on their rates, as already, the rates were split with some males paying slightly more and some females paying slightly more.
The demographic that will see the biggest financial impact are teen females. Despite their statistically lower risk than males, they will be charged identical rates as their male counterparts.
Our team partnered with Quadrant Data Solutions to find and compare rates for California residents. Because this law had not been enacted at the time of our data gathering, our quotes represent differing rates based on gender, rather than the more recent gender-neutral car insurance laws in California.
For detailed average insurance rates in California by both age and gender combined, take a look at this chart.
We have averaged the male and female rates to give you a more accurate idea of the rates you can expect under current laws.
One thing that stands out about California car insurance rates is the older you get, the less you pay. The only exception to this in our data is that with USAA, 35-year-olds pay about seven dollars less than 60-year olds.
To look at it another way, below you'll see the companies in order of lowest to highest rates for each age group.
If you're a younger driver, USAA or Safeco may be best for you, while as you get older, Geico and United Financial offer the lowest rates by age.
What are the cheapest rates by ZIP code in California?
If you want to live in America's most famous ZIP code, you're going to pay for it! Beverly Hills 90201 has the highest average car insurance rates in the whole state at $6324.83 per year!
Let's take a closer look at how ZIP codes affect car insurance in California. In this first table, you'll see California car insurance rates by ZIP code for the 25 cheapest ZIP codes in the state.
And for the 25 most expensive ZIP codes by car insurance rate in California, take a look at this table.
San Luis Obispo residents had the lowest average rates in the state at $2,731.32. Beverly Hills 90210 residents pay far more than double what San Luis Obispo 93401 residents pay for auto insurance.
And as promised, the average cost of car insurance in San Diego is $3,446.12, which costs you less than insurance in San Leandro, CA, where the average is $3,805.59 per year.
Who are the best California car insurance companies?
We've given you a peek into the rates in California, and shown you a few of the larger insurance companies' rates for different areas and demographics. But there is so much more you need to know to make a wise choice.
Customer satisfaction and company financial ratings are two other variables that will have a big impact on your happiness with a company.
We'll cover that information for California's largest insurers. If you have to make a claim, you definitely need the company to be able to pay, and you also want the experience to go smoothly. You may also find that a California car insurance refund is being issued by many of these companies due to COVID-19.
Compare Quotes From Top Companies and Save
Secured with SHA-256 Encryption
What are the financial ratings of the largest car insurance companies in California?
Financial ratings matter because they give consumers a report on how an insurance company handles money. If a company has a poor rating, it could be at risk for bankruptcy. If a company has a good rating, they have every indication of being able to pay claims.
Below we list the ten largest car insurers in California with their financial rating awarded by A.M. Best.
Nationwide the insurance companies with the largest market share tend to have good financial ratings. Things are no different in California. The largest insurers have positive financial ratings.
Which car insurance companies have the best ratings in California?
Customer satisfaction is another important subject to investigate when choosing an insurance company. A company with higher customer satisfaction rates is more likely to keep you happy as a customer. In this table we list some of the best auto insurance companies in California along with their average insurance rates.
J.D. Power reveals the ranking of some of the major contenders in California, which we've summarized in this table.
Other than USAA, which is not available to everyone (only members of the military and their families), Wawanesa has the highest customer satisfaction rating.
Which car insurance companies have the most complaints in California?
This table shows a three-year trend for justified complaints from the 50 largest car insurance companies in California. The important numbers in the table are the complaint ratios.
This information is very valuable. The state of California collects complaint reports from consumers, investigates those complaints, and then decides if the complaints are justified.
The complaint ratio is the number of complaints to the number of exposures. A larger company will tend to get more complaints than a smaller company just because of the higher number of customers. The complaint ratio levels the playing field.
Pay careful attention to the companies that consistently have a high complaint ratio (anything above 1 is considered above average). If a company has three straight years of high complaint ratios, your chances for having a complaint-worthy experience are high if you choose them to insure you.
In the chart below, we highlight the ten largest insurers in California with their three-year average complaint ratios.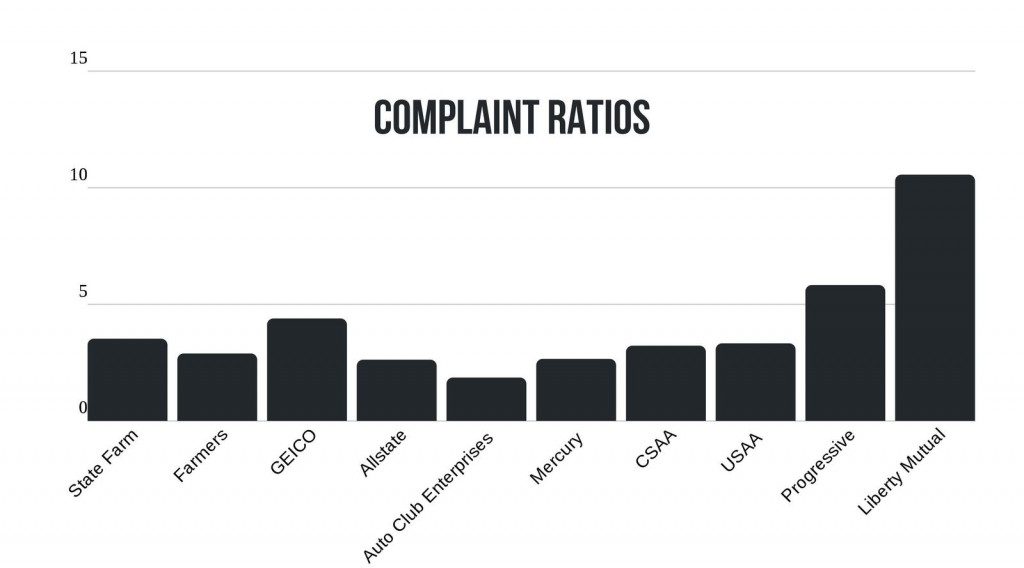 As you can see, Liberty Mutual has the highest number of complaints across the three-year time span.
Compare Quotes From Top Companies and Save
Secured with SHA-256 Encryption
What are the cheapest car insurance companies in California?
If the following average rates seem high to you, you're probably a decent driver without much risk. Take a look at this table for average annual rates by company, compared to the state average.
These averages include all driving records and all ages. If, for example, you're 30 years old with a clean driving record, you can expect your rates to be much lower!
But, if you're 17-years-old with a speeding ticket and an accident on your record, you could be looking at even higher rates.
For a visual representation of the difference in rates for each major insurance company, take a look at this chart.
These rates just give you a starting point to see which companies have the most expensive rate and the ones with the most affordable rate. Your individual rates will vary.
Does my commute affect my car insurance rate in California?
Are you curious how much your commute is going to cost you? In most parts of the country, the length of your commute doesn't make a huge difference in your rates. In California, it does, thanks to California's consumer protection laws. Take a look at this chart to see a quick summary of some of the major factors that can affect insurance rates and by how much, including your commute.
Rates in California must be set based on your driving record, years of experience, and annual mileage. And companies like Wawanesa insurance request miles, specifically average annual mileage, from insureds for each vehicle on their policy to meet California state requirements.
Currently, California is the only state in which Farmers and Progressive offer any discount for low mileage.
Take a look at this chart to see how much different companies will adjust your rates, depending on your commute.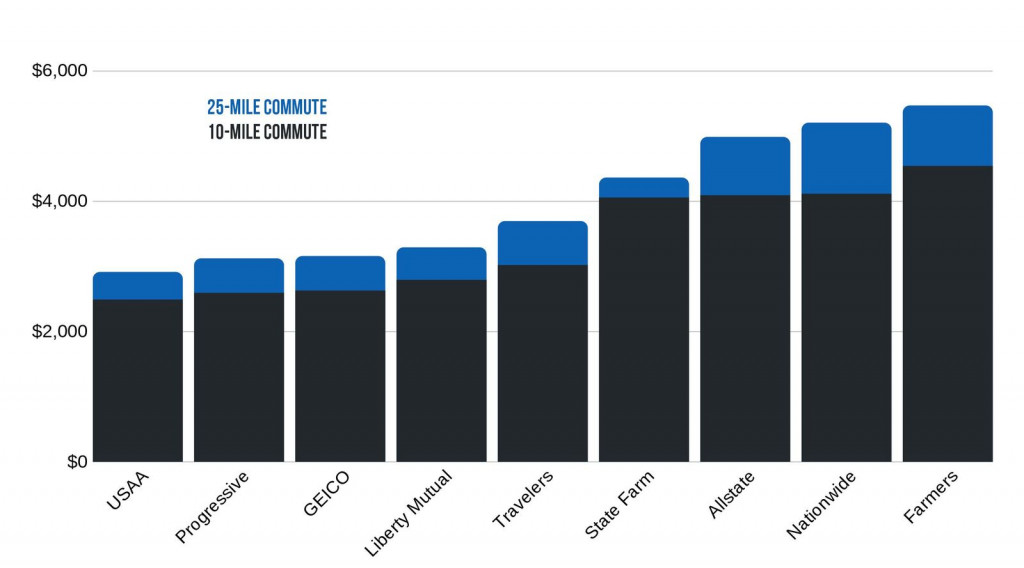 As you can see, the biggest difference in rates based on commute is found from Nationwide.
Can coverage level change my car insurance rate with companies in California?
Take a look at this table to see how car insurance rates can vary based on coverage level.
This is visually represented in the below chart.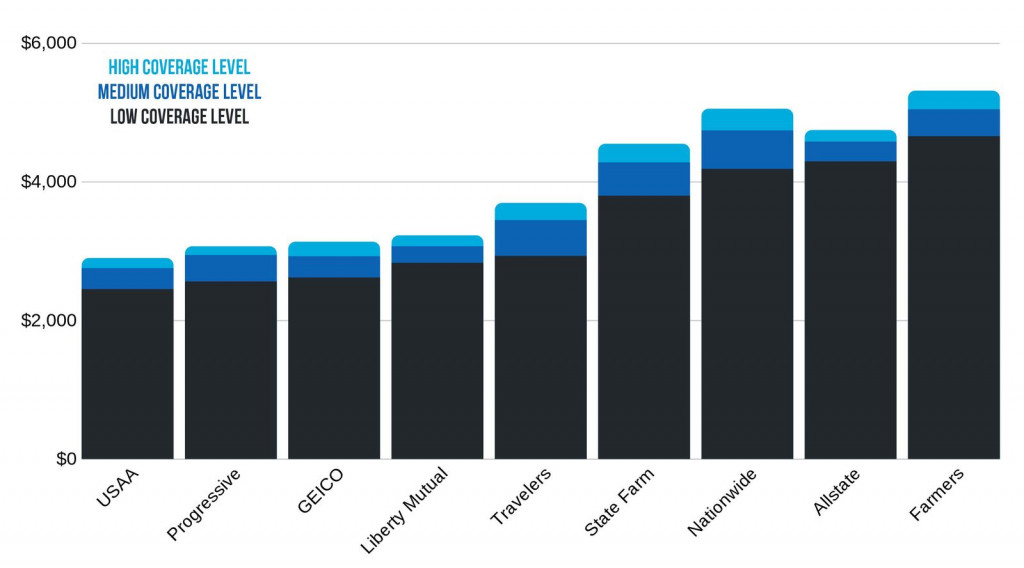 Different companies vary rates based on coverage level by different amounts.
Compare Quotes From Top Companies and Save
Secured with SHA-256 Encryption
How does my credit history affect my car insurance rate with companies in California?
California is one of three states that does not allow your credit score to be used in car insurance rate calculations. Good credit or bad credit, it won't make a difference in your car insurance rates.
How does my driving record change my rates with car insurance companies in California?
As you might expect, a significant factor in adjustments to your insurance is your driving record. Take a look at the chart to see how much it can affect your rates in California.
A couple of interesting points include that Nationwide increases rates over a clean record by the same amount for a speeding violation as for an accident and Liberty Mutual charges $350 less for a DUI on your record than they do for an accident on your record
Which car insurance companies are the largest in California?
Take a look below to see the market share for the largest insurance companies in the state.
Looked at another way,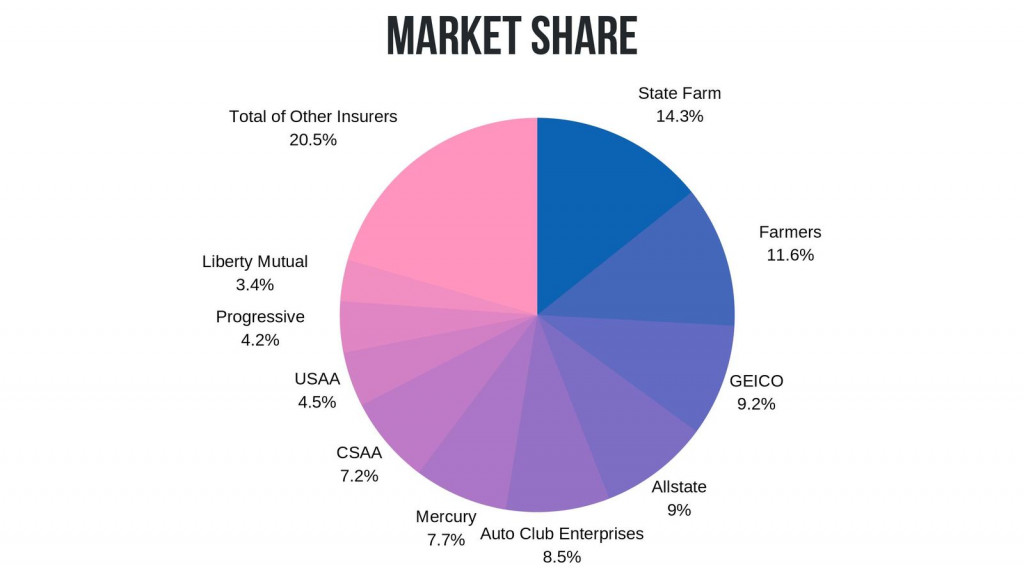 The 10 largest companies have 79.5% of the market share while the other 760 companies licensed to sell auto insurance in California are competing for the remaining 20.5%.
Yes, you read that correctly! There are a total of 770 car insurance companies licensed in California.
Domestic insurers: 99
Foreign insurers: 671
Domestic insurers are those incorporated in California, while foreign insurers are those whose companies are incorporated somewhere else.
What are the California laws?
It can prove to be difficult to study all of California's laws and discover the relevant ones to you and your car insurance. You could waste a lot of time. However, don't worry about all that because you can just read on since we're about to highlight the most important laws for you to know.
California has several unique laws concerning car insurance. You'll want to see how these laws affect you.
Not only will we cover car insurance laws, but we'll also cover road laws from car seat requirements to DUI penalties.
What are the car insurance laws in California?
California stands out from other states in how car insurance laws are determined. In 1988, Proposition 103 passed with a 51% vote. That bill is estimated to have saved Californians billions of dollars. Watch this video to learn more.
A 2013 report estimated 100 billion dollars of savings in the first 25 years since Prop 103 was passed.
Another stunning statistic is that consumers spent less on auto insurance in California in 2010 than they did in 1989, while the rest of the nation spent over 43% more.
Those who oppose Prop 103 argue that it was other laws that have resulted in consumer savings and that it is California's extremely low liability requirements that rank California 22nd in the U.S. for insurance rates. Opponents say Prop 103 has removed the free marketplace for car insurance.
Whether you're for or against Prop 103, it is the law of the land, and it's how property and casualty insurance is regulated in California. Here's how it works:
Rates must be based primarily on driving record, years of experience, annual mileage, and any other factor that can be scientifically shown to substantially relate to risk
Insurers must offer a 20% discount to any individual who requests it as long as they meet the criteria of a "good driver." To be a good driver the following must be true:

Licensed to drive for the previous three years
Not convicted of more than one moving violation (this includes an at-fault accident) during the last three years

Rates from insurers must be filed and posted publicly
The Insurance Commissioner is an elected position
Consumers may challenge the actions of the insurance company or the decisions of the Commissioner
Public notices of insurance rate filings can be found at the end of each business week on the California Department of Insurance (CDI) website.
How do you get windshield coverage?
A few states require that insurance companies provide deductible-free glass replacement. California does not. Repair and replacement parts may be aftermarket only if they are comparable quality to manufacturer parts.
How do you get high-risk insurance?
If you have been convicted of a DUI, have been in an accident without insurance, have accumulated too many driving points, or committed another serious offense, you will be required to keep an SR-22 on file with the California DMV for three years.
An SR-22 is just proof that you have insurance. It is NOT insurance. If your coverage lapses, the insurance company must notify the DMV.
If you are required to file an SR-22, you'll have to notify your insurance company. They can file it for you. If they decide to cancel your coverage because of whatever high-risk offense you committed, you can contact other insurance companies.
If you're unable to find car insurance in the competitive marketplace, California Automobile Assigned Risk Plan (CAARP) will be where you will turn. They will match you with an insurer. Since you must have insurance to drive, they will make sure you are able to do that.
How can you get low-cost insurance?
Nationwide, there are very few low-income car insurance programs. Hawaii offers a program to a very limited group of individuals. New Jersey has a program for individuals on Medicaid that costs a dollar a day and provides compensation for only immediate emergency injuries sustained by the policy-holder.
California is the third state that offers a low-cost insurance program for qualified applicants. Watch this video to learn more.
As we discussed earlier, you're required to meet minimum insurance requirements set by the state in order to legally drive in California, and your insurer will report your coverage levels to the DMV. California's low-cost auto insurance program helps low-income drivers meet this minimum requirement.
This is by far the broadest of the three states that have a low-income program.
To qualify, the following must be true of your situation:
Have a valid California driver's license
Meet income eligibility guidelines
Own a vehicle valued at $25,000 or less
Be at least 16 years of age
And your income must be less than these maximum qualifications for household size:
If you qualify and decide to go with this program, here's the coverage it will provide:
Up to $10,000 per person in case of bodily injury or death
Up to $20,000 per accident in case of bodily injury or death
Up to $3,000 for property damage
You have the option to add:
Up to $10,000 per person uninsured/uninsured motorist protection
Up to $20,000 per accident uninsured/uninsured motorist protection
Up to $1000 Medical Payments
You can't get comprehensive and collision coverage through this plan, but can purchase that directly through the agent that assists you.
How much can you save by using the low-cost program? Here's a list of the annual rates below.
These rates certainly do not reflect California's new genderless car insurance laws as males aged 19-24 must pay a 30% surcharge with this program. Their rates will likely be reformulated.
Having insurance is the most important thing. And if the only way to get it is to purchase the low-cost policy, then you need to do what it takes to do that.
However, if we cautioned previously that the standard liability limits are insufficient, we must also caution that these lowered limits are far less protective. Shop around to see if you could find a policy with adequate protection for a price you can afford.
Is there automobile insurance fraud in California?
Automobile insurance fraud plays a big role in rates in every state, including California. It's estimated that 10% of your rate is wasted on fraudulent activity. In other words, if there was no fraud, you'd pay 10% lower on your insurance rates.
Fraud is a broad term. First, we'll look at consumer vs. insurer fraud. A consumer who lies to an insurance company commits fraud. An insurance company who offers illegitimate policies to consumers commits fraud.
Now, let's break down consumer fraud a bit more:
Soft Fraud – Any misrepresentation of yourself to your insurer. It can include omitting household residents and lying about where you park your car.
Hard Fraud – Any fraudulent claim. It can include staging accidents and faking injuries.
It's easy to see how hard fraud can cost insurance companies and the consumer, but the white lies of soft fraud have just as much of an impact. Soft fraud happens so often that little or minor offenses make a big dent.
In California, to be convicted of insurance fraud, you have to commit an act, so lying about how many miles you drive a year won't be enough to charge you criminally. However, your car insurance company can drop you if they find out you've been lying. So, just be honest!
Not only do you have to commit an act of fraud to be convicted, but the prosecution must also prove that you had the intent to commit fraud.
If it can be proven you committed an act of insurance fraud with intent, here are the maximum penalties.
A common organized insurance fraud scheme is to force an accident. Watch out for these scenarios shared by the California Department of Insurance (CDI):
Sudden Stop – The driver of the vehicle in front of you stops suddenly for no reason, causing you to rear-end the vehicle.
Swoop and Squat – A fast-moving vehicle swoops in front of the vehicle in front of you, causing that vehicle to brake suddenly, causing you to collide into the "victim" vehicle. A third vehicle has also forced you to remain in your lane so that you cannot avoid the collision.
Stuffed or Jump-in Passengers – Passengers who were not in the vehicle at the time of the collision.
Right of Way Collision – An on-coming driver gives you the right of way and waits for you to enter the roadway, and then purposely causes a collision.
To report a suspected case of fraud, download, print, and fill in the form from CDI. Then mail it to:
California Department of Insurance
Enforcement Branch Headquarters
Intake Unit
9342 Tech Center Drive, Suite 100
Sacramento, CA 95826
To give you an idea of what fraud looks like in California, we pulled California's fraud division statistics for the 2016-2017 fiscal year:
There are several divisions of California's fraud unit. In the automobile insurance fraud division, there are several specialized units focused on specific dimensions of the penal code. Undoubtedly, this level of fraud made it difficult to get the best rates, and affected 2017 auto insurance rates in California.
From their annual report:
"During fiscal year 2016-17, the Fraud Division received 19,006 suspected fraudulent claims (SFCs), assigned 470 new cases, made 260 arrests, and referred 260 submissions to prosecuting authorities. The potential loss amounted to $100,143,746."
As you can see, California takes fraud seriously and will prosecute when applicable.
Is there a statute of limitations?
If you're in an accident, the best course to take with insurance is to make a claim right away. It will be easier to prove and you can gather the information that could be lost by waiting. If for some reason you can't decide if you should file a claim, there's a hard and fast time limit.
If you pass the statute of limitations you will be out of luck.
What is the automobile mediation program for?
The state first started an insurance mediation program in 1995 to help settle disputes over a 1994 earthquake. In 2001, the program was expanded to include automobile claim disputes.
When the insurer and the insured cannot agree on a settlement, the mediation program will provide a qualified mediator to help both parties come to an agreement.
To be eligible:
You must have a comprehensive or collision policy
The dispute must be over a first-party damage claim (liability and injury claims do not qualify)
The claim must be over $7,500
The amount in dispute must be over $2,000
The goal of mediation is to help both parties come to an agreement. An agreement is not required, though, and if no settlement can be reached, the next step would be a lawsuit that could incur significant costs.
California's Automobile Mediation Program is free of charge.
What are the fair claims settlement practices?
This regulation was established to protect the consumer.
It gives the insurance company 40 days to accept or deny a claim.
It demands the insurer provide a written explanation for denials.
It demands the insurer pay for claims within 30 days of acceptance.
The bullet list above is just a brief summary of all the law requires.
What are the vehicle licensing laws in California?
Whether you're new to California, a new driver, or a seasoned, longtime California driver, we'll cover the information you need to keep yourself out of trouble.
What are the penalties for driving without insurance?
If you're pulled over for a traffic violation or you've been in an accident, you're going to be required to show proof of insurance. Law enforcement can access a DMV database with insurance information, but this does not release you from the requirement to provide proof.
The proof can be physical (a paper copy of your insurance card, most often) or electronic (on your phone, usually).
Take a look at this table to see what penalties you may face according to the California Vehicle Code (CVC) for driving without insurance.
If you have stopped paying for insurance, you will receive a notice that your registration will be suspended. You may return the notice with proof of insurance and a $14 reinstatement fee.
You do not need to purchase insurance for a car that you do not drive. If you plan to not use your car, there are a couple of ways you can suspend your registration properly, and thus not be required to purchase insurance.
If your registration is up for renewal, you can file your car as Planned Non-Operational (PNO) status.
If your car is already registered, you can submit an Affidavit of Non-Use (ANU) to the DMV.
Once the DMV has received either the PNO or the ANU, you will be notified and you may cancel insurance coverage. While your car is not registered or insured, you cannot drive or park on a public road. If you do, you can be cited and required to reinstate your registration and insurance.
What are the teen driving laws?
California, like every other state, has a Graduated Drivers Licensing (GDL) system. Their system complies with the five of the seven key elements spelled out by the National Institute of Health, and is thus labeled as "most effective."
The key restrictions that California has enforced are:
A mandatory waiting period of at least six months before a driver can apply for an intermediate license
A requirement for 50-100 hours of supervised driving before testing for an intermediate license
Restrictions on nighttime driving
A limit on the number of teenage passengers allowed in the car
A minimum age of 18 for a full license
Nationwide, laws restricting nighttime driving have lowered fatal crash rates by 10 percent and laws limiting teenage passengers have lowered fatal crash rates by 9 percent.
What are the older driver license renewal procedures vs general population?
There are also specific laws drivers over a certain age must follow in order to maintain their driver's license. We've compared the rules for drivers in the general population to those required for older drivers. Take a look.
Want to renew online? You'll need to answer these questions:
Does your driver license expire more than 60 days from today's date?
Will you be 70 years of age or older when your current driver license expires?
Are you currently on any type of driving probation or suspension?
Did you violate a written promise to appear in court within the last two years?
Have you already received two consecutive five-year extensions by mail?
Do you have a driver license from more than one state or jurisdiction?
If the answer to every question is "no," you'll be able to complete your online renewal.
What is the procedure for new residents?
Once you establish residency in California, you have 10 days to get a California driver's license (DL). Residency is established by any of the following:
Voting in a California election
Paying resident tuition
Filing for a homeowner's property tax exemption
Any other privilege or benefit not ordinarily extended to nonresidents
Appointments to get a California DL are recommended. You must be prepared to do the following:
Give your social security number
Verify your identity
Verify your California residency
Pay an application fee
Take a knowledge test
Take a vision test
Get fingerprinted
Get your photo taken
If you have a valid DL from another state, the requirement to take a driving test may be waived.
You have 20 days after establishing residency to register your vehicle with the state of California.
If you're moving from a state where auto registration renewal is a one-step process, you should know that in California, you have to have a smog inspection completed. You'll also need to have your VIN verified.
What is a Negligent Operator Treatment System (NOTS)?
Here's a succinct definition of NOTS:
The Negligent Operator Treatment System (NOTS) is based on negligent operator points and consists of a computer generated series of warning letters and progressive sanctions against the driving privilege.
If you commit certain offenses, you will receive points. If you accumulate too many in a set period of time, you will have your license suspended.
Here is a list of infractions with their point values.
With this in mind, it pays to follow the rules of the road. Keep reading to learn more about laws you need to follow when you're behind the wheel in California.
What are the rules of the road?
Everywhere you go, there are things you need to know about when you hit the road. Finding the laws and determining which ones are key to remember can waste a lot of time. We have what you need to know.
Is California a fault or no-fault state?
California is a tort, or fault, state. The person at fault in a collision is responsible for all costs incurred.
California is a pure comparative negligence state. That means that if you are 10 percent at fault and the at-fault party is 90 percent at fault, you are only entitled to collect 90 percent of your damage costs from the other party.
What are the seat belt and car seat laws?
The driver and all passengers must wear a seat belt while traveling. The enforcement is primary, which means you can be pulled over just for not wearing your seat belt. The penalty is a $20 fine. Take a look at this video for more.
Here are the regulations for car seats:
Children under two years old must be secured in a rear-facing car seat. The only exceptions are if the child is over 40 pounds or over 40 inches.
Children under eight years old must be secured in a car seat or booster seat. The only exception is if the child is over four feet nine inches.
From the time a child graduates out of a booster seat until they are 16, they must wear a seat belt while in the car. (Over 16-years-old are covered by adult seat belt laws)
A child seat violation (including not wearing a seat belt when under 16) is a primary offense and will result in a $100 fine and points.
People can ride in the cargo area of a pickup truck only under the following situations:
If the person is restrained by a federally approved restraint system
If the vehicle is farmer-owned and used exclusively within farming land or one mile of highway between one part to another
If the vehicle is in a parade and driving no more than eight miles per hour
If it is an emergency situation
So, practically speaking, you cannot ride in the cargo area of a pickup truck.
What are the "keep right and move over" laws?
When traveling on a multi-lane highway, you must move to and stay in the furthest right lane if you're traveling slower than the speed of traffic around you.
When approaching emergency vehicles, tow trucks, or Department of Transportation (DOT vehicles with emergency lights flashing, vehicles should:
Move into a lane not immediately adjacent to the vehicle with lights flashing if safe to do so
If not safe to change lanes, slow to a safe and prudent speed
Always pay attention on the road, so you don't miss anything.
What's the speed limit?
Take a look at this table to see maximum speeds for different types of roads in California.
Keep in mind, these are the maximum speed limits for each road type, meaning that they can't exceed these numbers, but speeds can be set at a lower rate.
How does ridesharing work?
In 2018, Governor Jerry Brown signed a bill into law requiring rideshare app drivers to share a picture, first name, and a picture of the vehicle the driver is approved to use. Also in the bill are stronger background checks for drivers.
There are three time periods rideshare drivers may be categorized in when working, and there are different insurance requirements for each. Ridesharing companies must provide $1 million in liability coverage from the time a match is accepted (beginning of period two) until the rider exits the vehicle (end of period three).
Those who drive for ridesharing services must maintain liability limits of 100/300/50 when the app is on before accepting a match (period one). This coverage can be provided by the rideshare company, but if it's not, the driver must purchase it.
The rideshare company must provide $200 thousand in excess insurance during period one.
A regular personal auto policy may not extend any coverage to ridesharing activities. So, to be covered as a driver, you need to get a special rideshare policy. Here are the companies that offer rideshare coverage in California:
Allstate
Esurance
Farmers
Liberty Mutual
Mercury
Metlife
Metromile
State Farm
USAA
If you're considering becoming a rideshare driver, speak with a licensed insurance agent to find out how to add the appropriate coverage to your existing policy.
What about automation on the road?
California is a hotspot for automated vehicles. They are currently being tested and deployed on California roadways. Watch this video to learn more about one company that was granted a permit to test driverless cars without a safety driver.
Autonomous vehicles must have five million in liability insurance.
What are the safety laws in California?
In order for your driving experience to be safe and orderly, there must be laws and standards set. Following these laws will help keep you safe and will keep you from being penalized.
What are the DUI Laws?
Driving under the influence (DUI) is dangerous and illegal. This table outlines the penalties you may face if you're caught.
If you refuse to take a chemical test, here's the license suspension length you'll face:
A first offense will result in a one-year suspension.
A second offense within 10 years will result in a two-year revocation.
A third or subsequent offense within 10 years will result in a three-year revocation.
If you're under 21 years old, a first offense will result in a one-year suspension.
What are the marijuana-impaired driving laws?
While there are no specific marijuana-impaired laws, a DUI in California includes driving under the influence of alcohol OR drugs. The penalties for DUI drugs are the same as DUI alcohol.
What are the distracted driving laws?
Handheld electronic devices are banned for all drivers in California. Hands-free electronic use is legal for drivers over 18 years old. Drivers under 18 years old may not use a cell phone in any way while driving.
What are the California can't-miss facts?
The roads can be dangerous. Accidents happen, thefts happen, it can be depressing to hear about. But, if you take this information and use it as a way to be on the lookout for dangerous situations, you can improve your driving experience through the bad driving and road etiquette of others.
In the next several sections we'll look at vehicle theft, fatal crashes, and finally, traffic conditions.
What does vehicle theft look like in California?
In this chart we list the top 10 most stolen vehicles in California.
The Honda Accord and Honda Civic blew the thieves' favorites competition out of the water. If you have one of those vehicles, keep it locked up and in the garage.
The model years listed in the chart above are the most popular model years, while the total number of vehicles stolen represents all model years stolen of that make and model.
Five of the top 10 cities for vehicle theft in the U.S. are in California. Here they are with their national ranking:
Redding – #4
Bakersfield – #6
Modesto – #7
Stockton-Lodi – #8
Yuba City – #9
In the table below, you can search for any California city and see how many vehicle thefts were reported.
You should also know: California is home to some of the most expensive tollways in the United States, so plan your driving here accordingly.
What are common road dangers in California?
Weather, speed, and numerous other factors play a role in your driving experience. We'll look at how these variables can affect safety.
What is the number of fatal crashes by weather and light condition?
We used National Highway Traffic Safety Administration (NHTSA) data to populate this table on fatalities in California based on weather and light conditions.
Based on this data, rain and various levels of darkness seem to be some of the more significant factors in fatal car accidents in California.
What are the fatal crashes by county?
We've collected NHTSA accident fatality data on every county in California across a five year span. Take a look.
As you might expect, Los Angeles county is the most fatal county for all five years.
What are traffic fatalities urban vs. rural?
We also looked at fatalities based on urban versus rural roads.
Urban fatalities are consistently higher than rural ones, which isn't a surprise, given the higher population density.
What are traffic fatalities by person type?
Take a look at this table to see fatalities by person type.
Vehicle passengers face the highest fatality rate in California.
What are fatalities by crash type?
Crash type is also an indicator of fatality type. This table summarizes data in California for a five-year span.
Single vehicle crashes are by far the most fatal accidents in California, with factors like speeding and roadway departures being some of the biggest contributors.
What is the five-year trend for traffic fatalities in the top 10 counties?
This table summarizes the fatality rates for the ten largest counties in California.
As we noted earlier, Los Angeles county has the highest fatality rate, followed by San Bernardino, Riverside, and San Diego.
What are the fatalities involving speeding by county?
To see which counties face the most fatalities due to speeding, take a look at this table.
As you might expect, Los Angeles again has the highest fatalities, followed by Riverside and San Bernardino.
What are the fatalities involving an alcohol-impaired driver by county?
To see which counties face the most fatalities due to alcohol-impaired drivers, take a look at this table.
The top three most fatal counties are Los Angeles, Riverside, and San Bernardino.
What is transportation like in California?
Read through the next few sections to learn more specifics about commute traffic congestion, vehicle ownership, and more in California.
What's the average car ownership?
DataUSA provides information on average car ownership per household by state, compared to national averages of the same:
One vehicle: 17.9% in California, 20.2% across the nation
Two vehicles: 37.4% in California, 40.3% across the nation
Three vehicles: 22.9% in California, 21.5% across the nation
Four vehicles: 11.6% in California, 9.23% across the nation
Five or more vehicles: 6.98% in California, 4.56% across the nation
As you can see, for the smaller numbers of vehicles per household, California averages are slightly below the national average, but for households that own three or more vehicles, California averages are higher than the national rates.
What is the average commute time?
The average commute time in California is almost two-and-a-half minutes longer than the U.S. average. Specifically, the average commute time in California is 28.4 minutes, compared to the national average of 25.7 minutes.
What's the traffic congestion in California?
Take a look at this video to learn a bit more about just how congested traffic can get in certain parts of California.
Congratulations, California. You are home to the top two cities nationwide for traffic. Los Angeles takes home the trophy while San Francisco is the first runner-up. If you're one of the millions of Californians stuck in traffic every day, these rankings come as no surprise. We've summarized traffic congestion rates for some of the most congested cities in the state in this table. Take a look.
Now that you know what you need to know about the best auto insurance in California, and what to know about car insurance when driving in the state, it's time to get started comparing car insurance quotes. Enter your ZIP code right here to find and compare the best insurance rates in California for free.