New Jersey Car Insurance Guide (Cheap Rates + Best Companies)
Free Car Insurance Comparison
Compare Quotes From Top Companies and Save
Secured with SHA-256 Encryption

When you think of New Jersey, an urban landscape dotted with highways and shopping malls may come to mind rather than flowers, fruits, or vegetables. So, its nickname, "The Garden State," seems to defy its popular image. However, New Jersey car insurance has grown just much as the vegetation.
There are a lot of factors that affect the price of car insurance in New Jersey. If you are confused about New Jersey auto insurance, you're not alone, but we can help.
Continue reading to learn about the car insurance companies in New Jersey and the dollar a day car insurance in Paterson, NJ, along with other cities.
If you're ready to compare New Jersey car insurance rates, enter your ZIP code to get started!
What are New Jersey's insurance coverage & rates?
If you have those and other questions we have plenty of answers. Below, we'll cover New Jersey's minimum car insurance requirements, the average cost of premiums, and more interesting data to help you make the right choice.
Read on to find out more.
If you're ready to start comparing New Jersey car insurance right now, enter your ZIP code in the FREE comparison tool!
Compare Quotes From Top Companies and Save
Secured with SHA-256 Encryption
What is New Jersey's minimum coverage?
How much insurance do you need for your car?  According to state of New Jersey car insurance laws, drivers there must carry the minimum insurance coverage that is required by the state. Basic coverage costs are less than those for a standard plan, but the coverage is more limited.
Below are the coverage amounts required under the basic policy:
Remember liability coverage is focused on covering the other party in an accident where you're at fault. Without liability coverage, if you cause a car accident and injure other drivers or passengers, you would need to cover the other party's injuries and property damage. You could get sued and your wages garnished along with facing other penalties from the state.
If you want coverage for your own property damage, you'll need to buy comprehensive and collision insurance. Collision insurance alone will cover accidents, but cars face other risks like animals and falling trees. Some people also choose to buy higher PIP limits to cover their own potential injuries.
How Do You Know Which Auto Insurance Company Pays Claims?
According to the Insurance Information Institute for the state of New Jersey, New Jersey is a "no-fault" car insurance state. If you buy a standard policy, you must choose if you want a "limited right to sue" or an "unlimited right to sue." This is a critical choice, but one that many people don't fully understand.
If you choose the unlimited right to sue, you can sue another driver who causes an accident for pain and suffering regardless of how big or small your injuries are.
If you choose the limited right to sue, you are not allowed to sue another driver unless you have suffered specific injuries including:
Loss of a body part
Significant disfigurement
A displaced fracture
Loss of a viable fetus
Permanent injury
Death
The state of New Jersey specifically warns that you are solely responsible for your choice in this matter. You cannot sue insurance producers or companies if you're defaulted to a limited right to sue because you did not make a selection. This choice cannot be reversed after an accident regardless of the reason why it was selected.
What are acceptable forms of financial responsibility?
At an inspection, a checkpoint, a traffic stop, or an accident in New Jersey, you must provide proof of insurance in paper or electronic form. You can show the digital version on any mobile device.
According to the New Jersey Motor Vehicle Commission, insurance cards must meet the following specifications:
The paper card must be three inches by five inches and five-and-a-half inches by eight-and-a-half inches.
The white cardstock must be at least 20-weight.
The front of the card should show the insurance company's name, address, and code (or name and address of the issuer). It must also bear the insured's name and address, the policy number, effective and expiration dates, vehicle description (make, model, and VIN), and the heading "State of New Jersey Insurance Identification Card." On the back should be the insurer's address, established for the filing notification of the start of medical treatment.
In recent years, New Jersey state has also determined cell phones, tablets, and computers can be used to provide proof of insurance electronically. The average rates also go down if you go paperless. So this may provide some appeal for drivers trying to minimize their insurance costs.
Compare Quotes From Top Companies and Save
Secured with SHA-256 Encryption
How much are premiums as a percentage of income?
In 2014, the average New Jerseyan's annual disposable after-tax income was $49,983, while the cost of a yearly full-coverage premium was $1,379.20. That means that the average New Jersey driver spent almost 3 percent of their income on car insurance. This doesn't differentiate between average rates for state minimums and more comprehensive insurance plans.
Of the bordering states, from 2012 to 2014, New York and Delaware residents' average annual disposable incomes and cost of car insurance premiums were about the same. Pennsylvanians, however, paid less for their annual car insurance premiums, about $950.00, with a lower disposable income (around $42,000).
The average New Jersey driver also paid roughly $400.00 more for their annual car insurance premiums than the average American during those three years.
Of course, prices can vary widely between cities in New Jersey. If you have a clean driving record, it makes a substantial difference. Crime rates, claim rates, and many other things go into determining individual rates for auto insurance quotes. The best way to determine how much you will pay is by getting quotes from multiple companies online. All you have to do to get started is enter your zip code and answer a few questions.
What are average monthly car insurance rates in NJ (liability, collision, and comprehensive)?
Your average monthly car insurance rates may not increase as much as you might think by adding additional coverage like comprehensive. Review rates for auto insurance coverage below:
Below are the costs of annual insurance premiums in New Jersey, with data from the National Association of Insurance Commissioners.
As shown, the average national cost of a full-coverage premium is $1,009.38. New Jerseyans pay over $370 more than the national average. The Garden State ranks second place nationwide for the highest full-coverage premiums.
Not to be outdone, New Jersey ranked first place for the highest average yearly cost of liability coverage, which was more than $300.00 that of the national average.
You must buy liability coverage because if you're responsible for an accident and need to pay damages, there's a higher risk it will cost the insurer a lot of money. Therefore, this insurance has a high price.
Collision and comprehensive coverage aren't mandatory, and, as you can see, they cost about the same as the national average. Collision insurance will pay for damage if you crash into something, and comprehensive will cover "acts of God or nature," such as fire, vandalism, or theft.
Though not necessary, it's advisable to buy more liability and personal injury protection coverage than required to protect you from potentially costly severe injuries and damage. Though you don't need to buy them, they provide more peace of mind in case something goes wrong.
Get cheap car insurance quotes right now by entering your ZIP code in the FREE comparison tool below!
What additional coverages are available?
Let's look at more coverage options beyond core car insurance premiums.
A loss ratio compares how much a company spends on claims to how much money they earn on premiums. A loss ratio of 60 percent shows the company spent $60 on claims out of every $100 it made on premiums.
If the ratio is closer to 100, it paid more money in claims and took a loss. If it's less than 100, the company spent money on claims, but it also made money on the premiums.
As the table above shows, insurance companies in New Jersey manage their loss ratios for PIP, MedPay, and uninsured/underinsured motorist coverage well.
The State of New Jersey requires drivers to buy PIP to cover medical expenses, lost wages, and rehabilitation.
Another optional coverage is MedPay or medical payments coverage. It pays medical and burial expenses for yourself and any passengers in an accident, whether you are a pedestrian or in another motor vehicle.
If you buy PIP coverage, it makes sense to buy more than the amount required, because if you exceed your coverage limits, you may end up paying the costs yourself.
Another option is uninsured/underinsured motorist coverage, which will cover personal injuries and property damage if you're in an accident with an uninsured driver.
New Jersey ranks 14th nationwide for the number of uninsured motorists. According to the Insurance Information Institute, 14.9 percent of Garden State drivers don't have insurance.
Compare Quotes From Top Companies and Save
Secured with SHA-256 Encryption
What add-ons, endorsements, and riders are available?
These are some more coverage options you can add to a basic car insurance policy:
Rental Reimbursement

Pay-as-You-Drive or Usage-Based Insurance

Emergency Roadside Assistance

Mechanical Breakdown Insurance

Non-Owner Car Insurance

Modified Car Insurance Coverage

Classic Car Insurance
In the section below, we partnered with Quadrant Data to cover the most significant factors that go into setting car insurance rates in New Jersey.
What are average monthly car insurance rates by age & gender in NJ?
Let's see how age and gender affect New Jersey car insurance rates.
Unless you're young, your gender doesn't have as much of an impact on car insurance prices as does your age. Younger, more inexperienced drivers including males tend to be charged higher premiums than older drivers.
Find out which car insurance companies have the cheapest car insurance rates. Just enter your ZIP code to find out now!
What are the rates in New Jersey's ten largest cities?
Where you live also affects your car insurance rates, as you'll see below.
Premiums for drivers in big cities can cost thousands of dollars more than in the suburbs. For instance, the price difference between the top city, Newark, and the least expensive city, Brookside, is $4,000.
Compare Quotes From Top Companies and Save
Secured with SHA-256 Encryption
Where are the cheapest rates by Zip code?
Now, let's look at the rates by zip code.
Again, areas with higher populations tend to see higher rates than those with fewer people.
Urban areas tend to have higher than average car insurance rates. These ZIP codes are metropolitan areas with higher populations and increased risk for accidents.
Where are the cheapest rates by city?
Here's similar information but by city name. How does your city rank?
The next table shows the cities with the most expensive car insurance rates.
Car insurance will determine your car insurance rates based on where you live because drivers may have an increased risk of accidents and vehicle theft.
Who are the best New Jersey car insurance companies?
Researching the best car insurance rates can leave you scratching your head. Just what should you look for when you evaluate a company and its offerings?
Often, buyers tend to search by price, but that's not always the wisest strategy, because they may end up with less coverage than they need.
It helps to see how well a company is doing financially and how well it serves its customers. Read on for company financial ratings, customer reviews, and complaint data.
Compare Quotes From Top Companies and Save
Secured with SHA-256 Encryption
What are the largest companies' financial ratings?
A.M. Best ranks insurance companies based on their financial strength. Their scores are mostly a report card for the industry and show whether companies can meet their financial obligations.
Below are their rankings for the leading car insurance companies in the Garden State.
Geico, State Farm, and Travelers are among the companies that received the highest rating of "A++." Known for their solid track record, they look to continue their growth well into the future.
Who are the companies with the best ratings?
J.D. Power measures customer satisfaction through its U.S. Auto Insurance Study. Let's see how the top companies in the Mid-Atlantic Region rank.
Erie Insurance, a regional company, received the highest marks — five Power Circles, showing it's "among the best."
Who is the cheapest car insurance company in NJ? Review the average auto insurance rates by the company below:
What are the companies with the most complaints in New Jersey?
The New Jersey Division of Insurance publishes insurers' complaint ratios yearly. Below are the complaint ratios for the top 10 companies in the Garden State.
A company with a complaint index lower than 1.0 has fewer complaints than average, and a company with a complaint index higher than 1.0 has more complaints than average.
Allstate Insurance Company and Travelers Insurance Company are among the companies that had the fewest complaints. You may submit a complaint online at the New Jersey Division of Insurance website.
Compare Quotes From Top Companies and Save
Secured with SHA-256 Encryption
What are the cheapest companies in New Jersey?
Here's how the top insurers' prices rank compared to the state average.
Geico and Progressive had rates far below the state average.
What are commute rates by company?
Does the distance you commute affect your insurance rates?
Let's take a closer look at how ZIP codes affect car insurance in New Jersey.
Let's see if there are any changes for 10- versus 25-mile commutes.
As shown, some insurers like Allstate and State Farm factor commute distance into their premiums, but others don't. Except for State Farm, those that raise their prices don't do so by much for short distances.
What are coverage level rates by company?
Insurers charge different rates for their levels of coverage, whether it's high, medium, or low.
With some companies, like Travelers, there's as much as an $800-price difference between the highest and lowest coverage. If you can't afford the highest coverage, a medium option may be more affordable for your needs.
Compare Quotes From Top Companies and Save
Secured with SHA-256 Encryption
What are credit history rates by company?
Your credit score can also affect your insurance rates. Generally, insurers see customers with poor scores as riskier to insure.
Of the companies listed, State Farm has the highest cost difference (almost $6,000) between those with poor credit and good.
What are driving record rates by company?
Your driving record also has a major influence on your car insurance rates. Let's see how common driving penalties can affect them.
Some companies, like Liberty Mutual, don't change their rates for one speeding ticket. With others, one speeding ticket can lead to an increase of about $1,000 or more.
What are the largest car insurance companies in New Jersey?
Let's see how the top insurers compare with premiums written versus their market share and loss ratios.
Geico comes out ahead of the pack with the highest financial strength. Though the insurer writes an average of $1.5 million in premiums yearly, a substantial loss ratio of 70-percent and a more-than-20-percent market share help make it profitable.
Compare Quotes From Top Companies and Save
Secured with SHA-256 Encryption
How many insurers are in the state?
Domestic companies were formed in New Jersey, while "foreign" companies were founded out of state.
Of the 844 total companies in operation, most of them are based outside of The Garden State.
What are New Jersey's laws?
Every driver must obey the law to protect themselves and others. If you find it hard to follow the rules, this responsibility can feel like a burden. But it doesn't have to be.
Here we'll cover the laws you need to know most, from insurance statutes to fraud. Best of all, we've removed all the legal jargon in between.
So, let's get ready to dive into the details.
Who sets car insurance rates in New Jersey, and how do they do so? What are the laws regarding windshield coverage and high-risk insurance?
Coming up, we'll answer all of these questions and more.
How New Jersey Car Insurance Rates are Determined
New Jersey's Department of Banking and Insurance controls car insurers' operations in the state. When setting rates, it follows the National Association of Insurance Commissioners' guidelines.
In The Garden State, insurance companies need prior approval from the DBI to set their rates and for their form filings.
Windshield Coverage
New Jersey doesn't require insurance companies to offer windshield repair or replacement. But, according to the law, you could receive a citation while driving with a chipped windshield if a law enforcement officer believes it affects your view.
With a standard repair deductible of $750, your insurer will settle any repair cost over that amount.
High-Risk Insurance
Insurance companies see drivers who have several penalties on their records as a high risk to insure. These penalties can include anything from accidents to DUIs.
High-risk drivers can qualify for coverage through the New Jersey Personal Automobile Insurance Plan (NJ PAIP) if a minimum of two insurers has denied them coverage over 60 days.
As part of a pool, NJ PAIP assigns insurance carriers to high-risk drivers for three years. These rates tend to cost more than standard premiums.
By law, motorists who have seven or more points on their driving record in three years before the insurance application, or the three-year period that ends 90 days before the policy renewal, aren't eligible for coverage. Despite this, you may still be able to find coverage with insurers who consider high-risk drivers.
Low-Income Car Insurance in NJ
New Jersey offers a program for Medicaid recipients who have hospital benefits, called the Special Automobile Insurance Policy (NJSAIP), or "Dollar a Day" insurance policy. Aptly enough, it costs almost a dollar per day, or $365 per year (or $360 if you pay all at once).
This insurance policy will cover up to $250,000 in emergency medical costs after an accident. It also has a death benefit of $10,000.
Automobile Insurance Fraud in New Jersey
Insurance fraud is a crime in New Jersey. Faking accidents, inflating numbers on insurance claims, and falsifying information are among the common forms of auto insurance fraud.
Fraud can result in millions of dollars of losses for insurance carriers every year. This is one of the reasons why car insurance rates continue to rise.
As you can see, auto accident fraud can result in up to 18 months in jail, $10,000 in fines, and 30 days of community service.
The New Jersey Attorney General's Office of the Insurance Prosecutor investigates claims of auto insurance fraud.
The OAG offers a reward to those who report new cases that lead to an arrest. The OAG's 2013 annual report showed that out of 313 criminal cases, 53 defendants were charged with auto insurance fraud.
To report car insurance fraud in New Jersey, you can fill out an online form, email [email protected], or call 1-877-55-FRAUD (1-877-553-7283).
Statute of Limitations
The time limit to file a lawsuit in New Jersey for personal injury and property damage is two years from the date of the accident.
What are the vehicle licensing laws?
A driver's license legally allows you to drive, and with it, it is your responsibility to follow the appropriate licensing laws for your situation. In this section, we'll cover Real ID, teen driver, and new resident licensing, license renewal, and penalties.
Don't miss it. Read on to learn more.
Real ID
As part of homeland security, the federal Real ID Act set standards for identification cards states can issue for flying in the U.S and entry into federal buildings or nuclear power plants. The Real ID Act goes into effect on October 1, 2020.
The Real ID driver's license and state identification cards have a yellow star that indicates they're a secure proof of identity.
You don't have to get a Real ID, but if you usually use your driver's license or state ID when you fly, you may want to upgrade when your current license expires. Otherwise, you can still use a valid U.S. passport or another federally-approved form of identification.
New Jersey Motor Vehicle Commission is upgrading its computer systems and preparing to reduce wait times for applicants before October 2020. They're also planning to offer more information about the documents required to get a Real ID.
For now, keep in mind that the NJ MVC's application process involves some "new math": 2 + 1 + 6 = REAL ID.
Applicants will need to bring two documents as proof of address, one document as proof of a valid Social Security Number, and other documents that add up to six points. The point values are different for a Real ID versus a standard ID.
The news report below describes the new program:
Penalties for Driving Without Insurance
New Jersey has strict laws against driving without insurance. The first offense alone will cost uninsured drivers up to $300 and lead to a one-year license suspension.
But they can be lenient if the driver shows proof of insurance at their hearing.
A second conviction will result in 14 days in prison and two years' suspension of driving privileges. There's also a fine up to $5,000 and a 30-day community service requirement before license reinstatement. The video below goes into more detail:
Teen Driver Laws
Below are teen driver laws in The Garden State, helping to keep young drivers safe while they complete a graduated driver licensing program.
License Renewal Procedures
Here are the state requirements for license renewals for older drivers and the general population. As we mentioned earlier, if your license will expire soon, you may consider getting a Real ID.
New Residents
If you plan to move to The Garden State, you will need to register your vehicle in New Jersey and get a driver's license. You have 60 days to transfer your titles and registration.
You will need to bring six points of ID to apply for a license at the New Jersey Motor Vehicle Commission. If you're 21, you must complete the Graduated Driver License (GDL) program requirements.
If you choose to do so, you may still apply for a Real ID before they go into effect on October 1, 2020.
Negligent Operator Treatment System (NOTS)
New Jersey drivers who commit violations may receive points on their licenses that ultimately result in a suspension. Points on your license can also raise your car insurance rates.
If you get six or more points within three years on your current driving record, you will receive a fine. The New Jersey Motor Vehicle Commission will suspend the licenses of drivers who have 12 or more points on their records.
According to the MVC's Points Schedule, below are some of the violations that may trigger a ticket.
On the New Jersey Turnpike, Garden State Parkway, and Atlantic City Expressway:
Moving against traffic – two points
Improper passing – four points
Unlawful use of median strip – two points
All roads and highways:
Failure to yield to a pedestrian in a crosswalk – two points
Passing a vehicle yielding to pedestrian in a crosswalk – two points
Driving through safety zone – two points
Racing on the highway – five points
Improper action or omission on grades and curves – two points
Failure to keep right – two points
Drivers who get points may take measures to earn point deductions by taking qualified MVC-approved driving courses. That can earn a "-2" point deduction.
Another way to remove points is to remain free of violations and suspensions for one year. For that, drivers will earn a "-3" deduction.
The year starts on the date of the violation of the most recent license restoration. You can complete more than one program to remove points; however, you must follow the timeline for each deduction restriction.
The MVC notes that your insurance company might not factor the deductions into your rates; these deductions also don't permanently remove points from your record.
Free Car Insurance Comparison
Compare Quotes From Top Companies and Save
Secured with SHA-256 Encryption
Compare Quotes From Top Companies and Save
Secured with SHA-256 Encryption
What are the rule of the road?
Below are more rules of the road that you should follow to avoid committing any violations (like those above).
We'll go over negligence laws, seat belt and car seat laws, speed limits, and so much more.
Fault vs. No-Fault
As we mentioned earlier, New Jersey uses the "no-fault" system for filing accident claims. With standard or liability coverage, The Garden State lets drivers injured in an accident choose if they want full or limited rights to sue others.
New Jersey also follows a system of "modified comparative fault" to resolve cases in which the injured party is partially at fault. An injured party might not get compensation if they're more at fault for the accident than the person they sue.
So, if a jury finds that the injured party is more than 50 percent responsible for damages, he or she may not receive an award.
Seat Belt and Car Seat Laws
New Jersey's seat belt law requires all drivers and passengers in the front seat to wear a seat belt. The driver is also responsible for the proper use of seat belts for passengers younger than age 18. The state imposes a $20 fine for a first offense.
The state's car seat laws require any children younger than age eight and under 57 inches tall to sit in a restrained car seat. Below are the guidelines:
Under two years and weighing less than 30 pounds: restraint in a rear-facing car seat
Under four years and weighing less than 40 pounds: restraint in a forward-facing car seat
Under eight years: restraint in a forward-facing seat until the child outgrows their safety seat's height or weight recommendations; otherwise, a booster seat.
Eight years and older: adult-size seat belts
Children age seven and younger and less than 57 inches tall must sit in the rear seat if available; you must not secure a child in a rear-facing infant seat in the front seat of any vehicle equipped with a passenger-side air bag that isn't disabled.
If you violate New Jersey child safety seat rules, you may receive a $75 fine for a first offense.
Keep Right and Move Over Laws
In New Jersey, you must keep right unless you want to pass. Those who "hog" the left lane will face penalties.
The state's "move over" laws require drivers to move into adjacent lanes if they pass tow trucks, maintenance, or emergency vehicles traveling in the same direction with flashing lights. Drivers can also slow down if it's not safe to change lanes.
Speed Limits
Maximum posted speed limits are 65 mph on rural interstates, 55 mph on urban interstates, 65 mph on limited-access roads, and 55 mph on all other routes.
Ridesharing
New Jersey's recently enacted Transportation Network Company Safety and Regulatory Act controls the ridesharing industry.
The law also regulates riders and includes the following requirements:
Drivers must carry liability coverage of $1.5 million and uninsured/underinsured coverage at the same level; it should be in place while the driver is with a customer.
Those who want to apply to be a rideshare driver must pass a strict background and driving record check.
Drivers with a record of DUI driving, homicide, sexual assault, etc. can't drive for a ridesharing company.
Automation on the Road
New Jersey doesn't currently have any laws regarding automated vehicles.
In early 2019, the New Jersey General Assembly established a task force to study automated vehicles and recommend laws, rules, and regulations the state may enact to integrate AVs safely.
What are the safety laws?
As was stated before, every driver has the legal duty to ensure they drive safely to protect themselves and others. For some, that can seem like a heavy burden.
But we'll explain the major safety laws to make things easier for you. In this section, we'll cover alcohol- and marijuana-impaired driving and distracted driving laws.
So, read on to stay safe.
DUI Laws
Drivers under age 21 with a Blood Alcohol Level (BAC) of 0.08 or more may receive a DUI and face fines and imprisonment. They may face fines up to $500 and a license suspension of up to 90 days.
Below are more details about the state's DUI laws.
Marijuana-Impaired Driving Laws
The Garden State doesn't currently have any marijuana-specific driving laws.
Free Car Insurance Comparison
Compare Quotes From Top Companies and Save
Secured with SHA-256 Encryption
Distracted Driving Laws
According to New Jersey Law, all texting and hand-held device use is banned while driving. If the police catch you, they may fine you $200 to $400 for a first offense, not counting any court costs. A second offense costs more — between $400 and $600. Subsequent offenses could result in a license suspension for 90 days and higher fees of $600 to $800.
You could also be charged with vehicular homicide if you drive distracted and cause an accident that results in a fatality. In 2019, New Jersey charged a distracted driver (whose texting caused a fatal accident) with vehicular homicide, which is the first time texting has resulted in a vehicular homicide charge in New Jersey.
This news report reveals how New Jersey police officers look for distracted drivers:
What do you need to know about driving in New Jersey?
Accidents and fatalities are among the risks of the road. As we covered earlier, drugs, alcohol, and distracted driving are some of the factors in crashes. With so many potential causes, you never know what can happen.
Driving safely and being prepared can help minimize those risks. In this section, we'll look at vehicle theft in The Garden State and statistics involving fatal accidents.
Keep reading to learn more.
Compare Quotes From Top Companies and Save
Secured with SHA-256 Encryption
How bad is vehicle theft in New Jersey?
This 2017 data from the National Insurance Crime Bureau shows the most popular vehicles stolen in The Garden State.
The most stolen vehicles in New Jersey were the Honda Accord and the Civic model.
Vehicle Theft by City
Below are FBI statistics on the number of vehicles stolen in the top five cities.
Are there a lot of road fatalities in New Jersey?
The data below from the National Highway Traffic Safety Administration (NHTSA) highlights the dangers of driving on the road and the average number of crash fatalities in New Jersey.
Most Fatal Highway in New Jersey
Highway US-130 had the most fatal crashes in New Jersey, with over 11 in the past ten years. It has also been ranked the most dangerous highway for pedestrians in New Jersey, Connecticut, and Pennsylvania.
Fatal Crashes by Weather and Light Condition
Below are the number of crash deaths under different weather and light conditions in The Garden State.
Most of the crashes occurred in normal daylight conditions.
Fatalities (All Crashes) by County
These are all the crashes from 2013 – 2017, sorted by county.
Many of the highest numbers of fatalities occurred in the more populated counties, such as Burlington and Camden.
Traffic Fatalities
This list shows the number of fatalities by type of accident.
Fatalities by Person Type
Here is a list of deaths by type of person involved in the crash.
Most of the deaths included occupants of enclosed vehicles.
Fatalities by Crash Type
As you can see, single vehicles, rollovers, and roadway departures were among the types of fatal crashes.
The highest number of crashes involved single vehicles and roadway departures.
5-Year Trend for the Top 10 Counties
Let's see how the number of accidents increased or decreased from 2013 – 2017.
Unfortunately, the number of fatal accidents increased, for the most part.
Fatalities Involving Speed by County
As shown, speed isn't the biggest factor in traffic fatalities. But, no matter the number of deaths, it's important to obey the speed limit to prevent deadly crashes.
In many cases, the numbers remained consistent from 2013 – 2017.
Fatalities In Crashes Involving an Alcohol-Impaired Driver
The number of deaths rose in some counties and fell in others.
Drinking and driving are a dangerous combination that can seriously injure or kill others. The best thing to do is not drive if you've been drinking.
Teen Drinking and Driving
New Jersey ranks in the middle of the country for underage drinking and driving, at 32nd. The number of fatalities per 100,000 people for alcohol-impaired drivers under 21 in New Jersey was 0.3 deaths in 2016. This figure was much lower than the national average of 1.2 deaths.
EMS Response Time
These statistics show different response times from crash notification to arrival at the scene and the hospital.
Arrival times for rural areas tend to be higher because of the distance from urban centers were EMS crews tend to be located; difficulty finding and getting to the locations may also play a role.
Free Car Insurance Comparison
Compare Quotes From Top Companies and Save
Secured with SHA-256 Encryption
What is transportation like in New Jersey?
It's no secret that traffic along New Jersey's major corridors can become heavily congested. It's frustrating for all involved.
Let's explore how car ownership, commute times, and forms of transportation affect traffic congestion using information from Data USA. The orange bars represent New Jersey, and those in gray show the U.S. averages.
Keep reading for some startling statistics.
Car Ownership
How many cars does New Jerseyans own compared to the rest of the country?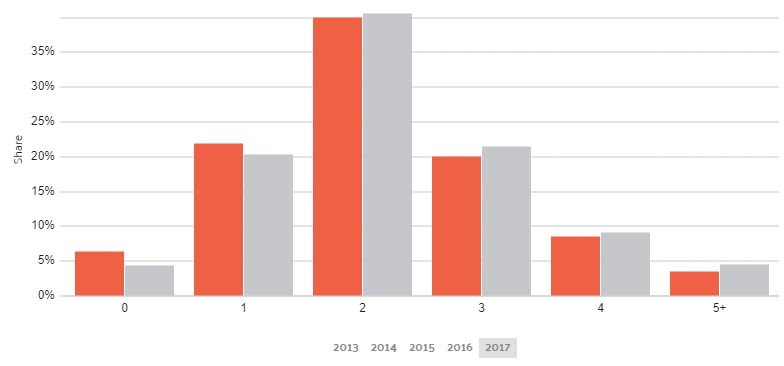 Most New Jersey households own two cars, which matches the national average almost exactly.
Commute Time
Who has the longest commute?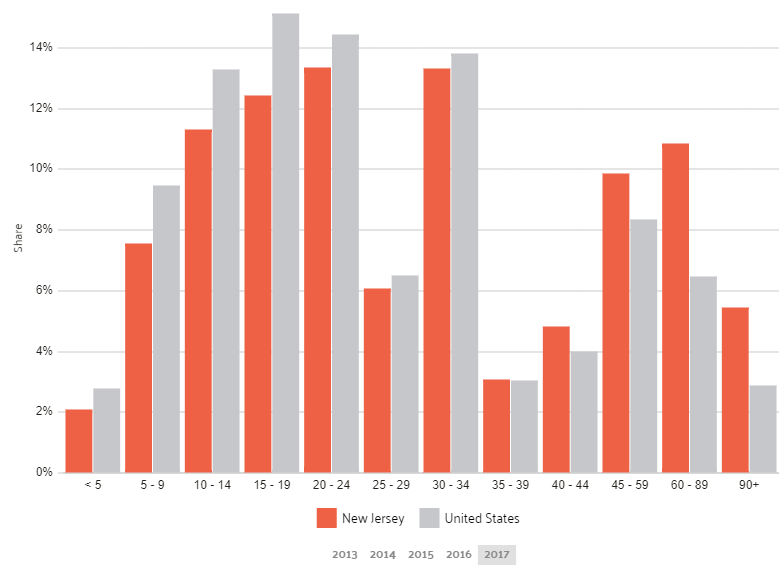 On average, New Jersey drivers commute at least 20 minutes, which is lower than the U.S. average of 25.3 minutes. Nearly 6 percent of New Jerseyans face a "super commute" of 90 minutes or more. That's about double the national average.
Commuter Transportation
By now, it's probably clear which form of transportation people tend to use most in their commutes.
Bingo! You guessed it. Most New Jerseyans drove alone, like the U.S. average, while just over 10 percent took public transportation.
Traffic Congestion in New Jersey
No New Jersey cities made it onto any major traffic congestion trackers, such as Inrix's Scorecard, Tom-Tom's Traffic Index, or Numbeo's Traffic Index.
But that doesn't mean there isn't any congestion. The United States Census reports that the Garden State has the second-highest percentage of commutes that take longer than an hour. More New Jerseyans also travel to work out-of-state than do residents of other states. They commute mostly to New York (396,520 workers) and Pennsylvania (123,650.)
This is the end of our car insurance journey. What did you think? We hope you enjoyed the ride and "happy trails" to you.
Compare Quotes From Top Companies and Save
Secured with SHA-256 Encryption
What is New Jersey's car culture?
New Jerseyans spend a lot of time on the road, and as with the state's motto, "Liberty and Prosperity," they have the freedom to drive wherever they want. Many of them drive more than an hour to New York or Pennsylvania for work (but we'll cover that more in-depth later).
According to The Hartford, another aspect of Garden State driving is the full-service gas stations. Yes, that's right, drivers there can't pump their gas. But, after all their driving, it's nice to handle one less chore.
New Jersey is known for its shopping malls and urban sprawl, which are also associated with driving and economic growth.
According to New Jersey state officials, Abraham Browning of Camden has been credited for coining the slogan, which reportedly came from a speech he gave to the Philadelphia Centennial exhibition on New Jersey Day (August 24, 1876). He described New Jersey as "an immense barrel, filled with good things to eat and open at both ends, with Pennsylvanians grabbing from one end and New Yorkers from the other."
Watch this video on popular facts about New Jersey.
When the legislature approved the nickname in 1954, Governor Robert Meyner said he didn't believe the average New Jerseyan regards the state "as more peculiarly identifiable with gardening for farming than any of its other industries or occupations."
Be that as it may, this land of plenty continues to defy culture norms, with its "jughandle" intersections and its full-service gas stations, among other quirks.
What else do you want to know about New Jersey Car Insurance?
Let's go over a few frequently asked questions to wrap up the guide. These questions appear on search engines across the internet, and they can help you answer the questions you may have. Visit our main page for more details on car insurance.
To start searching for the cheapest New Jersey car insurance rates, enter your ZIP code now!
#1 – Who has the cheapest car insurance in New Jersey?
NJM has the cheapest car insurance in New Jersey, followed by Plymouth Rock Insurance and Geico.
#2 – What is the average cost of car insurance in New Jersey?
The average cost of car insurance in New Jersey is $1,592 per year or $133 per month.
#3 – Why is New Jersey car insurance so expensive?
In addition to a dense population, New Jersey car insurance agencies allow for higher PIP coverage limits. PIP will cover more costs related to a personal injury as well as bodily injury.
#4 – Is it illegal to drive without insurance in NJ?
Yes. It is illegal to drive in New Jersey without insurance
#5 – What is the minimum car insurance required in NJ?
The minimum car insurance requirements in New Jersey is $15,000 for bodily injury of one person per accident, $30,000 for bodily injury of multiple people per accident, and $5,000 for property damage per accident.
#6 – Where can I get NJM Car Insurance?
New Jersey Manufacturers' insurance provides several insurance services to residents of New Jersey. Contact them at 1-800-232-6600 for more information.
#7 – What are the best car and home insurance companies in NJ?
Allstate, State Farm, Amica Mutual, and Chub are a list of car and home insurance companies in NJ that offer the best service.