Distracted Pedestrians & Deadly Accidents [Study Results]
New Mexico is the most dangerous state for pedestrians, with 3.5 pedestrian deaths per 100,000 residents. North Dakota is the best state for pedestrians, with 0.6 pedestrian deaths per 100,000 residents. Drivers report that the No. 1 behavior distracted pedestrians do is looking at their phones while walking.
Free Car Insurance Comparison
Secured with SHA-256 Encryption
UPDATED: Jun 6, 2022
It's all about you. We want to help you make the right coverage choices.
Advertiser Disclosure: We strive to help you make confident car insurance decisions. Comparison shopping should be easy. We are not affiliated with any one car insurance company and cannot guarantee quotes from any single provider.
Our insurance industry partnerships don't influence our content. Our opinions are our own. To compare quotes from many different companies please enter your ZIP code on this page to use the free quote tool. The more quotes you compare, the more chances to save.
Editorial Guidelines: We are a free online resource for anyone interested in learning more about car insurance. Our goal is to be an objective, third-party resource for everything car insurance related. We update our site regularly, and all content is reviewed by car insurance experts.
The lowdown...
From 2013-2017, pedestrian fatalities in America increased by 25

percent

76

percent

of drivers surveyed saw pedestrians distracted by their phones
From 6 p.m. – 6 a.m., there were 4,297 pedestrians killed in 2017
On average in 2017, 16 pedestrians were killed each day in crashes

If you've ever jogged through a well-trafficked neighborhood or taken a stroll through the car-jammed streets of a city, you've probably encountered a potentially dangerous situation with a vehicle.
In the least, you understood that moving vehicles and pedestrians aren't always paying attention to one another. Perhaps you noticed an unfortunate problem with this issue but not on the driver's side. That is, distracted pedestrians.
What happens as the number of vehicles on the road increases and the distraction of our technology becomes just as much of a problem for pedestrians as it is for drivers?
Pedestrian deaths have risen steadily over the past few years, up 25 percent from 2013 to 2017, according to data from the Fatality Analysis Reporting System (FARS) from the National Highway Traffic Safety Administration.
Our project paired survey data collected from over 820 drivers with pedestrian data from FARS to show how prevalent distracted walking is and its deadly effects. What we found: Distracted pedestrians are a problem.
Our study found that in 2017, an average of 16 pedestrians died in an accident every day. In this article, we'll go through a distracted walking definition and the consequences related to distracted walking.
Of course, while preventing pedestrian fatalities are the most important part of correcting these behaviors, fatal traffic accidents can also have an impact on the car insurance rates of those who live in those areas.
As many people know, car insurance rates can rise in areas with high traffic deaths because people submit more claims, which costs the insurance companies more money. Fortunately, we can help. To get the best rates in your area, even with distracted pedestrians on the roads, plug your ZIP code into our free, online quote comparison tool.
You can also check out one of our car insurance guides which cover everything about different types of car insurance, what you need to know about fraud, and what to do after an accident.
Now, read on to learn more about pedestrian fatalities across America.
Dangers of Distracted Walking
While a distracted driver is a known hazard, distracted pedestrians are all too common as well. 72 percent of drivers report that they've seen an increase in distracted pedestrian behavior over the past five years, according to our study using FARS data.
One possible explanation for this is the hurriedness of modern life putting pressure on people to multitask while in transport. In the back of an Uber, using electronic devices to catch up on an email, or talk to a companion is fairly safe; while walking, this behavior can be deadly.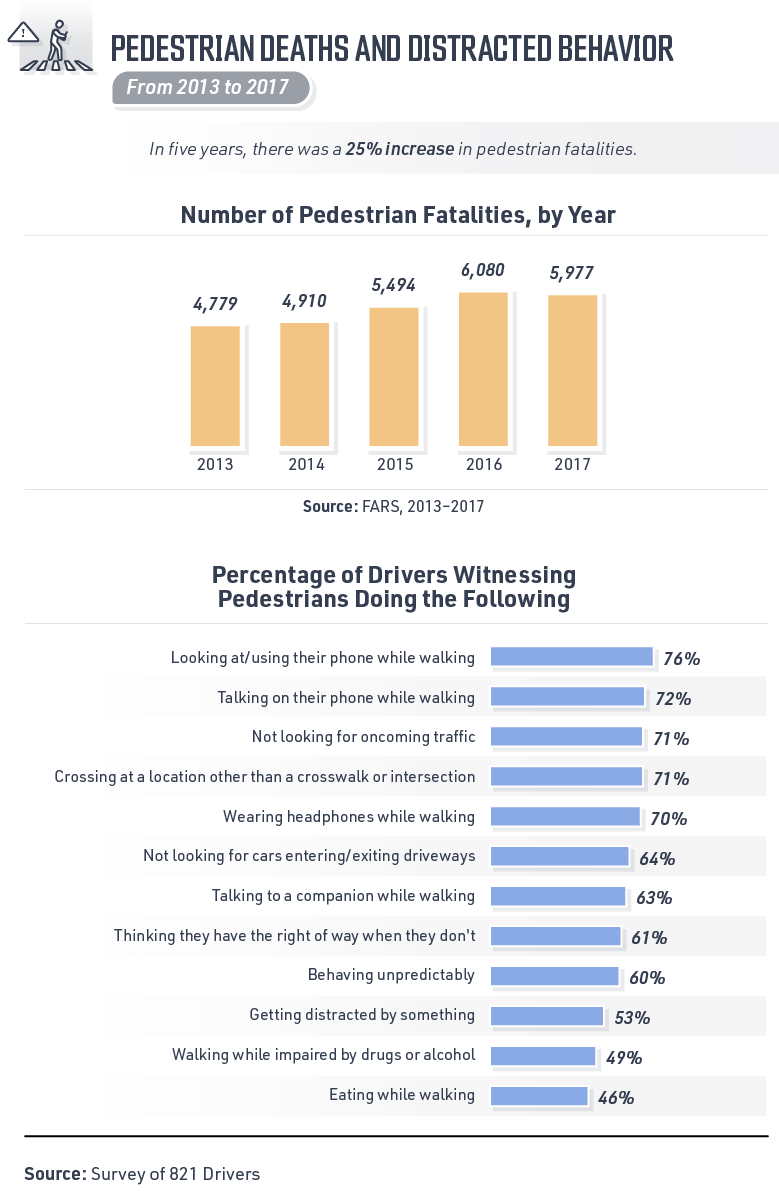 Seventy-nine percent of drivers had seen a distracted pedestrian in the last month, with 35 percent reporting seeing one at least once a week.
Drivers reported most often seeing pedestrians distracted by their phones; indeed, around three-quarters of drivers saw a pedestrian looking at, using, or talking on their phone while walking.
Other dangerous pedestrian behaviors included not looking for oncoming traffic and crossing at locations other than a crosswalk or intersection. Less common — but still prevalent — behaviors included wearing headphones, talking to a friend, and eating, all while walking on the street. 
Compare Quotes From Top Companies and Save
Secured with SHA-256 Encryption
The Most Dangerous Times for Pedestrians
Evening and nighttime were the most dangerous times to be a pedestrian, according to FARS data.
The hours of 6 p.m. to midnight were the most dangerous times for pedestrians, and this got steadily worse over the past five years.
In fact, while pedestrian injuries and deaths in the daytime stayed relatively the same, fatalities from 9 p.m. to midnight increased by 34 percent from 2013 to 2017, and deaths from midnight to 3 a.m. increased by 30 percent in the same time frame.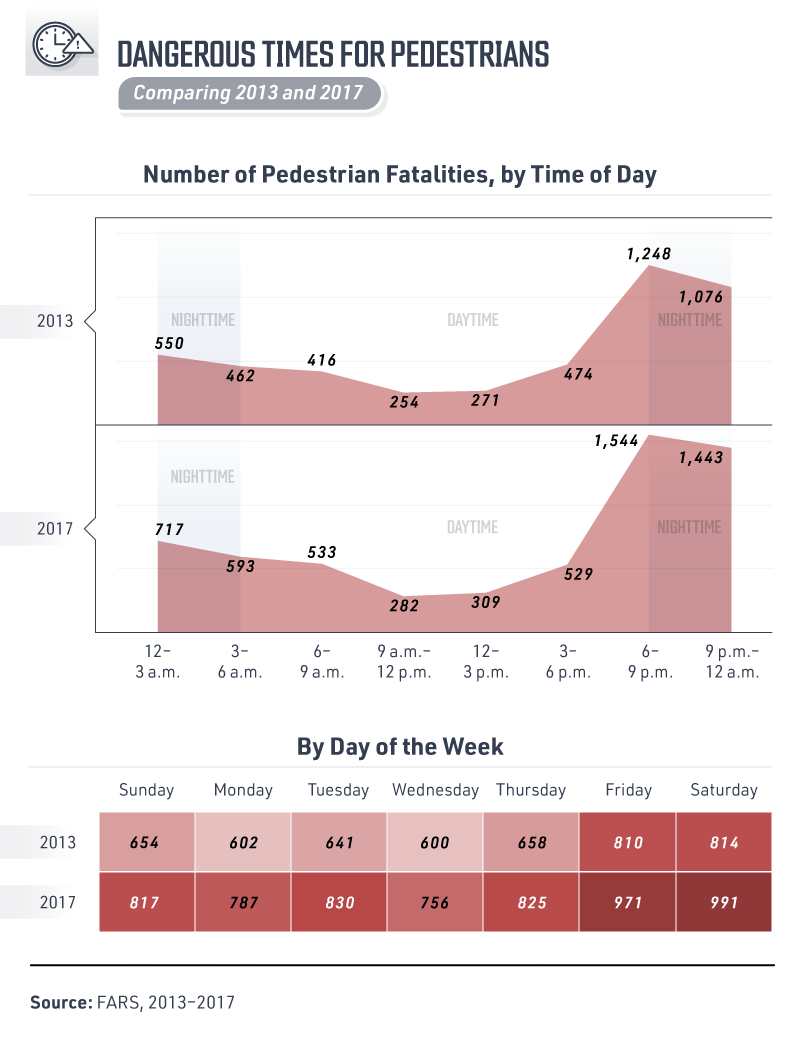 Pedestrian deaths at night have increased considerably since 2013, according to our data:
3,336 nighttime deaths occurred in 2013

4,297 nighttime deaths occurred in 2017
If we calculate the percentage change for this specific time of day, nighttime pedestrian deaths increased by 29 percent in just five years. Luckily, daytime deaths didn't increase as drastically as those that occurred in the dark:
1,415 daytime deaths in 2013

1,653 daytime deaths in 2017
There was around a 17 percent increase in daytime pedestrian fatalities, which is still reason enough for pedestrians to stroll in the daylight with caution. 
How Nervous Drivers Cause Traffic Deaths
Interestingly, when asked how nervous drivers were with respect to behavior of pedestrians at various times of day and night, people's nervousness did not follow the observed pattern of pedestrian deaths.
Nearly a quarter of all drivers reported being most nervous to drive between 3 p.m. and 6 p.m. and between midnight and 3 a.m. when accidents resulting in pedestrian deaths were considerably less common than at night.

While survey respondents were not asked why certain times of day made them more nervous than others, one can speculate that 3 p.m. to 6 p.m. is rush hour for most commuters, which means more cars on the road traveling home from work. Commuters are often some of the most distracted walkers, as they have a tendency to check their cell phone as they make their way to their car or commuter train.
Additionally, schools let out during this time, and an increase in foot traffic is enough to make any experienced driver nervous. 
At-Risk Pedestrians, by Demographic
When we think about the risk to pedestrians, we also need to consider their age group, namely those who are most at risk of being a casualty. The graphs below describe pedestrian deaths by age.
They have been normalized per 100,000 residents based on U.S. census data to account for fluctuations. 


Men were about 2.4 times more likely than women to die as pedestrians, a pattern that emerged among teenagers and remained true for all age groups. Additionally to the data shown, we found that male pedestrian deaths also increased more significantly since 2013:
 2017 data shows male deaths were up 21 percent since 2013.

Female deaths only rose by 13 percent in 2017 compared to 2013. 
Surprisingly enough, we found that casualties per 100,000 residents were actually higher for adults. This contrasted with our survey data: 57 percent of drivers said they believed teenagers to be more at risk for distracted walking. 
Compare Quotes From Top Companies and Save
Secured with SHA-256 Encryption
The Most Dangerous Pedestrian States
It's worth repeating: In 2017, an average of 16 pedestrians died in an accident every day. With that grim reality in mind, there was also a huge variance in pedestrian deaths across the U.S.
It's a reasonable assumption that a high number of fatal accidents in a state might mean more pedestrians are at risk.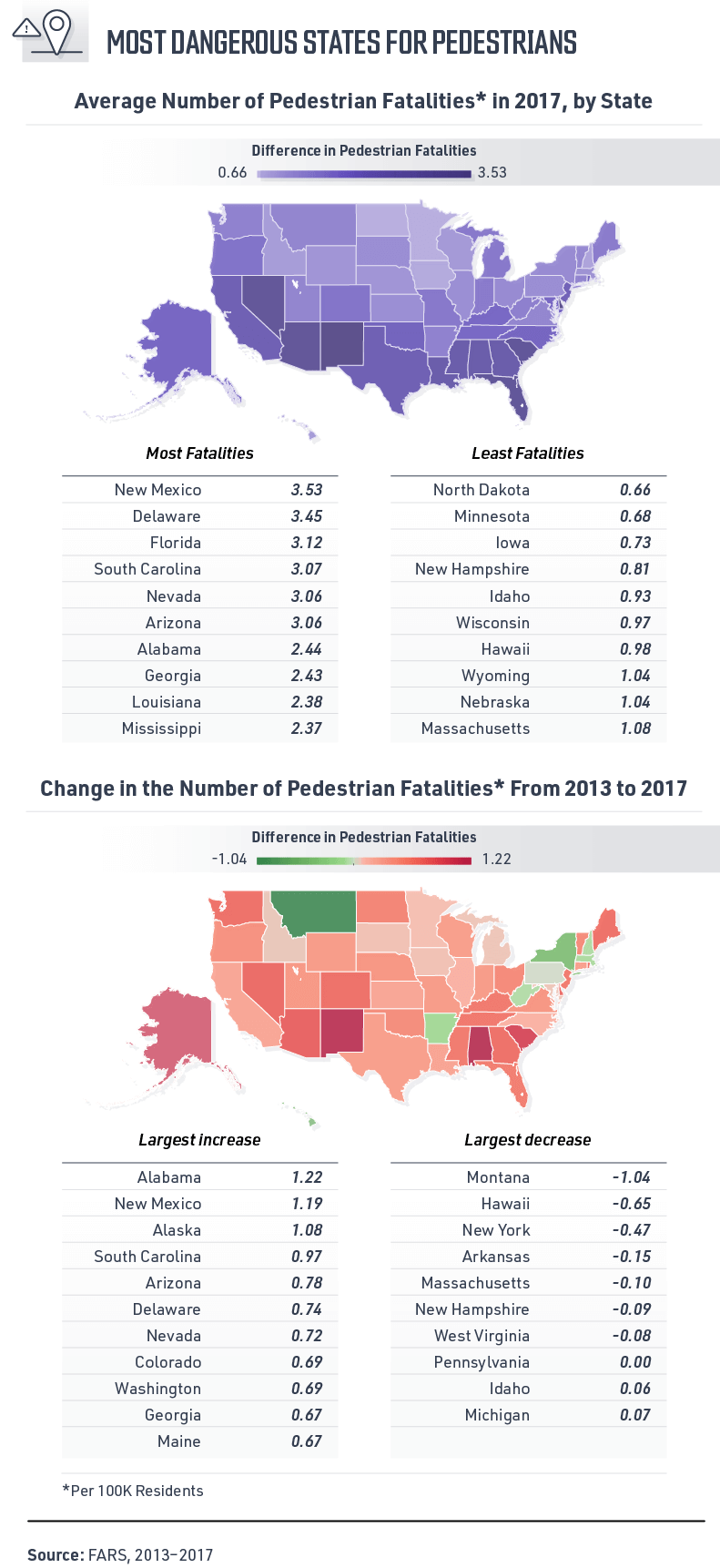 The safest states for pedestrians, North Dakota, Minnesota, Iowa, New Hampshire, and Idaho, all had less than one pedestrian death per 100,000 people in 2017.
The most dangerous states for pedestrians were over three times as dangerous than the safest ones: New Mexico (3.53 per 100,000), Delaware (3.45), Florida (3.12), South Carolina (3.07), Nevada (3.06), and Arizona (3.06).
When we analyzed the data from 2013 and compared it to the most recent, we found that all of these states saw significant increases since 2013, as did Alaska, Alabama, and Arizona.
A few states managed to decrease pedestrian deaths since 2013, despite rising national averages. Montana, Hawaii, and New York saw a decrease in pedestrian deaths by 0.5 to one death per 100,000 residents.
A further examination of policy, behavioral, and demographic changes in these states are required to understand the improvement in per-capita pedestrian deaths, though.
Pedestrian Accident Scenarios
When fatal accidents involving pedestrians occur, they are categorized by FARS into various scenarios that describe the way the pedestrian and driver came into contact — offering an interesting perspective into the most dangerous vehicle maneuvers for pedestrians. 


By far, the most common scenario in which pedestrians were killed was when they crossed roadways.
All scenarios in which pedestrians crossed (crossing a roadway or expressway) whether the vehicle was turning or not, accounted for 47 percent of pedestrian deaths in 2017.
Other scenarios where pedestrians were in the roadway – walking/running along the roadway, dashing/darting, working or playing in the roadway, etc. — accounted for 27 percent of pedestrian deaths.
How has this changed with time? Deaths by roadway crossings were up by nearly 1,000 casualties in the most recent two years of data analyzed. Take a look at the chart below to see just how many pedestrian casualties there have been from previous years.

Combating Fatalities with Heightened Awareness
What are the biggest problems we face when talking about pedestrian safety on the roads? The largest increases in pedestrian fatalities since 2013 involved pedestrians crossing roadways and walking in the dark.
But with those stats, as well as those supporting the prevalence of distracted walking, it seems the responsibility has to be on both the driver and the walker.
The relationship between the rise of smartphone use and pedestrian deaths is not unrelated.
Since 2009, there has been a fivefold increase in smartphone use, along with an even larger increase in data usage. In response, pedestrian deaths have continued to rise along with driver casualties.
So while more agencies are shedding light on increasing pedestrian deaths, what can we do now to alleviate this tragic problem? Certainly being alert and cognizant behind the wheel is one big step in the right direction.
Pedestrians and drivers could also learn from sensitivity training to change their behaviors to prevent more pedestrian accidents.
And more and more car companies are developing or implement technology to prevent pedestrian deaths according to the Insurance Institute for Highway Safety (IIHS).
These include pedestrian detection symptoms and other tools that alert a driver of an object they can't see easily (like technology sensing objects in the driver's blind spots).
On the other hand, technology may play a role in causing more pedestrian deaths. This is the case with hybrid vehicles, which researchers have found are 20 percent more likely to hit pedestrians.
There is a very simple explanation for this: A pedestrian can't hear a hybrid car coming, leading to more hybrid cars causing pedestrian accidents.
Compare Quotes From Top Companies and Save
Secured with SHA-256 Encryption
Frequently Asked Questions: Bad & Dangerous Driving Behavior
Now that we've covered the main forms of pedestrian distracted behavior and the accident or traffic deaths they may cause, let's get to your frequently asked questions. These include:
How many pedestrians are killed by distracted drivers?
How can pedestrians cause accidents?
What kills more — texting or drinking?
And many more. Let's dive right in.
#1 – How many pedestrians are killed by distracted drivers?
In 2018, according to the National Highway Traffic Safety Administration (NHTSA), a little over 2,800 people were killed by distracted drivers. That includes 400 pedestrians and 77 bicyclists.
#2 – What are the safety rules for pedestrians?
Some safety rules involve paying extra attention to the roads, not jogging on roads during the morning, always holding the hands of children when crossing the street, don't move between parked or stopped cars where an incoming car might not see you, and making eye contact with drivers.
#3 – How can pedestrians cause accidents?
As we've seen in this study, pedestrians can cause accidents by being distracted and not paying attention to the road. Drivers surveyed for this study say the biggest distraction pedestrians have when walking down the street is looking at their cell phones while doing so. This decreases awareness and can lead to accidents.
#4 – Where do the majority of pedestrian fatalities occur?
Most pedestrian deaths occur in urban areas, on roads where there is a high allowed speed, and at night, which obscures the driver's ability to see the pedestrian.
#5 – What kills more — texting or drinking?
While some experts believe texting and driving is more dangerous than driving, according to the NHTSA, just 2,800 traffic deaths were caused by texting and driving in 2018. In that same year, 10,500 people were killed in fatal crashes involving a drunk driver.
#6 – How many Americans have died from distracted driving?
A little over 2,800 people died due to distracted driving in 2018, which represented a decline from 3,450 in 2016. However, while this is a fall, texting, and driving (perhaps the main distracted driving behavior that leads to fatal crashes) continues to affect teenagers disproportionally, with most of the texting and driving deaths coming from that age group.
#7 – How do I stop hitting pedestrians?
The main way for a person to stop hitting pedestrians is to be aware — not just of the road but the pedestrians as well. Obeying school signs, noticing whether a person might try to cross the road, or taking into account when a pedestrian is distracted, can all reduce your odds of hitting a pedestrian.
#8 – What are the five safety rules?
The five that some believe are the most important are to never drink and drive, always wear a seat belt, avoid driving distractions, don't follow too close, and don't cross a red light.
Methodology: Statistical Analysis of Pedestrian Deaths
We analyzed five years of data from NHTSA's Fatality Analysis Reporting System (FARS) to examine pedestrian deaths due to vehicles in America.

For visualizations including demographic population data, we calculated fatalities per capita using the U.S. census to normalize our data.

We also surveyed 821 drivers to see what pedestrian behaviors drivers observed that could potentially lead to dangerous situations.

For our survey data, we did not have a validated measure of "pedestrian nervousness" so we created a linear Likert scale of 1 to 5, with 1 being "not at all nervous" and 5 being "extremely nervous."

Because our survey is a survey of drivers observing pedestrian behaviors, certain limitations apply such as exaggeration, telescoping, and selective memory.
Beyond getting free car insurance comparisons by ZIP code, our resources can also help you understand how to be a more defensive driver, so you can keep your family safe and protected on the road from distracted pedestrians. 
Fair Use Statement
Do you think these pedestrian distraction study results will help keep your loved ones safe while walking on the roads? Feel free to share our study for noncommercial purposes, but don't forget to link back to this page to properly credit our work.