Michigan Car Insurance Guide (Cheap Rates + Best Companies)
Free Car Insurance Comparison
Compare Quotes From Top Companies and Save
Secured with SHA-256 Encryption

Finding the right Michigan car insurance provider is crucial in meeting your needs and budget. We get that.
Perhaps you've been searching the internet every which way for Michigan car insurance providers, but you still haven't found what you're looking for. Maybe you've visited every page in the top results, and they left you with more questions than answers.
Life is short, and there aren't enough hours in a day to continue a seemingly endless quest. Good news. You don't need to look any further. We've compiled everything you need here in this Michigan car insurance guide to answer all of your questions.
Thanks to new car insurance laws in Michigan, what you paid for the best auto insurance in Michigan in 2016 is going to look very expensive compared to rates under the no-fault insurance reform.
You want to find the cheapest car insurance in Michigan from the best company. This is your complete guide to Michigan car insurance rates, companies, coverage, and everything else on the topic.
Find rates for several Michigan car insurance providers at once with our FREE online tool. Just enter your zip code to compare Michigan auto insurance rates now.

Where to find Michigan insurance coverage and rates?
Michigan ranks fourth nationwide for uninsured drivers, which means that 20 percent of drivers there lack coverage. You probably don't want to number among them or get into any accidents involving them, which makes your choice of an insurer that much more critical. With Michigan's high auto insurance rates, it's not surprising that people skip the coverage, but it's illegal.
Below we'll cover how much insurance you need to meet Michigan's insurance laws, as well as where to find the cheapest  car insurance rates based on factors like age, gender, and the average cost of insurance in Michigan overall.
Did you know that Michigan doesn't just produce cars? The Wolverine State is a manufacturing powerhouse and has become a leader in making cereals, machine tools, airplane parts, and other goods.
And it doesn't stop there. The state also harvests its natural resources and is a major producer of mineral deposits such as iron, copper, and iodine, and beans, fruits, and vegetables.
The State is also known for bordering four of the five Great Lakes: Lake Superior, Lake Michigan, Lake Huron, and Lake Erie. Almost half the state is made up of water. With these large bodies of water and more than 10,000 lakes and 3,288 miles of Great Lakes shoreline, Michigan keeps the commercial and sport fishing industries afloat in a big way.
What does this have to do with car insurance? Michigan is known as the car-making capital of the U.S., and we pay homage to the state's versatility and important contributions to our country.
Cars take us where we need (and want) to go, and for or many commuters, that includes work.
Without car insurance, we wouldn't have financial coverage in case an accident happens. It protects us, and potentially, other drivers and injured people involved, from high costs for damages.
This makes a thorough understanding of the state minimum coverage requirements all the more crucial in determining how much coverage you need and can afford.
Let's explore this further below.
Compare Quotes From Top Companies and Save
Secured with SHA-256 Encryption
What's Michigan's car culture like?
With its history and tradition of car-making, Michigan is the "king" of car culture. As the home of Ford, Fiat Chrysler, and General Motors, it's known as the birthplace of the American car.
The Hartford states that "Not only is the history of Michigan deeply intertwined with the history of the American automobile industry but according to David Littman of DBusiness, as of 2015, 'Michigan's core motor vehicle industry represents 46.4 percent of Michigan's entire manufacturing sector.'"
And this figure doesn't include any of the other industries linked to the automobile industry.
Other major parts of the state's car culture are the popular annual Detroit Auto Show (also known as the North American International Autos Show), Ann Arbor's annual vintage car festival, and its historic highlight, the beloved Henry Ford Museum.
Michigan has a much-deserved devotion and respect for cars, and still makes more cars and trucks than any other state. In 2017, more than two million cars and trucks rolled off 11 Michigan assembly lines, mostly in the "Motor City" of Detroit. Like some of the trucks it produces, it's car-making reputation remains rock-solid.
What is the Michigan minimum coverage?
Michigan is a no-fault state, meaning that both parties in an auto accident will receive benefits from their own insurance companies, no matter who's responsible. Part of the reason Michigan car insurance rates are so high is the no-fault system.
Michigan drivers must carry liability insurance, personal property protection (PPI), and personal injury protection (PIP). Liability coverage covers the cost of any damage, injuries or deaths you cause in a car accident, while personal injury protection covers medical bills and expenses if you're injured in a car accident. Property protection insurance will pay for repairs if you're driving in Michigan and damage another citizen's property (as well as buildings, parked cars or fences).
Michigan auto insurance coverages that are required by law are shown below.
When will car insurance go down in Michigan? A new statute modifying "no-fault" insurance law goes into effect in June 2020 and should reduce the cost of car insurance in Michigan.
This video goes over the law and whether it will truly lead to lower insurance premiums. Some experts believe your savings will be limited to the new Personal Injury Protection (PIP) Choice limits of either $50,000 (drivers with Medicare only), $250,000, $500,000, or unlimited.
Drivers can choose to "opt-out" of PIP coverage.
The Michigan liability insurance requirements are:
$20,000 for bodily injury liability or death of one person in an accident caused by the owner of the insured vehicle
$40,000 for total bodily injury liability or death in an accident caused by the owner of the insured vehicle
$10,000 for property damage per accident caused by the owner of the insured vehicle
Your basic liability coverage will protect you if you're sued for damages and will apply in the following situations:
If you're responsible for an accident in which someone is seriously injured or killed
If you're in an accident with an out-of-state driver in Michigan
If you're in an accident outside of Michigan
Under the Limited Property Damage or "Mini-Tort" provision, if you are less than 50 percent at fault for an accident, you can get up to $1,000 for property damage your policy doesn't cover, such as a deductible. In July 2020, that amount will increase to $3,000.
The state of Michigan also requires drivers to have Uninsured/Underinsured Motorist coverage with minimums of $25,000 per person and $50,000 per accident.
How much risk are you willing to take on? Experts advise that if you do choose to purchase liability coverage, make sure to increase the limits to 100/300/50.
Next, we'll look at the forms of financial responsibility Michigan requires drivers to have in case they're in an accident.
What are the forms of financial responsibility?
In Michigan, the only acceptable form of financial responsibility is car insurance. Except for people who happen to own a fleet of 25 vehicles or more – when you can apply for self-insurance for drivers – every driver must buy an insurance policy.
In case of an accident or a traffic stop, present a paper copy of your proof of insurance or prepare to show it electronically.
You can buy a policy with a limited term of at least six months, however, bear in mind that driving without insurance can lead to penalties, which we'll cover later.
Compare Quotes From Top Companies and Save
Secured with SHA-256 Encryption
How much is the percentage of income spent on premiums?
How much do Michigan residents pay for car insurance?
The annual per capita disposable income in Michigan — the money individuals have available to spend after taxes — is $36,419.00, or $3,034.92 a month.
The average annual car insurance premium is $1,350.58, or $112.55 a month. Wolverine State residents spend an average of 3.71 percent of their disposable income on car insurance. These rates rose slightly from 2012 to 2014.
These rates are higher than the national average of 2.37 percent, and that of border states Ohio, Indiana, and Wisconsin. Residents in those three states also pay roughly $600.00 less in annual insurance premiums than the average Michigander.
See how much you spend on car insurance below.
Next, we'll go over the coverage rates in an average core insurance policy.
What are the average monthly car insurance rates in MI (liability, collision, comprehensive)?
Let's take a look at the average monthly car insurance rates.
Core coverage consists of the three main parts of a full coverage policy. This is how much Michiganders pay on average annually:
As shown, Michigan drivers pay more than the national average for all parts of a core insurance policy.
Is there an additional liability?
Michigan law requires drivers to carry personal injury protection (PIP) and personal liability. (As of July 2020, however, PIP will be optional.) You can choose to buy more coverage.
Is it worth paying extra money for damages or going through potential litigation if you don't buy enough coverage? Carefully consider if you can afford to buy more coverage. If you do, you're also getting greater protection for yourself and your loved ones.
For instance, Personal Injury Protection (PIP) can offset any expenses beyond your basic auto insurance policy. You can also buy Medical Payments Coverage or MedPay to cover at least $5,000 worth of medical expenses after an accident regardless of who's at fault.
With so much required minimum liability insurance coverage, you might wonder why you still need to protect yourself from an uninsured motorist.
Michigan has the fourth highest number of uninsured motorists in the U.S.
The above statistic makes Uninsured Motorist coverage an appealing additional option.
As you can see above, in certain situations, you can still sue a driver responsible for a crash. If that driver is uninsured and the accident involves serious injury or death, uninsured/underinsured coverage will pay additional costs.
Loss ratios tell us how much companies pay in claims compared to the premiums they take in. A good loss ratio is neither too high — meaning the company is paying out too much in claims — nor too low (not paying enough).
For PIP and Uninsured/Underinsured Motorist coverage, Michigan's loss ratios almost match the national averages.
Let's explore more optional coverage options.
Compare Quotes From Top Companies and Save
Secured with SHA-256 Encryption
Are there any add-ons, endorsements, riders?
Several insurance companies offer usage-based car insurance options in Michigan. SmartRide from Nationwide, Snapshot from Progressive, and Drive Safe & Save from State Farm are among the programs that offer auto insurance discounts based on good driving habits. Other Usage-Based Insurance programs (UBI) are also available to Michigan drivers.
These are other options you can add to a basic car insurance policy in the Wolverine State:
Rental Reimbursement

Pay-as-You-Drive or Usage-Based Insurance

Mechanical Breakdown Insurance

Non-Owner Car Insurance

Modified Car Insurance Coverage
What are the average monthly car insurance rates by age & gender in MI?
On July 1, 2020, Michigan's new car insurance reform law will remove gender and age from the acceptable risk factors for car insurance rates. For now, let's see how age and gender affect rates.
As shown, age is more of a factor than gender in Michigan rates. The rates for 17-year-old drivers are predictably high and begin to lower by age 25 on up.
How to find the cheapest rates by ZIP code
Like the risk factor above, location will no longer affect Michigan drivers' rates as of July 1, 2020. Until then, your zip code will still be used in calculating your rates. Take a look at how Michigan car insurance rates by ZIP code compare.
Rates tend to be higher in big cities such as Detroit, and lower in areas where fewer people live — contrast the rates there with those in central Michigan.
Compare Quotes From Top Companies and Save
Secured with SHA-256 Encryption
How to find the cheapest rates by city
These are the average annual premiums in Michigan organized by city for each insurer.
Rates tend to increase around Detroit and decrease around the college town of Ann Arbor.
Who are the best Michigan car insurance companies?
From national insurers, State Farm to Michigan-based Auto-Owners Insurance, car insurance shoppers have a lot of options. This can make it hard to decide on the one that's right for you and your needs at a time when the best rates are all the rage.
And you also want adequate coverage for the hard-earned money you'll pay. The frustration can make you put off your search until tomorrow.
But, we've gathered all the information you need right now — company financial ratings, reviews, and rates — to help you make a choice you'll feel comfortable with. Check out the best car insurance in Michigan below.
Let's learn more below.
What's the financial rating of the largest auto insurance companies?
AM Best grades insurance companies based on their financial stability. Below are their ratings for each of the top ten companies in the Wolverine State.
You may recall that loss ratios show how much a company pays in claims compared to how much it earns in premiums. Companies that show loss ratios of more than 100 percent have paid more than they earned in premiums.
Compare Quotes From Top Companies and Save
Secured with SHA-256 Encryption
Which companies have the best ratings?
J.D. Power ratings reveal how a company handles customer satisfaction. Their U.S. Auto Insurance Study follows a five-factor survey to rate companies overall. For the most part, regional insurers such as Auto-Owners, top the list.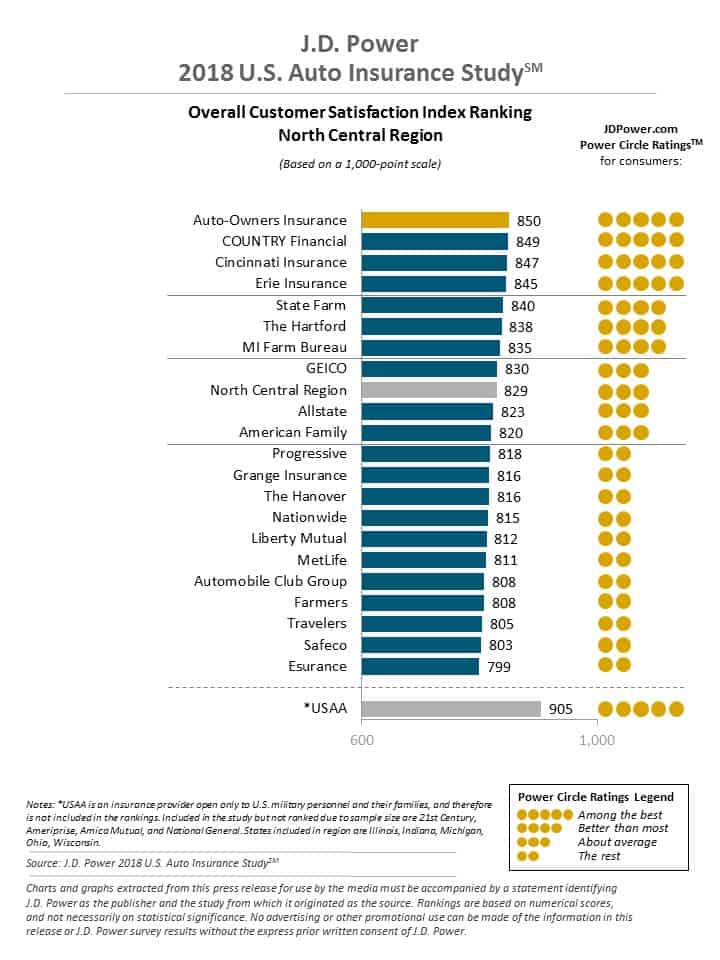 Which companies have the most complaints in Michigan?
The complaint data we've gathered for the top ten companies in Michigan includes a complaint ratio. It shows how many complaints a company received per $1 million in premiums written. So, the more policies a company writes may add to a higher ratio compared to smaller companies that generate fewer claims.
As you'll see below, of the top 10, Liberty Mutual has the highest complaint ratio in Michigan while State Farm has received the highest number of complaints.
Who are the cheapest companies in Michigan?
Below, we've ranked the top 10 largest companies based on their rates.
USAA, which serves veterans and active military members, has emerged as the cheapest option car insurance option in Michigan, with rates around 188 percent below average. Progressive follows closely behind at more than 94 percent below the state average.
Compare Quotes From Top Companies and Save
Secured with SHA-256 Encryption
What are the commute rates by company?
As it turns out, the distance a driver commutes doesn't affect rates much. These are the rates for average commutes with annual mileage estimates.
Six major factors affect car insurance rates in Michigan. Which auto insurance factors will affect rates the most? Find out below:
What are the coverage level rates by company?
These are the average amounts you can expect to pay based on your coverage level.
As shown, the rates change slightly between companies, so it helps to explore all of your options.
What are the credit history rates by company?
Your credit history is another risk factor that will no longer influence car insurance rates in Michigan as of July 1, 2020. In the meantime, let's see how your credit score can affect your rates.
Compare Quotes From Top Companies and Save
Secured with SHA-256 Encryption
What are the driving record rates by company?
Your driving record will continue to factor into your car insurance rates in Michigan regardless of the changes in the basis of calculating premiums in 2020.
These are companies' different insurance rates for common driving violations. Even one accident, speeding ticket, or DUI can boost your rates by hundreds, if not thousands, of dollars. Allstate drivers face the biggest increase with one DUI — nearly $40,000. Unfortunately, everyone pays a price when a DUI is involved.
Who are the largest car insurance companies in Michigan?
Market share and the number of premiums written reveal the industry leaders based on their size. Not to be outdone, local insurers Frankenmuth and the Michigan Farm Bureau made the list several spots below the leader, State Farm.
What is the number of insurers by state?
Michigan has 65 domestic car insurance companies incorporated in the state. There are also 786 foreign insurance companies are licensed to do business in Michigan but formed in other states.
Compare Quotes From Top Companies and Save
Secured with SHA-256 Encryption
What are the Michigan laws?
It can be hard to keep on top of car insurance, vehicle and driver licensing, and other road rules, especially when they change often.
And then you hope that you can understand them.
So, we've removed the jargon and kept the lingo simple while we stuck to only the laws you should obey — and the consequences if you don't.
To find out what you need to know, learn more below.
What are the car insurance laws?
Here we'll go into how car insurance laws enacted by the Michigan legislature affect rates in the Wolverine State.
As we stated earlier, Michigan passed a car insurance reform bill, which was signed into law in June 2019 and may reduce rates for many drivers.
Let's discover more about how the state insurance rates are set.
How Michigan car insurance rates are determined
Each state determines the type of law, the threshold that applies there, the type and amount of liability insurance required, and the system they use to approve insurance rates and forms.
Insurance companies in Michigan are subject to the regulations the state insurance commissioner sets. The National Association of Insurance Commissioners (NAIC) has the final say over the rules and regulations that meet their fair competition standards.
Compare Quotes From Top Companies and Save
Secured with SHA-256 Encryption
How to get windshield coverage
Michigan law allows car owners to use aftermarket parts in windshield repair, but the shop must state that specifically in the estimate. Car owners can also choose their own repair shop, however, they may need to cover the cost of any price differences if they do so.
Companies can offer a windshield replacement and repair coverage option in their policies, but they don't have to provide them. Comprehensive coverage generally includes this as part of the policies subject to a deductible.
How to get high-risk insurance
High-risk drivers can find it hard to qualify for auto insurance coverage. The Michigan Automobile Insurance Placement Facility (MAIPF) helps drivers who can't get coverage on the open market, however, it's the last resort for those who have been turned down before.
It can come to the rescue for drivers who need to restart with a clean slate and eventually buy a standard policy. It operates as a risk pool in which drivers are assigned to a certain insurance company as a group, to keep rates within the maximum state limits. It's not cheap, but it's a way to get the insurance the state law requires.
How to get low-cost insurance
Michigan doesn't currently offer a plan to help get lower insurance premiums, however, it can pay to shop around for the best rates.
Compare Quotes From Top Companies and Save
Secured with SHA-256 Encryption
What is considered automobile insurance fraud in Michigan?
Michigan's 2019 car insurance reform law allowed for the formation of an anti-fraud unit to investigate insurance fraud.
Insurance fraud, which includes lying about, concealing, or omitting information related to a claim, is illegal in Michigan. It carries a penalty of up to five years and fines of up to $50,000. Those who commit this crime also face restitution and other civil penalties.
The Michigan Department of Insurance and Financial Services estimates that 15 percent of insurance claims in 2012 showed signs of possible fraud.
What's the statute of limitations?
Michigan's statute of limitations determines how long you have to file a lawsuit or make a claim. In the Wolverine State, the time limit for bodily injury liability and property damage claims is three years.
What are the state-specific laws?
One of the driving laws unique to Michigan is the Michigan Left. This "Thru-Turn" lets drivers make left turns past an intersection and do a U-turn. They can then return to the intersection to take a right turn.
Michigan drivers must follow the Michigan Left laws at intersections where they are at rather than taking a standard left turn.
Compare Quotes From Top Companies and Save
Secured with SHA-256 Encryption
What are the vehicle licensing laws?
Michigan's Secretary of State handles all licensing for drivers and vehicles.
Through their online ExpressSOS portal, residents can renew their registrations and drivers' licenses, update or change their addresses, and access their driving histories. They can also look up vehicle registration and insurance information.
Michigan complies with the REAL ID Act Congress passed and Homeland Security enforces. This means a driver's license or state ID is an acceptable form of identification at federal facilities, airports, and nuclear power plants.
As of October 1, 2020, anyone who flies on a commercial flight or enters a federal facility must have a REAL ID-compliant form of identification.
What are the penalties for driving without insurance?
Driving without insurance is a misdemeanor crime in Michigan, and can lead to fines and prison time.
Under Michigan law, a police officer can fine a driver who doesn't show proof of insurance — even if they have it. As we mentioned before, your proof of insurance is evidence that you can pay for damages from an accident. Nowadays, showing proof of insurance can be as easy as taking out your smartphone or tablet PC.
Potential penalties for driving without insurance include:
$200 to $400 in fines
Up to one year in jail
License suspension of up to 30 days, or until you provide proof of insurance
$25 to $125 reinstatement fee
On top of that, Michigan police can look up your license plate number to see if you have insurance before they pull you over.
What are the teen driving laws?
Michigan requires teen drivers to go through a Graduated Driver Licensing (GDL) system to keep them safe on the road while they learn to drive.
Though driving restrictions are lifted at age 17, young drivers can't get away "scot-free." A parent or guardian can choose to revoke a teen's permission to drive until age 18.
Compare Quotes From Top Companies and Save
Secured with SHA-256 Encryption
What are the license renewal procedures for older drivers and the general population?
All Michigan drivers must renew their licenses every four years, regardless of their age, according to the Insurance Insitute for Highway Safety (IIHS). And every Michigander who's also a U.S. citizen can renew online or by mail on every second renewal. Michigan doesn't have any renewal laws specific to older drivers.
Every in-person renewal requires a vision test. You'll need to bring any prescription eyewear and pay a fee.
What is the law for new residents?
New Michigan residents age 18 or older must register and title their vehicles and turn over the title from their former state of residence within 30 days.
For a $25 fee, those who apply for a license must show proof of residency and/or employment and bring their Social Security numbers. With a valid license from another state or one that has been expired for less than four years, the Secretary of State office may waive the required written and driving skills test. But you'll still need to take a vision test.
Drivers from another country with temporary status in the United States can receive a temporary license.
What is meant by Negligent Operator Treatment System (NOTS)?
Michigan uses a points system for violations. Points range between two and six depending on the offense, and include the following:
Two points: minor moving violations such as speeding ten mph or less over the limit, refusing a breathalyzer (under age 21), open alcohol containers
Three points: careless driving, speeding 11-15 mph over the limit, failure to obey traffic lights or stop signs, or to stop at a railroad crossing
Four points: Drag racing, driving while visibly impaired, speeding 16 mph or more over the limit, or any BAC while under age 21
Six points: a felony involving the use of a motor vehicle (such as manslaughter), driving under the influence, reckless driving, fleeing a police officer
If you rack up 12 points, your license will be suspended.
Compare Quotes From Top Companies and Save
Secured with SHA-256 Encryption
What are the rules of the road?
Now, let's explore some of the major laws that can affect your driving record and the safety of everyone on the road.
Fault vs. No-Fault: What's the difference?
As we mentioned above, Michigan is a "no-fault" state. It's also the only no-fault state where PIP injury benefits are unlimited, but that will change in July 2020 when the new insurance reform laws go into effect, which will also make lower PIP limit choices available.
Under the new law, drivers will be able to sue for excess medical benefits rather than for specific circumstances that limit lawsuits.
What are the seat belt and car seat laws?
Michigan law requires drivers and passengers over age 16 to wear a seat belt or face fines starting at $25 for failure to do so.
These are the state's child restraint laws, which apply to those 15 and under:
Children under four must be in the rear seat if available
All children eight and under and under four-feet, nine inches tall must be in an appropriate car seat or booster seat.
All children ages eight to 15 and at least 57 inches tall must wear a seat belt in the front and back seats
The minimum fine for violating the child restraint law is $10.
Learn more about the basics of Michigan car seat laws in this video:
In Michigan, it's illegal for anyone under age 18 to ride in the cargo area of a truck unless it's moving at 16 mph or less.
Compare Quotes From Top Companies and Save
Secured with SHA-256 Encryption
What are the keep right and move over laws?
Michigan drivers must keep right to let faster vehicles pass. These are a few exceptions to the rule:
When passing another vehicle on the left
When making a left turn
In heavy traffic
On a freeway with more than three lanes
Drivers also have to move over or if not possible, slow down to ten mph below the speed limit when they pass a stopped emergency vehicle with flashing lights, a tow truck, a garbage truck, or utility or construction vehicles. This applies to drivers in all lanes.
Fines for violation of the law are $400.00 on up.
This video explains Michigan's recently expanded "move over" laws:
The organization Move Over Michigan is a helpful resource in explaining the laws. It's dedicated to promoting the state's "move over" laws and informing people about initiatives to keep law enforcement, emergency service attendants, and road service workers safe.
Speed limits
Ridesharing
Farmers and State Farm currently provide ridesharing insurance in Michigan.
The state requires all drivers for Uber, Lyft, and similar services pass background checks and have their vehicles inspected regularly. State law also places limits on the driving records of anyone who drives for a rideshare company.
Rideshare drivers must have $1 million in liability insurance when they carry a passenger and $50,000 in liability when drivers aren't using their vehicles for ridesharing.
In keeping with Michigan's no-fault laws, in case of an accident, the passenger's PIP coverage will serve as the primary coverage. When the passenger doesn't have coverage, the rideshare driver or company will be responsible for the coverage.
Compare Quotes From Top Companies and Save
Secured with SHA-256 Encryption
Automation on the road
In Michigan, it's legal to test and deploy autonomous vehicles, but the operator must have a license and liability insurance.
Safety laws
In this section, we'll cover Michigan rules and regulations in place to keep everyone safe, including laws regarding driving under the influence and cell phone use.
OWI laws
As shown below, in Michigan, Operating While Intoxicated (OWI) can lead to severe penalties. The legal blood alcohol limit (BAC) in the state is 0.08 percent and the High BAC limit is 0.15 percent.
Compare Quotes From Top Companies and Save
Secured with SHA-256 Encryption
Marijuana-impaired driving laws
Marijuana is legal in Michigan, but there's currently is no allowable legal amount of THC, the chemical that causes a "high," in a driver's bloodstream. Violators will face OWI penalties. Police officers can arrest drugged driving offenders based on a sobriety test similar to the one used to detect alcohol abuse.
Distracted driving laws
Texting while driving is illegal for all Wolverine State drivers. Michigan doesn't have any statewide hand-held cell phone bans except for drivers with a learner's permit or a Level 1 or Level 2 graduated license (integrated voice-operated systems excepted).
The cities of Detroit and Troy have enacted bans on handheld cell phone use while driving, and others are following suit. This video goes over Michigan's distracted driving laws, including how they affect teen drivers:
Now, let's get ready to learn more about driving in Michigan.
What's the driving in Michigan like?
Michigan drivers face a lot of risks on and off the road, and not everyone is aware of them. It can be easy to forget about the facts and statistics, but they're more than just numbers. Just how safe are the streets?
We've got all the information you need. We'll cover vehicle theft, crash stats, underage drinking, EMS response times, and the state of transportation.
So, look no further and keep scrolling.
Compare Quotes From Top Companies and Save
Secured with SHA-256 Encryption
Vehicle theft in Michigan
These are the top ten vehicles stolen in the Wolverine State:
Vehicle theft by city
Find out how many vehicles were stolen in Michigan and where they were located. How did your city rank?
Road fatalities in Michigan
These are some details about fatal crashes involving weather and light conditions, speeding, alcohol, and other factors.
Compare Quotes From Top Companies and Save
Secured with SHA-256 Encryption
Fatal crashes by weather and light condition
Most crashes occurred in normal daylight conditions when more cars are on the road.
Fatalities (all crashes) by county
Most of the crashes tended to take place in the more populated counties.
Traffic fatalities
More fatalities in Michigan occurred in urban areas where more people live.
Compare Quotes From Top Companies and Save
Secured with SHA-256 Encryption
Fatalities by person type
This chart shows crashes that involved vehicle occupants, pedestrians, motorcyclists, and cyclists.
Fatalities by crash type
About half of the fatal crashes were single-vehicle accidents and roadway departures.
Five-year trend for the top 10 counties
In recent years, the numbers stayed solid, while some counties saw lower figures.
Compare Quotes From Top Companies and Save
Secured with SHA-256 Encryption
Fatalities involving speed by county
Fortunately, there were fewer speeding-related deaths than deaths from other driving hazards.
Fatalities in crashes involving an alcohol-impaired driver
In some counties, compared to fatalities involving speed in those counties (above), the numbers were lower.
Teen drinking and driving
As the figures show, officers catch a lot of underage drinkers who drive.
Compare Quotes From Top Companies and Save
Secured with SHA-256 Encryption
EMS response time
Emergency crew response times tend to be lower in urban rather than rural areas.
Transportation
How do Michiganders get around and how's the traffic? Let's find the answers to those questions in the data about car ownership, commute times, and methods of transportation below.
Car ownership
For a state with a solid reputation for car-making, Michigan surprisingly falls a little bit below the national average when it comes to owning two cars.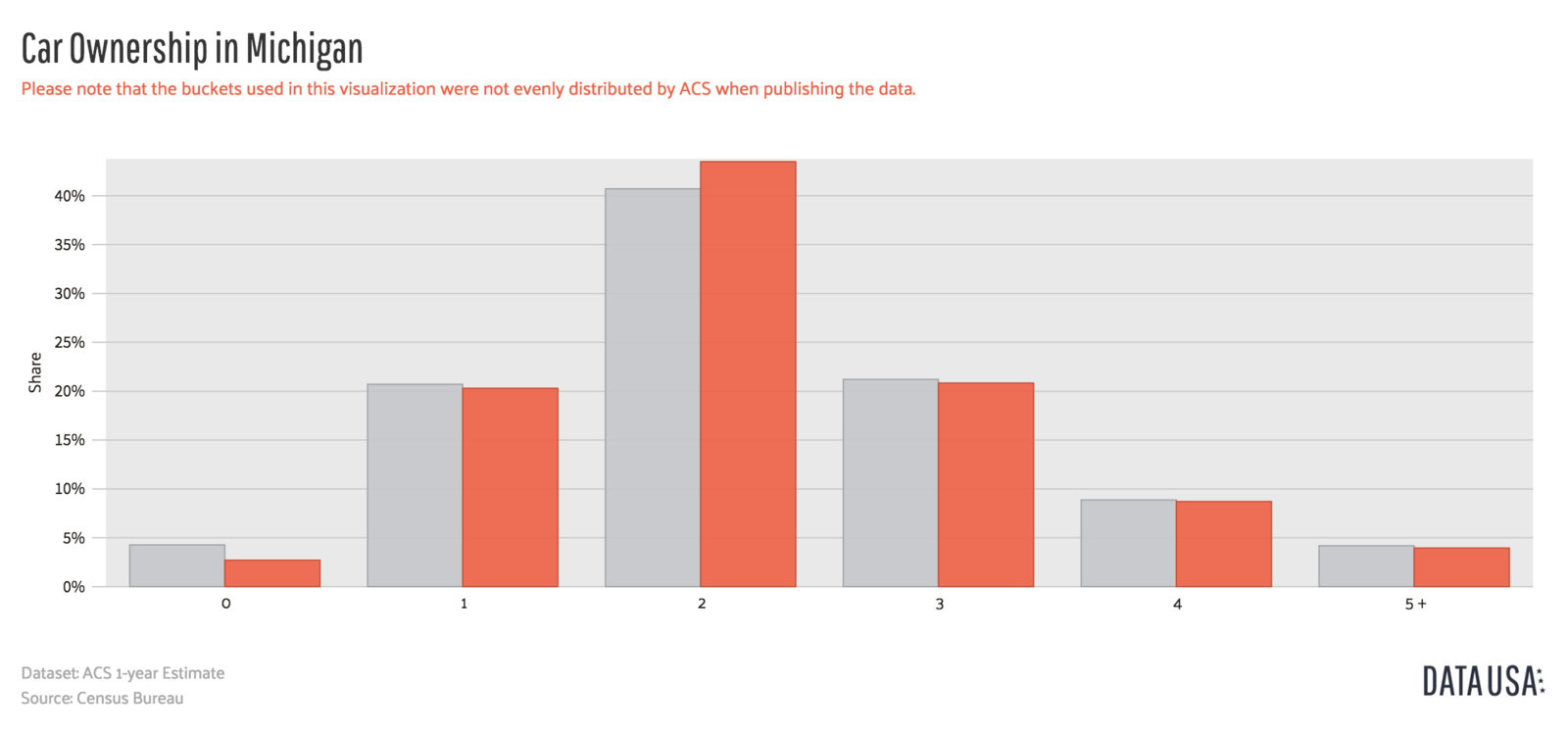 Compare Quotes From Top Companies and Save
Secured with SHA-256 Encryption
Commute time
Michigan also trails the national average slightly in commute time at 23.5 minutes versus 25.3 minutes.
Commuter transportation
Most Michiganders drove alone while carpooling ranked a distant second.
Traffic congestion in Michigan
The Motor City, Detroit, is the 27th most congested city in North America and ranks 146th worldwide.
According to INRIX's scorecard, Detroit drivers spend an average of 66 minutes in congested traffic daily.
TomTom data reveals that on average, Detroit drivers face a 16 percent increase in travel time. That time rises to 23 percent in peak morning traffic and 41 percent during the evening. On highways, the time expands to about 11 percent, while on non-highways, it rises 19 percent.
This extra travel time amounts to 20 minutes per day or a total of 76 hours yearly.
What did you think of this guide? Was the end your favorite part?
Now that you've learned all about how to find the best car insurance coverage and rates and all about the laws and risks of the road, you've earned the knowledge to shop for car insurance. Enter your ZIP code to get started.