How the States Rank on Uninsured Drivers
The not-for-profit Insurance Research Council (IRC) is the main research body that studies how the states rank on uninsured drivers. They estimate that as many as one in six drivers in the United States are uninsured. Their most recent study on which state has the most uninsured drivers showed a strong correlation between uninsured drivers and the state economy, including unemployment rates. The state with the most uninsured drivers is New Mexico.
Free Car Insurance Comparison
Secured with SHA-256 Encryption
UPDATED: Jul 19, 2021
It's all about you. We want to help you make the right coverage choices.
Advertiser Disclosure: We strive to help you make confident car insurance decisions. Comparison shopping should be easy. We are not affiliated with any one car insurance company and cannot guarantee quotes from any single provider.
Our insurance industry partnerships don't influence our content. Our opinions are our own. To compare quotes from many different companies please enter your ZIP code on this page to use the free quote tool. The more quotes you compare, the more chances to save.
Editorial Guidelines: We are a free online resource for anyone interested in learning more about car insurance. Our goal is to be an objective, third-party resource for everything car insurance related. We update our site regularly, and all content is reviewed by car insurance experts.
Being involved in an accident can turn into a hassle. You have property damage to deal with, and you may be dealing with medical injuries. Maybe your claims adjuster with your insurance is great. Maybe they're terrible or you've been trying to reach out to the other driver's insurance.
Being involved in an accident with a driver who doesn't have insurance can be even worse. This could include a hit and run driver who hits your parked car or someone who stays until the police arrive, but has no insurance. Thus, we're big on the cost-to-benefit ratio that uninsured motorist and underinsured motorist coverages provide to drivers that select them as part of their auto insurance coverage.
How Does Uninsured Motorist Coverage Work?
Some states require uninsured and/or underinsured motorist coverage. You can get them stacked or unstacked, and they generally match your liability limits.
Uninsured motorist coverage offers protection against damage associated with a driver that is uninsured. While the justice system does allow one to sue in the event of an accident with an uninsured motorist, the process involved can be very lengthy. If a judgement is handed down in your favor against the uninsured driver, difficulties may persist in being able to obtain the amount awarded.
Put simply, lack of auto insurance often correlates to lack of funds. If the driver could not afford to carry minimum liability insurance, they may not only have insufficient funds with which to pay a court judgement rendered against them. They may also lack other sources of funding, such as property and possessions that could be sold to cover such a judgement. So you would have paid legal fees to have nothing to collect.
The not-for-profit Insurance Research Council (IRC) is the main research body that undertakes studies to identify topics such as this – the percentage of uninsured drivers across the United States. They estimate that as many as one in six drivers in the United States may currently be driving without insurance. Their most recent study on uninsured drivers also showed a strong correlation between uninsured drivers and the general state of economic factors like the unemployment rate.
So where are your chances of being involved in an auto accident with an uninsured motorist highest? We think a good area to start is by looking at how the states line up in regards to their percentage of uninsured motorists.
Compare Quotes From Top Companies and Save
Secured with SHA-256 Encryption
Should You Have Your Uninsured Motorist Coverage Stacked or Unstacked?
Some states demand drivers carry liability coverage and uninsured motorist coverage. Experts recommend personal injury protection and collision and comprehensive coverage. If you have uninsured and underinsured motorist coverage, you can have it stacked. This increases your auto insurance rates compared to unstacked coverage. It also effectively doubles you coverage in the event of a covered accident. Think of stacked as one limit stacked on top of the other.
If you're looking at more coverage but concerned about the average cost, one of the best things you can do is get quotes. Compare your options and see where you can get the best price for the coverage you need.
How Does Each State Line Up by Percentage of Uninsured Drivers?
As you can see on our map below, there is a huge variation from the highest to the lowest states in terms of uninsured drivers. The five worst, with the highest percentage of uninsured driver are: New Mexico at 29%, Mississippi at 28%, Alabama at 26%, Oklahoma at 24%, and Florida coming in at fifth with 23% of its drivers uninsured. The five states with the lowest percentage of uninsured drivers are: Massachusetts at 1%, Maine at 4%, North Dakota at 5%, New York at 5%, and finally, Vermont which is at 6%.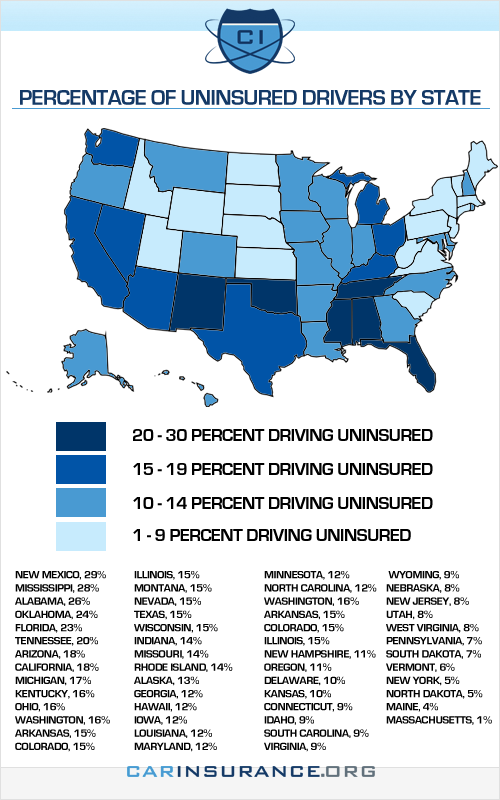 EMBED THE IMAGE ABOVE ON YOUR SITE