Will Ford Vertrek Concept be the Next Generation Escape?
The Ford Vertrek concept showcases the cargo-carrying capability that consumers expect but with a level of high-quality craftsmanship that's often lost on other compact SUVs. The Ford Vertrek is the next-generation product with a sleek, modern design with the same generous cargo space as the current Ford Escape in North America. Read now and get free Ford Vertek car insurance quotes from local companies.
Free Car Insurance Comparison
Secured with SHA-256 Encryption
UPDATED: Jul 15, 2021
It's all about you. We want to help you make the right coverage choices.
Advertiser Disclosure: We strive to help you make confident car insurance decisions. Comparison shopping should be easy. We are not affiliated with any one car insurance company and cannot guarantee quotes from any single provider.
Our insurance industry partnerships don't influence our content. Our opinions are our own. To compare quotes from many different companies please enter your ZIP code on this page to use the free quote tool. The more quotes you compare, the more chances to save.
Editorial Guidelines: We are a free online resource for anyone interested in learning more about car insurance. Our goal is to be an objective, third-party resource for everything car insurance related. We update our site regularly, and all content is reviewed by car insurance experts.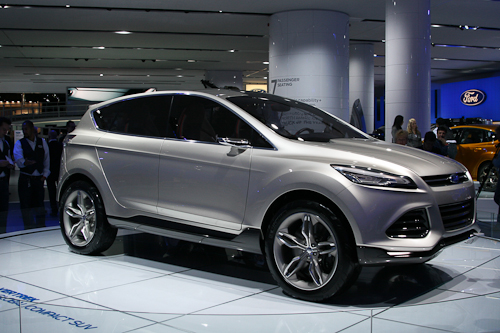 Let's hope so!
To be blunt, the Ford Escape is more than long in the tooth. The driving experience is closer to what one might expect from a new small SUV a decade or more ago. While the Europe-only Ford Kuga is certainly more stylish and modern than the Escape, it too is going to be due for replacement in a year or so.
As Ford continues to concentrate its global brand around so-called World Cars, it sounds like the plan is for the Vertrek Concept to replace both the Escape and Kuga. With styling that is closer to the Kuga in coolness, the Vertrek looks more cutting-edge than any of the other products in the CUV segment.
Add to that the fact that designers have retained the cargo space available in the Escape, and Ford may well have another hit on its hands, like it had when the Canadian-built Edge was released.
Ford has been developing a significant collection of small, powerful EcoBoost engines, one or more of which will likely find its way into the Ford Vertrek here in North America. As is sadly typical, the European markets will likely get a diesel option that will not be offered here.
More photos, Ford press release and video launch after the break.

Ford Press Release:
DETROIT, Jan. 10, 2011 –
Ford Motor Company's new Vertrek concept, revealed today at the 2011 North American International Auto Show, offers a dynamic, all-inclusive solution to what customers demand in a compact SUV across the globe, particularly in North America, Europe and the world's largest car market, China.
Key trends among customers for this type of vehicle are common to North America, Europe and Asia. They include engaging design, outstanding fuel economy and smart technologies wrapped in a right-sized package that supports an active lifestyle.
"In markets around the world, consumers are very clear about what they want in a compact SUV – strong design, great driving quality, smart technology and the capability that helps get them to places they love to be," said Jim Farley, group vice president, Global Marketing, Sales and Service. "This holds true no matter where they live – in the U.S., Europe, China – these are global trends." Importantly, the Vertrek concept showcases the cargo-carrying capability that consumers expect, but adds a level of craftsmanship and quality often lost in compact SUVs.
"This concept supports the idea of 'grab your gear and go' capability, but does it in a very sophisticated way," said Farley. "It blends capability and great design and craftsmanship." The Vertrek concept previews a next-generation product with a sleek, modern design and yet maintains the generous cargo volume offered by the current Ford Escape in North America, a traditional compact SUV with 66.3 cubic feet (1,879 liters) behind the first row and 29.2 cubic feet (828 liters) behind the second row.
The concept is also created to show how an all-new Ford compact SUV could offer substantially more cargo volume than the current Ford Kuga sold in Europe, yet still retain design leadership in its segment. In production, a vehicle based on the Vertrek concept could offer about 15 percent more cargo volume behind the first row than the Kuga and around 20 percent more cargo volume behind the second row.
Purposeful technology and smarter solutions

A wide suite of customer-focused Ford technologies including SYNC®, active park assist, BLIS® (Blind Spot Information System) with cross-traffic alert and Intelligent Access with push-button start are featured in the Vertrek concept.
Powertrain technology is also advanced, providing anticipated best-in-class fuel economy with the 1.6-liter Ford EcoBoost™ gasoline engine featured in the concept vehicle as one of the future powertrain choices. The concept also previews the Ford Auto Start-Stop system, which contributes further to fuel efficiency and low emissions.
Launched in North America and now being introduced worldwide, Ford's expanding line of award-winning EcoBoost engines produces power comparable to larger, naturally aspirated engines with the fuel economy of smaller-displacement engines.
EcoBoost is fundamental to Ford's strategy to provide technologically advanced, high-output, smaller-displacement powertrains that deliver uncompromised performance and fuel economy. Ford EcoBoost engines deliver fuel economy gains of up to 20 percent and reduction of CO2 emissions of up to 15 percent, compared with larger, less efficient powertrains.
In addition to turbocharging with direct injection, Ford engineers have enhanced EcoBoost's technology capabilities by adding variable valve timing and precisely controlling all aspects of the engine. Ford has at least 125 patents on its EcoBoost technology.
By 2013, 80 percent of Ford's global nameplates and 90 percent of Ford's North American nameplates will have an EcoBoost option.
The Vertrek concept could also easily use one of Ford's wide range of efficient and powerful diesel engines offered in markets outside the U.S. For example, the acclaimed 2.0-liter Ford Duratorq® TDCi (turbo diesel common-rail direct-injection) engine has recently been upgraded to deliver even higher efficiency with improved performance, fuel economy and refinement.
A more efficient combustion system enables greater peak power, significantly improved driveability with increased responsiveness and more pulling power at low engine speeds. It also delivers reduced fuel consumption and CO2 emissions. Depending on application, CO2 emissions are reduced by up to 7 percent compared to the previous 2.0-liter Duratorq TDCi engine.
Paired with the high-tech engines are fuel-saving six-speed transmissions. By 2013, all Ford vehicles in North America will incorporate a six-speed transmission as part of the company's commitment to leadership in fuel economy in all vehicle segments.
Improved highway fuel economy especially important
Ford's global data show that compact SUV customers increasingly use their vehicles for weekend getaways, making improved highway fuel economy a must. This highlights the importance of the aerodynamic design of the Vertrek concept, and it led to the inclusion of an accessible, small-displacement internal combustion engine in the vehicle rather than a hybrid or electric powerplant that might be more attuned to city dwellers.
"Increased fuel economy, especially outstanding highway fuel economy, is what these customers want because they are active on the weekend, taking trips and seeking new experiences," said Farley. "They want their vehicle to look good, drive well and use less fuel."
What Insurance Rates Can You Expect for The Ford Vertrek?
Insurance rates vary widely based on many factors. One of those is the car you drive. Insurers generally don't care about fuel efficiency. They do care about safety features from lane departure warning to collision prevention. Luxury automotive can cost more simply due to a higher replacement cost. It depends partly on the company.
If you're looking for new auto insurance, the best thing you can do is get a few quotes. Compare your options and see what makes sense for you. All you have to do to get started is enter your zip code in our calculator. Then answer a few questions, and you may be surprised at all the options you get. Your current insurance may be the cheapest option. Whether you drive a Vertek or a Ford Focus, there's a chance you could be paying too much.