Car Maintenance Expenses [2022 Update]
Our study found that cars costing between $21,000 and $31,999 were the cheapest to repair and that car maintenance expenses increased over time the longer the car owner delayed them.
Free Car Insurance Comparison
Secured with SHA-256 Encryption
UPDATED: Jun 30, 2022
It's all about you. We want to help you make the right coverage choices.
Advertiser Disclosure: We strive to help you make confident car insurance decisions. Comparison shopping should be easy. We are not affiliated with any one car insurance company and cannot guarantee quotes from any single provider.
Our insurance industry partnerships don't influence our content. Our opinions are our own. To compare quotes from many different companies please enter your ZIP code on this page to use the free quote tool. The more quotes you compare, the more chances to save.
Editorial Guidelines: We are a free online resource for anyone interested in learning more about car insurance. Our goal is to be an objective, third-party resource for everything car insurance related. We update our site regularly, and all content is reviewed by car insurance experts.

Just the Basics
Drivers who own the same car for 8 years spend about $3,400 on repairs
Cars with a lower sticker price are more expensive to maintain – an average cost of $700 more
Of the drivers we surveyed, 65% never replaced the spark plugs in their car
Whether you drive a newer Cadillac or an old clunker, it's important to keep up with routine car maintenance and car maintenance expenses. The problem is, many of us are tempted to save time and money by putting off repairs and ignoring car warning lights.
But does a penny-wise approach to vehicle maintenance really pay off? And what are the consequences of forgoing an oil change or a tuneup?
To find out the true cost of procrastinating on vehicle upkeep, we surveyed 1,002 car owners to learn how many put off car maintenance and ignore warning lights.
In the frequently asked questions section of this article, we'll also include topics like monthly car maintenance costs, annual car maintenance costs, car maintenance costs by brand, and a car expenses list. We've also added some car maintenance cost tips.
Often car maintenance goes hand-in-hand with car insurance. After all, they both just add to the ownership costs of a vehicle — costs that can run into the tens or hundreds of thousands. A major barrier for most people is simply understanding car insurance. If they did, they might be able to save and who doesn't like that?
To that end, we put together car insurance guides that can make you a pro in car insurance knowledge in no time. If you want to jump right into getting a quote, we have you covered there as well.
To find savings you can put towards car maintenance, just enter your ZIP code into our FREE online quote comparison tool and receive the best car insurance rates personalized for you based on your area and information.
Now, read on to discover why giving your car a little TLC could prevent mechanical failures, nasty bills, and breakdowns.
How do you stay on schedule with car maintenance?
Checked your tire pressure recently? Nearly half of the drivers surveyed were overdue on a tire pressure check. It's recommended that you check your tire pressure every month or else they could wear out faster, and you'll spend more on gas.
How Many Drivers Are Past Due for Service?
Service
Recommended Months Between Service (With Normal Driving)
Percentage Exceeding Recommendation
Check tire pressure
1
46.4%
Vacuum interior
1
44.2%
Wash exterior
1
39.6%
Rotate or replace tires
6
36.5%
Change oil
3
26.5%
Replace windshield wiper blades
9
24.1%
Source: Survey of 1,002 Car Owners

And what about oil, the lifeblood of your car? According to our survey, more than 1 in 4 drivers were overdue for an oil change. Poor engine lubrication can cause engine corrosion and reduce your car's mileage, so it's important to book your vehicle for an oil change every three months.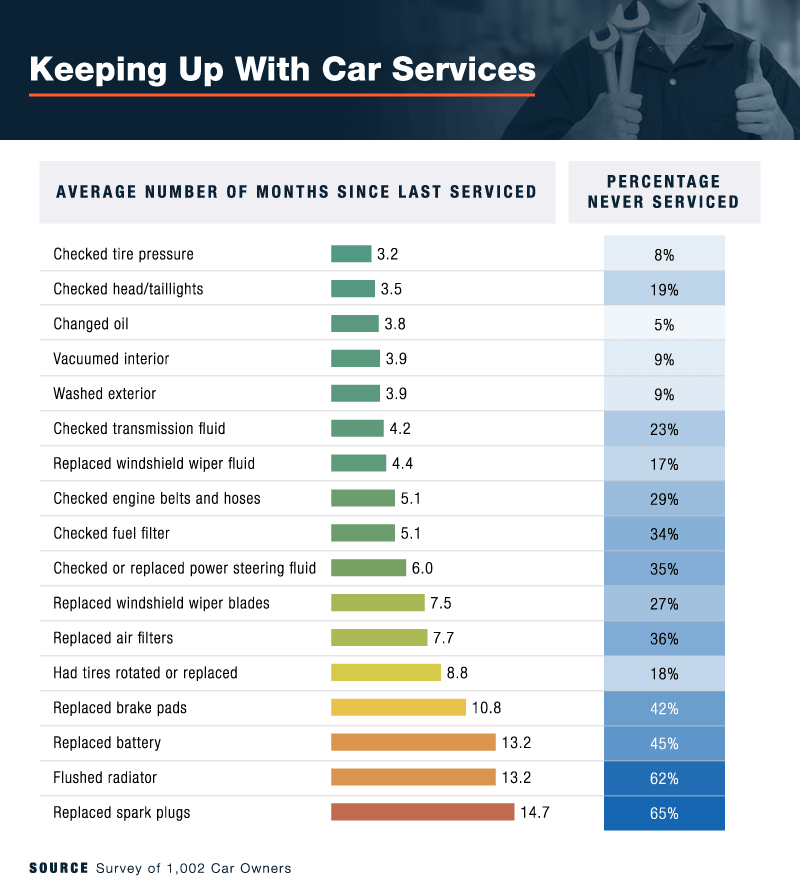 Even the simplest form of car maintenance – washing your car – can prevent dust, dirt, and bugs from damaging the paint. Nearly 10% of the car owners surveyed said they'd never washed their cars. 
Getting your car ready for a weather change can also save you a ton of money.
Compare Quotes From Top Companies and Save
Secured with SHA-256 Encryption
How much does car maintenance cost in the long run?
So how much should you spend on car maintenance? Is spending as little as possible a smart strategy?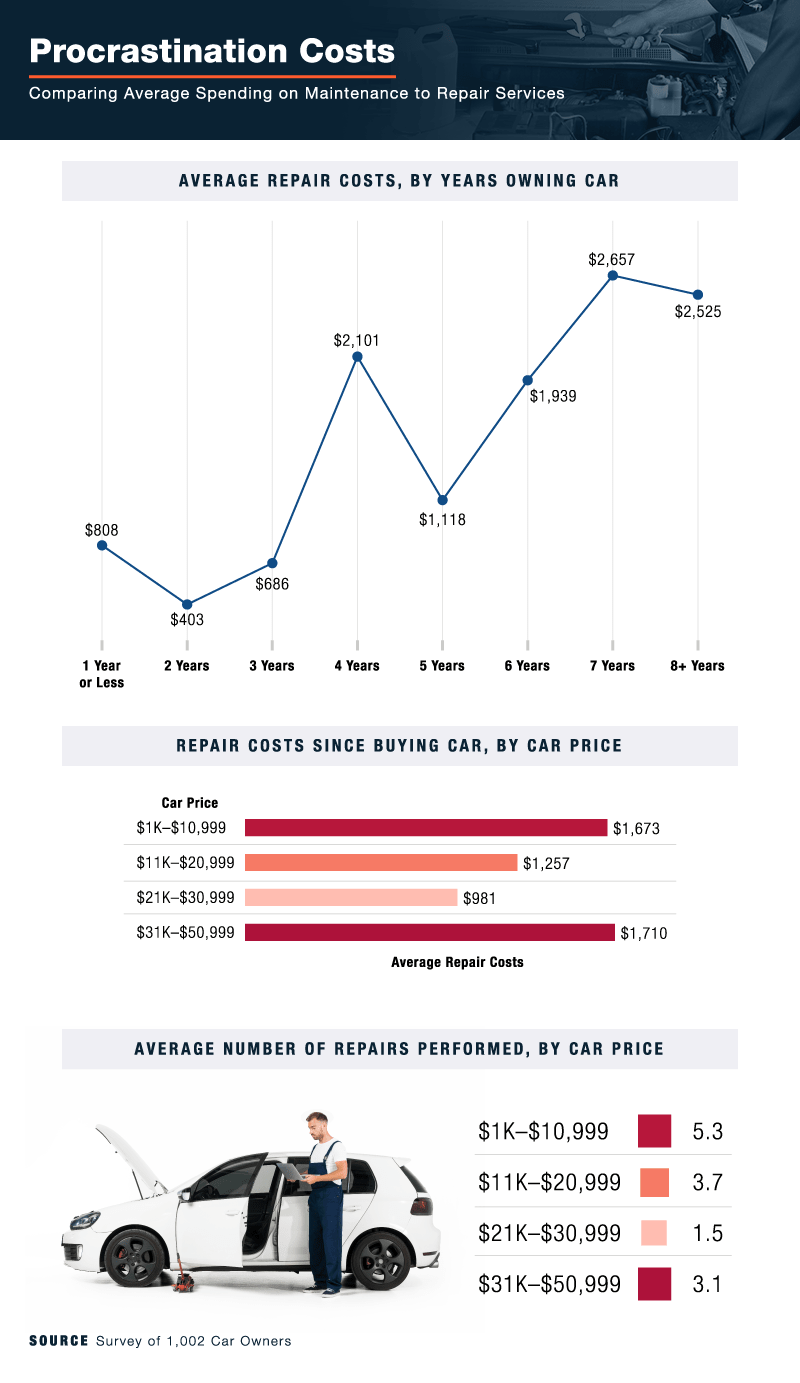 Consider the average car maintenance cost per year. We found that drivers who had owned the same car for over 8 years spent an average of $3,400 on repairs.
It's hardly chump change, but choosing not to visit a mechanic could be even more costly.
In fact, we discovered that people who spent the least on the purchase of their car spent the most on repairs, excluding those who bought upscale models. This is likely because parts for upscale cars tend to be pricier.
Whichever car you drive, you can extend its life by:
Garaging your vehicle when possible

Checking and attending to fluid levels (oil, transmission, coolant levels, etc.)

 Replacing worn tires to prevent blowouts

 Staying on top of repairs

 Following the advice in the owner's manual
Follow these simple tips, and you can minimize the cost of every mile.
Free Car Insurance Comparison
Compare Quotes From Top Companies and Save
Secured with SHA-256 Encryption
How does procrastination affect the average car maintenance costs?
Do you panic when an engine warning flashes on your dashboard? Or do you ignore it in the hope that it will go away? Over 1 in 6 car owners placed themselves squarely in the latter category by admitting that their check engine light was currently on.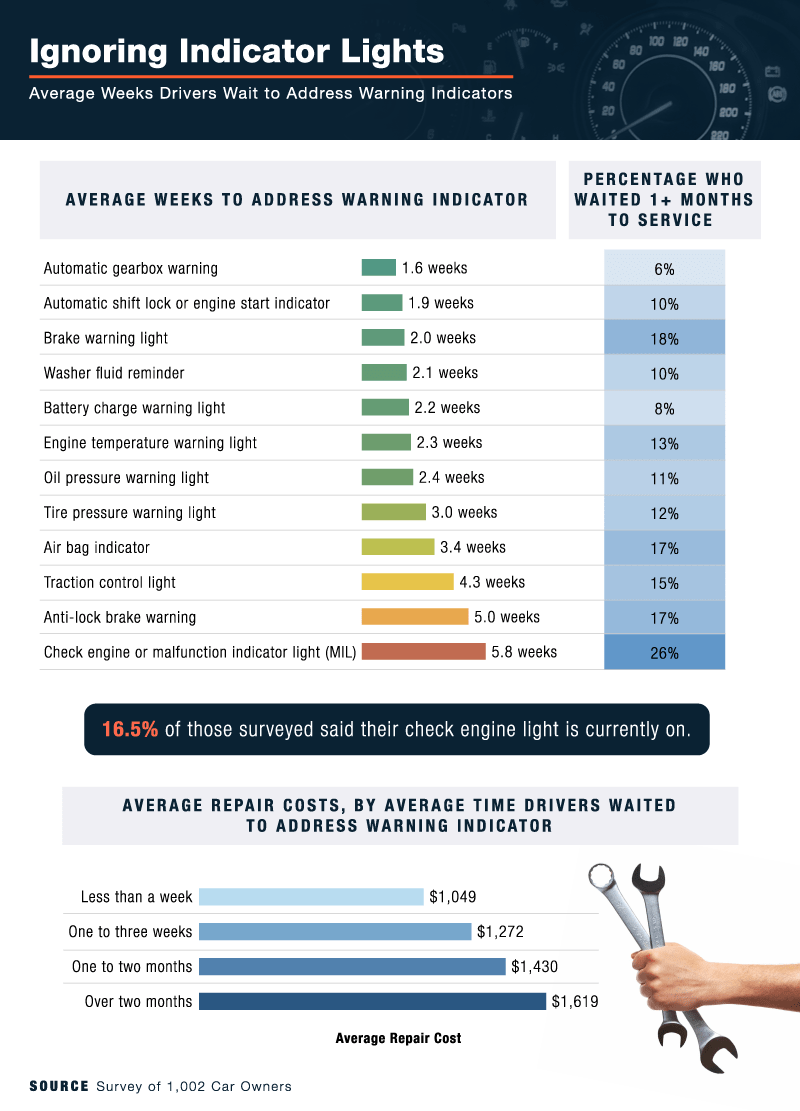 Common reasons for an illuminated warning light include a faulty sensor and a loose gas cap – but it could indicate something far more severe, such as a misfire.
It's best never to ignore a warning light, as small issues have a habit of snowballing into big, more expensive issues. And dealing with car emergencies is something no one evers wants to do.
As we discovered, the longer that drivers waited to address a dashboard light, the more they paid in repairs over time. If you do encounter a warning light, take the safe route, and get it checked out by a certified technician to ensure your safety.
The True Cost of Ignoring Indicator Lights
Warning lights are your car's way of telling you that it's experiencing an issue. Different warning lights on the dashboard indicate different faults, from overheating and brake malfunctions to worn spark plugs.
Take particular note of a flashing orange or steady red "check engine" warning light, since this could indicate a severe and urgent issue such as a misfire.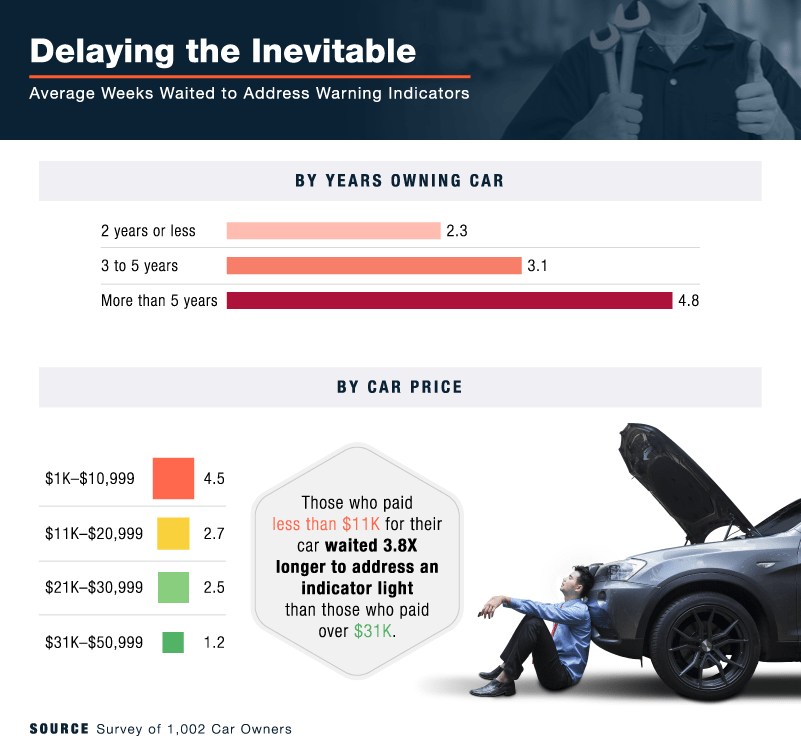 We found that the longer a driver owned their car, the more reluctant they were to sink money into it. The tragic irony of that reluctance, as we've already found, is that the longer drivers delay addressing a warning light – the more they'll ultimately pay.
Learning about a vehicle's history is common practice during the shopping stage of car ownership, but continued preventative maintenance is equally important for anybody seeking to avoid the headache of future repairs.
No matter the age or condition of your car, make a beeline for an auto garage to prevent any further damage to the engine. It's likely the best way to protect your vehicle – and your pocketbook.
Compare Quotes From Top Companies and Save
Secured with SHA-256 Encryption
How can you spot warning signs to save on the cost of car maintenance?
How well do you know your way around your car's warning lights? An impressive 84% of drivers correctly identified the brake warning light, while only 13% could identify an oil pressure warning light.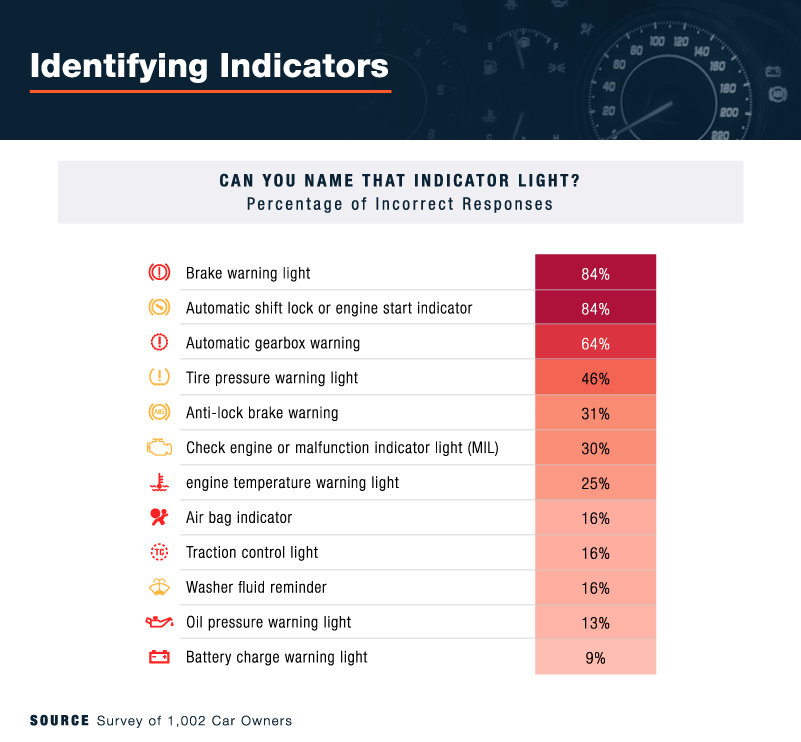 It's well worth hitting the books to understand the meaning of your car's indicators – you'll likely find a simple guide to warning lights in your owner's manual. Can't find it? Try looking it up online by searching for your make and model.
The more you know about your vehicle's warning lights, the easier it is to diagnose the problem – and decide how urgently it needs to be resolved.
Why should you keep up with routine maintenance?
Whether it's skipping an oil change or ignoring that mysterious warning light on the dashboard, many of us procrastinate when it comes to vehicle maintenance.
But as we've discovered, a little grease goes a long way. Saving a few bucks in the short term can actually cost drivers more in the long term.
Regular maintenance is just one way to protect your vehicle – you'll also want to shop around for the best car insurance. We make it fast and easy to buy low-cost car insurance coverage that meets your needs. We'll help you understand state laws and find the best policy for you and your vehicle.
Free Car Insurance Comparison
Compare Quotes From Top Companies and Save
Secured with SHA-256 Encryption
Frequently Asked Questions: How much does maintenance on a car cost?
Now that we've covered some car maintenance statistics from our survey, let's get to your frequently asked questions. They include:
How much should car maintenance cost?
What does regular car maintenance include?
What car is the cheapest to maintain?
Scroll down for the answers to those questions and more.
#1 – How much should maintenance cost for cars?
In our study, we found that drivers who used the same car for eight years or longer paid $3,400 on car maintenance over that period. The amount paid for average car repair costs can vary by type of car as well as how expensive it was at the time of purchase.
#2 – How much is the average car maintenance cost per month?
According to AAA, the average car maintenance cost per month is roughly $100, though it depends on how much you drive your car and the road conditions of your area, for just two factors.
#3 – What does regular car maintenance include?
Regular car maintenance can include oil changes, coolant changes, transmission fluid changes, new brake rotors, changing spark plugs, and flushing out the radiator, among many other types of maintenance.
#4 – Which cars last the longest?
According to Business Insider, Toyota and Honda are the auto brands that have created the longest-lasting cars. There are stories of people who have literally run their cars up to 300,000 miles or longer. Consistent maintenance often plays a role in keeping a car that healthy for that long.
#5 – What is the cheapest car maintenance cost by brand?
According to Forbes, the four cars cheapest to maintain are the Toyota Yaris, Corolla, and Camry, followed by the Honda Fit.
#6 – How much should I budget for car repairs and maintenance?
Based on the average cost of car maintenance, budgeting around $100 per month for car repairs and maintenance is useful, as often small repairs come up that are unforeseen. There are also larger issues that are bound to happen like needing a new battery or oil changes. The amount you budget depends on how often you use your car, the road conditions in your area, and what kind of stress you put on your car dependent on driving style.
#7 – How much is car insurance per year?
Car insurance costs vary widely depending on location, demographic factors, type of vehicle, and the car insurance system in your state. States that have no-fault car insurance systems often see higher insurance rates, though that the at-fault/no-fault variable is just one that affects an individual's car insurance rates.
#8 – How much is a car payment per month?
This depends greatly on the type of car, whether it was bought or used, how much you bought it for initially, and the terms agreed to on the loan. Some payments can be as low as just a couple hundred dollars while some can reach into the thousands if not more.
Compare Quotes From Top Companies and Save
Secured with SHA-256 Encryption
Methodology: Our Study About Car Maintenance Expenses
For this study, we surveyed 840 people who had purchased a new or used car.
56.6% purchased their car used

36.7% purchased a new car

6.8% received a car from a family member or friend.

Participants in that final group were not included in our visualizations. 

Participants ranged in age from 19 to 76 with a mean of 38.4 and a standard deviation of 12.3. 
We instructed participants to enter the number of months that had passed since they'd repaired various aspects of their car.
Answers of "0" were excluded from the analysis.

Outliers in spending responses greater than $5,000 were excluded from the analysis. 
We also instructed participants to identify a series of images of car indicator lights. We calculated the percentage that each respondent correctly identified and averaged the percentage correct of groups of respondents.
Limitations of Our Study
This project is not comprehensive of all possible car repairs, and various car models and years may have slight variations in dashboard indicator lights. This was also based largely on self-reported data, which may be influenced by exaggeration or minimized responses. None of the data is weighted or statistically tested.
Fair Use Statement
If you found this article beneficial, feel free to share our findings on vehicle maintenance for noncommercial use. In return, we kindly request that you link back to this page and credit CarInsurance.org. That way, everyone can save money by keeping his or her car in the best possible condition.
And if you want to save the most on car insurance as well as maintenance costs, just plug in your ZIP code into our FREE online quote generator. It'll give you the best quotes based on your location and information.