Car Insurance with Telematics (The Complete Guide)
Insurance companies use a wide variety of factors to determine premiums. Now, car insurance with telematics can get rid of these estimators and use data-driven assessments to determine your rates.
Free Car Insurance Comparison
Compare Quotes From Top Companies and Save
Secured with SHA-256 Encryption
UPDATED: Aug 31, 2022
It's all about you. We want to help you make the right coverage choices.
Advertiser Disclosure: We strive to help you make confident car insurance decisions. Comparison shopping should be easy. We are not affiliated with any one car insurance company and cannot guarantee quotes from any single provider.
Our insurance industry partnerships don't influence our content. Our opinions are our own. To compare quotes from many different companies please enter your ZIP code on this page to use the free quote tool. The more quotes you compare, the more chances to save.

Insurers use a wide variety of factors to determine your insurance rates. The underlying assumption is that all these factors will help them determine how likely are you to file a claim or cause an accident in which someone else will file a claim. Insurance companies have long relied on driving histories and automated reports, but now car insurance with telematics is making it even easier to save.
Since the insurance company is looking to earn a profit from every policy sold, it wants to make sure that the price (i.e., your premium) is proportional to the risk.
Each claim that you file is a potential outlay and could reduce the profit of the insurance company. Therefore, your insurer will ask you about your age, marital status, gender, your credit score, and your driving history.
Each of these is used to estimate your driving behavior. E.g., teens are considered high-risk drivers and therefore pay the highest premium of all policyholders in the voluntary insurance market. On the other hand, insurers may consider a married individual less risky. If you have multiple cars and multiple policies, the combined marketing costs are lower. So they'll pass the discount onto you.
However, all these are estimations of your driving behavior. Are you a driver who obeys the local speed limits? Are you a good defensive driver? Some teens can be less risky, whereas a married person can drive recklessly.
What if you do not need to estimate driver behavior? What if your insurance premium is customized based on your driving style?
You stand to save a lot on premiums by driving safely. Your insurer can accurately price your premium based on driving behavior and can quote a competitive rate, while at the same time correctly managing their risk.
No more estimators – only data-driven insurance assessment.
This is the promise of telematics.
In this guide, we will help you understand everything that you need to know about telematics in car insurance.
Ready to compare car insurance rates? Enter your zip code in our free tool above.

What does telematics in insurance mean?
Before understanding the benefits of the use of telematics services in auto insurance, we should understand the current statistics on road safety.
Road safety is not important for only you or the insurer but also for the government. The type of road and the general conditions of the areas will play a part in determining how hard or easy it may be to navigate those roads. Also, time of day can have an impact on road safety, as some roads are fine during the day but less safe to drive at night.
According to the National Highway Traffic Safety Administration (NHTSA), there were 37,133 fatalities due to crashes in 2017. According to NHTSA, speeding resulted in 9,794 deaths in 2017.
If you count major and minor crashes, there were 6.5 million crashes with 2.7 million injury victims.
All stakeholders, including you, insurance companies, and the governments, will want to reduce these trends.
How do you do it?
Governments use traffic tickets, license points, and educational programs to improve driving behavior on the road. These all factor into your risk profile with an insurance company.
Insurance companies may award discounts for a good driving record.
But all the incentives and fines do not measure driver behavior. Instead, insurance companies calculate these based on past data rather than present patterns of behavior. Your last ticket or accident may have changed the way you drive, but your insurance company won't be able to adjust for that for a few years.
Telematics can provide real-time data that measure driver behavior and help insurance companies understand their risk. They generally track your driving over a 90-day period to get an idea of your driving patterns. Then they reward you with discounts based on those patterns.
Vehicle telematics is a method to monitor a moving vehicle with GPS and onboard diagnostics to provide a real-time stream of data.
The data collected by the telematics system can then be used to measure your driver event data.
Driver events data may include miles clocked, acceleration & deceleration, cornering speed, etc.
The data from telematics systems can be used to track stolen cars or help manage the maintenance schedule.
Compare Quotes From Top Companies and Save
Secured with SHA-256 Encryption
Where did auto insurance telematics start?
The first telematics products introduced in the market are basic usage-based insurance policies. They were not meant to track safe driving habits. These basic pay-as-you-drive (PAYD) insurance products are essentially priced based on the number of miles you drive.
PAYD, otherwise called usage-based insurance, determines your insurance rate based on the following:
How much you drive
When do you drive
Where do you drive
Watch this brief video to understand usage-based insurance:
This data will help insurance companies determine the risk associated with your driving events.
However, the telematics insurance industry has evolved beyond the basic PAYD. In this section, we will understand the different types of telematics systems in the market and the type of data collected by insurance companies.
What are the types of usage-based car insurance with telematics?
The basic usage-based car insurance (UBI) is only concerned with the miles you clock. The parameters measured include distance, time of day, and vehicle location. For people who work at home and barely drive to the market, this type of system makes sense.
Now, let us understand how this basic system is useful for an insurance company:
Let us assume that you are driving a reasonable distance but are usually out in the nighttime.
According to the National Highway Traffic Safety Administration (NHTSA), nighttime driving is three times more fatal than daytime driving. Insurance companies generally consider after dark to be riskier than day-time driving and, therefore, may tag your driving schedule riskier than average.
However, there are now more sophisticated systems to understand driver behavior.
While UBI or PAYD gives financial incentives to drive less, other programs such as pay-how-you-drive (PHYD) plans will measure your driving style to calculate risk.
In a PHYD plan, the car's telemetric system will measure vehicle speed, acceleration, braking, corning speed, etc.
The factors used in pay-how-you-drive systems utilize real-time data to create a bespoke insurance plan.
How do telematics in automotive systems collect driving data?
But, how do telematics systems record your driving data? How does it affect your long-term privacy in driving?
Different applications require different types of devices or methods to record your data.
Some insurance companies may use your mobile phone to record and report driving performance using an application. However, some systems may require you to install a device in your car that will record and transmit driving events.
However, before we understand the different devices, let us first understand what a telematics device is?
Insurance companies provide telematics devices that connect with GPS and onboard electronics to record your driving behavior. Vehicle telematics also includes wireless safety communications, GPS connection, hands-free cell phones, and automatic driving assistance systems.
Compare Quotes From Top Companies and Save
Secured with SHA-256 Encryption
Which devices are used in telematic insurance systems?
As we mentioned, different telematics systems use different devices to record your driving data.
Here are the common devices used: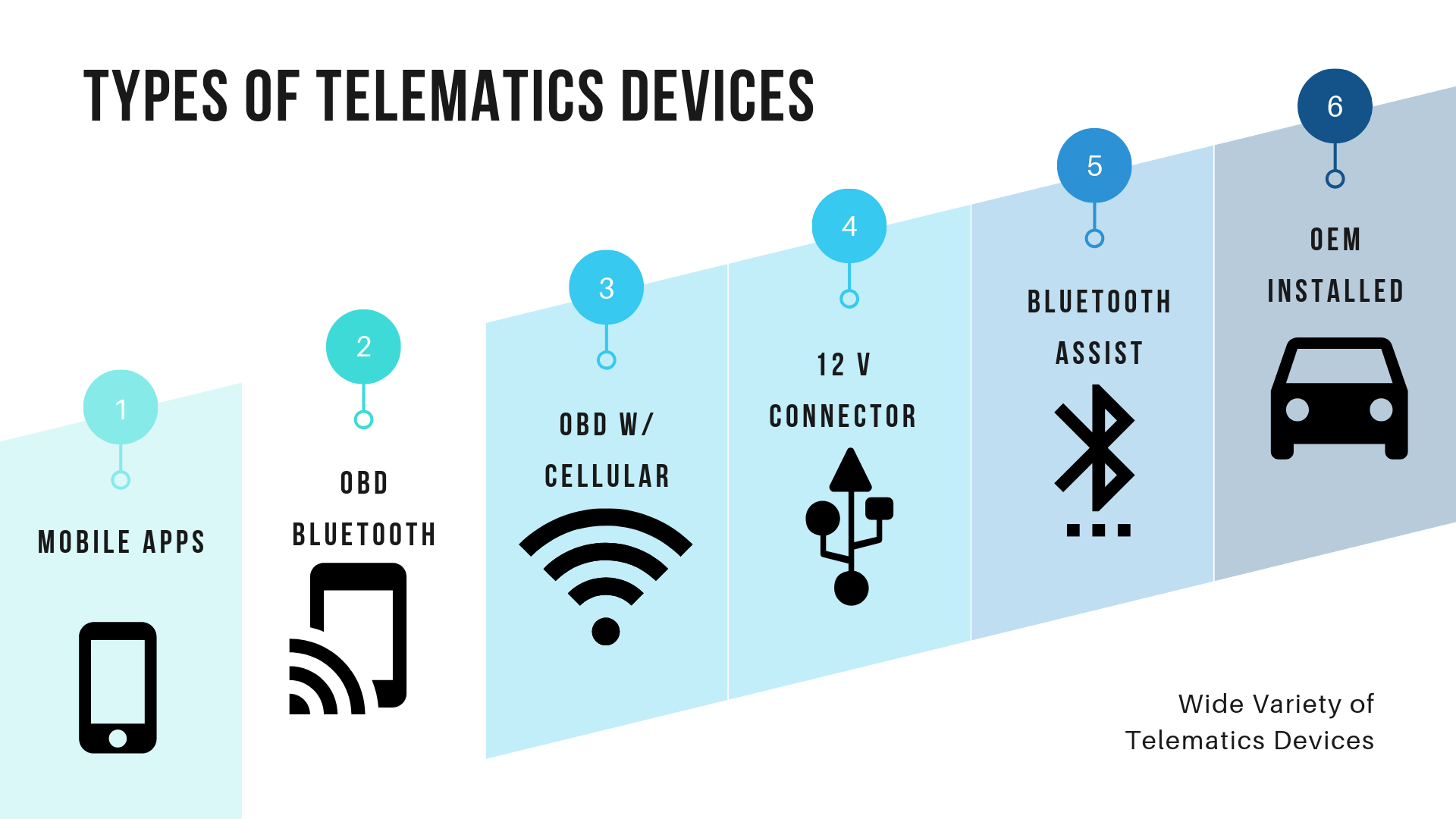 Most conventional systems use either mobile applications or devices that can be plugged into the on-board diagnostics port (OBD II Port). OBD II port is available in all cars manufactured in the last 25 years.
Watch the following video to learn how to find the OBD II port in your car:
What is an OBD II port?

If your car is manufactured after 1996, you most probably can find an OBD II port (on-board diagnostics) in your car. It's an on-board computer that can connect to a range of scanners and provide data on speeding, mileage, emissions, and much more.
Various types of devices used in telematics systems include:
Mobile Application: Insurer-provided mobile application uses smartphone sensors to track driver-behavior data. The smartphone app transmits data from your phone to the central server of the auto insurance company. Mobile applications can monitor braking, speed, acceleration, and cornering.
All major insurers provide an option to use mobile applications in select locations.  E.g., State Farm offers a mobile app in its 'Drive Safe & Save' plan.
Bluetooth Assisted Devices: These are self-powered fixed vehicle devices that use your smartphone's network to relay driving data to the insurer. These fixed devices enable direct association of the trip data with the insured vehicle. E.g., telematics systems may use Bluetooth-assisted devices to track driver behavior.
OBD II Port: This is an onboard computer that monitors all vehicle data, including driver behavior, vehicle maintenance, emissions, etc. The device is plugged into the OBD II port and can transmit the data using the cellular network. E.g., Progressive provides customers an option to use the OBD II port for their telematics insurance plan.
12 V Connector: Companies such as Bosch offers plug-and-play devices that are useful for customers who may not have OBD II connectivity. These are easy to use and don't require a battery backup. The device can transmit driver behavior data to your smartphone over Bluetooth.
OEM: Auto manufacturers may also equip a vehicle with in-built telematics functionality. Usually, these are devices independent and provide additional functionality for the users.  E.g., OnStar (by General Motors) or the mbrace system (by Mercedes, used in 2016-2018 models) are two examples of OEM installed telematics systems that come with additional functionalities.
What data is collected using different telematic apps?
Different telematics systems collect different levels of data.
The detail provided with each device is directly proportional to the expense or complexity of installing that device.
Here's a brief comparison of different telematics systems: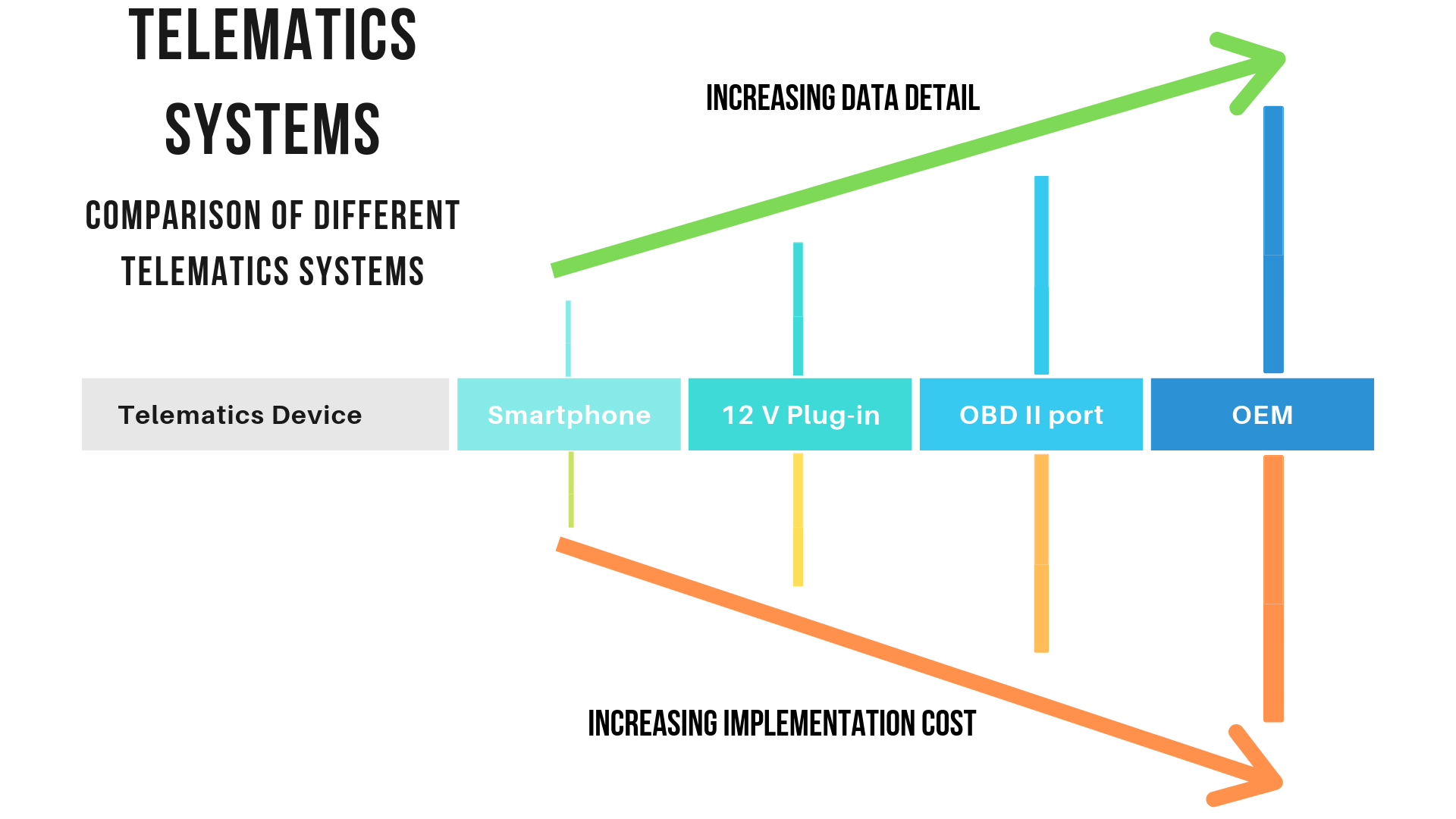 As you can see, OEM devices can provide you with the highest level of detail. However, the cost to implement and update such systems is also the highest for the car manufacturer.
While smartphones are the quickest and cheapest to implement, they are also restricted by the quality and availability of onboard sensors.
The two devices that can connect to your car and are most comfortable to manage are 12V connector and OBD II port scanners. These devices are easier to install and can capture additional data points with better accuracy. They use the smartphone Bluetooth and cellular network to transmit the data to the central database.
Now, let us review the different options offered by some of the major car insurance providers:
Progressive: Under their SnapShot program, Progressive provides telematics-based insurance. The product relays your driving behavior data along with miles, location, and time through the SnapShot OBD II device.
Travelers: The Intellidrive program from Travelers is a telematics system designed to tailor insurance plans based on driving behavior. Intellidrive uses a mobile application that you need to install on your smartphone. The app will record and score your driving behavior for 90 days, after which Travelers may tweak your insurance plan based on driving behavior.
MetroMile: If you drive less than 10,000 miles in a year, you can save on premiums using MetroMile. The insurance is solely a pay-per-mile insurance product and doesn't record your driving behavior.
Esurance: Esurance offers telematics insurance under DriveSense which requires you to install an application on your smartphone to record driving behavior. You will have to log at least 50 trips in an insurance term to benefit from insurance discounts.
Has telematics insurance grown over time?
Technology is now in everything that we do.
Data availability is changing and evolving many traditional ways of our lives, including auto insurance.
In this section, we will understand how telematics insurance started and where are we headed with this new technology.
Compare Quotes From Top Companies and Save
Secured with SHA-256 Encryption
What is the history of telematics technology?
The growth of computation power, coupled with the ability to record real-time data, has created a lot of possibilities for data-driven decision-making.
Telematics insurance is also an example of real-time data collection, creating a whole new way of revolutionizing auto insurance.
Telematics technology became a possibility when, in 1996, President Clinton made GPS an international utility. This declaration meant that the use of GPS is available for private citizens for free.
The turning point in telematics implementation was when Progressive Insurance filed for a user-based insurance patent "Motor vehicle monitoring system for determining a cost of insurance." This paved the way for the current user-based insurance products available in the market today.
The first products to hit the market were vehicle tracking fleet management systems. Slow data transmissions, the tracking was limited in frequency.
However, with data transmission dropping in price, the systems were able to track vehicles with more real-time updates.
The first smartphone application that tracked vehicle miles was launched in 2010. Metromile introduced its pay-per-mile product in 2011 that offered consumers discounts for driving less.
However, modern telematics systems are increasingly complex due to the advancements in technologies across automotive, smartphone, and data transfer speeds.
What is the future of car insurance with telematics?
From simple location tracking, telematics systems of today are equipped to record your driving behavior, vehicle status, emissions, etc.
In a fleet management system, the operator can now remotely identify the type of maintenance required, provide in-trip feedback to the driver, and manage fuel consumption.
However, telematics technology is still in its infancy. Telematics insurers are providing discounts to users for merely signing up for the product.
Why?
Well, both the insurance and automotive industries are realizing the potential of telematics technology.
According to TomTom, 88 percent of all global cars will feature integrated telematics. Whereas according to Verisk, more than 90 percent of all vehicles sold in the United States by 2020 will be able to connect to the internet.
Consider that only 5 percent of cars in the United States were connected in 2016.
The surge of data available with so many connected cars will create new ways of product differentiation and even allow companies to spawn entire new lines of business. Consumers, automakers, insurance companies, and governments can benefit from the car data generated by telematics systems.
According to Mckinsey, the global car-data-monetization pool is expected to grow to $750 billion by 2030. The United States is leading the pack with the highest rate of penetration in the voluntary use of telematics systems.
According to a report by Global Market Insights, the global usage-based insurance market is expected to grow to $107 billion compared to the current level of $37 billion.
The North American market will hold a 34 percent market share of the global usage-based insurance.
Several factors can fuel the growth of the telematics insurance market:
In-built telematics: The increasing number of connected cars with OEM installed telematics solutions combined with rapidly growing cloud-based telematics solutions can increase the consumer base.

Ease of usage: The in-built systems may also make it very easy for consumers to use the telematics system. The user doesn't have to install anything on the car or smartphone.

Value-added services: What might tilt the needle towards the voluntary adaptability of telematics systems might be the value-added services provided by automobile manufacturers. The in-built telematics systems provide automobile manufacturers flexibility to include various value-added services such as predictive vehicle maintenance through remote diagnostics, car theft protection, roadside assistance, and much more.
Watch the following video by Mercedes as they explain the benefits of mbrace, their in-built telematics solution:
What are the benefits of telematics car insurance?
Telematics systems have a wide variety of applications for insurance providers, fleet managers, automobile manufacturers, etc.
In this section, we will explore some of the benefits of using a telematics-based system for different stakeholders.
Compare Quotes From Top Companies and Save
Secured with SHA-256 Encryption
What are the different types of connected car insurance systems?
Before we understand the benefits of a telematics system, let us review the different applications.
We understand that many auto insurers are offering telematics-based auto insurance to consumers.
However, that is not the only use of a telematics system. Some companies and industries have been using different variants of the technology for several years.
Let us review some of the other applications of telematics systems.
Motorsports – You can find the most advanced use of telematics implementation in a top-tier motorsports event.
In a Formula-1 race, teams track their car's speed, engine performance, fuel consumption, fuel management, tire degradation, maintenance diagnostics, steering angle, and much more.
Each F1 car has 120 sensors producing 1.1 million telemetry data points per second.
Watch this brief video to understand how telematics has changed the face of motorsports:
Satellite Navigation – Mapping and navigation applications such as Google Maps, TomTom, and Garmin have been providing satellite navigation and traffic update to the consumer.
Companies providing navigation services can sometimes use your location data to calculate the vehicle density on the roads. It can use your location data to detect the estimated speed and distance to your destination.
Here's a short video explaining how the sat navs work:
Fleet Management – Fleet operators such as logistics companies, shipping companies, or taxi operators use telematics devices to manage and optimize their operations.
Fleet management companies were the first to use vehicle tracking.  Fleet telematics systems can help companies track vehicles, run diagnostics, provide drivers with real-time feedback, help save fuel, and much more.
Connected Cars – Automakers have realized that telematics technology can create a whole new revenue source. The automakers are now creating in-built systems that not only provide the relevant data for stakeholders (such as insurance companies) but are engaging and useful for the consumers.
According to RBC Capital Markets, the connected car market will grow at a compounded annual growth rate of 25 percent in the coming decade. The complex systems may provide different features to consumers based on vehicle manufacturers but will aim to track driving-related information that can be used in the future.
What are the benefits of telematics systems?
We understand that telematics systems have a wide variety of applications across different industries. The recent growth in telematics systems is due to the benefits each stakeholder may achieve from the generated data.
In this section, we will analyze the benefits of using the telematics system.
What are the benefits of telematics for motorists?
Lower premiums – The primary benefit for you is lower premiums. If you are a good driver, you can benefit from a lower rate that accurately measures your risk factor. Insurance companies will calculate your rates based on driving behavior and location rather than your lifestyle, home address, and credit score. A teen driver can hope to reduce the premium based on good driving behavior substantially.
Driver feedback – You can also receive reports and driver feedback from data generated from the telematics system. It can help you improve driving characteristics and may reduce the chance of an accident.
Connected cars – If your car has an in-built system, the chances are that you have access to a connected system that can provide you with value-added services. E.g., you may have access to an automatic emergency notification that dispatches emergency services to your car's location if airbags are deployed. Value-added services may also include vehicle locator, remote unlocking, etc.
Theft protection – Telematic systems can not only track your stolen vehicle but also prevent it from starting after the ignition has been turned off. A telematics system may also be able to reduce the speed of your stolen car in case of a police chase.
Transparent claim process: Accident data will help insurers to identify who is at fault, making the claim process transparent.
You can watch this brief video by Edmunds.com to get a brief overview of the benefits of a telematics system:
Compare Quotes From Top Companies and Save
Secured with SHA-256 Encryption
What are the benefits of telematics for auto insurers?
Telematics systems are also beneficial for insurance companies. The traditional process of providing insurance cover was that a customer signed up for insurance and paid premiums calculated based on factors that 'estimated' the driving risk.
If the driver files a claim, the insurance company may not know the factors that led to the accident. It also meant that insurance companies were not pricing the current risk.
Telematics systems are expected to revolutionize the auto insurance market. Here are the possible benefits for insurance companies:
Accurate risk assessment – Insurance companies can find direct risks associated with your driving style. The companies can provide you with feedback and reduce the chance of a claim. The information in aggregate can also improve the market understanding of insurance companies regarding certain sections of the road/city/town.
Fighting insurance fraud – Telematics systems can help insurance companies fight insurance fraud by providing play-by-play actions of the events that led to the accident. The insurance companies can accurately ascertain who was at fault for the accident.
Reduce claim costs – Driver feedback and discount incentives for good driver behavior can result in a general improvement in driving habits that can lead to reduced claims.
What are the benefits of telematics for organizations with fleets of vehicles?
Let us analyze some of the benefits that organizations with large fleets may find from telematics systems:
Vehicle Tracking – Companies such as FedEx or UBS might use vehicle tracking to estimate the time of delivery accurately. Law enforcement can also use vehicle tracking to locate and retrieve a vehicle in case of theft.
Remote diagnostics – Vehicle downtime can prove critical for a fleet operator. Telematics systems can inform them about maintenance requirements before a breakdown.
Driver feedback – Operators can track driver behavior and provide real-time feedback. This can help prevent accidents and improve fuel efficiency. Companies can also develop customized training programs to help drivers improve their ability
Fuel-saving – Fleet operators can now identify and retrain aggressive drivers, choose more fuel-efficient routes, or improve vehicle performance using a telematics system
Network Optimization – Companies such as UBS have been using telematics to improve their network efficiency. The data collected can help them remove idle time in the system and reduce overheads.
How does the auto insurance law influence telematics?
Regulators have been supportive of the first movers of the usage-based insurance providers. However, as the industry is evolving and new challenges come to the fore, regulators might change their stance.
Companies offering usage-based insurance products are currently subscribing consumers so that they have a sufficient database for actuarial calculations. The companies are not penalizing customers who sign up and showcase unsafe driving behavior.
However, companies will look to leverage the data they are gathering and match the auto insurance premium to their risk exposure. At that point, safe drivers will likely get discounts, whereas unsafe drivers will see their premium rise.
As the industry reaches a threshold, lawmakers and regulators may challenge parts of a telematics-based insurance program. The regulators might enforce greater transparency in premium calculations to protect against discrimination.
Overall, road safety may be the most crucial aspect of usage-based insurance for governments and regulators.
In this section, let us review a few laws and regulations that may influence the telematics-based insurance market.
Compare Quotes From Top Companies and Save
Secured with SHA-256 Encryption
What are the regulations on telematics and data privacy?
Telematics-based auto insurance is still in its infancy, and therefore, the laws are not yet clear on data privacy and data ownership regulations.
The law is still evolving regarding who owns the data right from the telematics systems.  There are a few instances of state insurance and privacy laws that help protect customer information.
According to the Federal Trade Commission (FTC), federal laws provide customers with some remedies if their information is sold to a third party for commercial purposes.
However, we are still unsure as to who owns the data generated by the telematics system. The federal laws imply that customers must be the owners of the generated data.
But the good news is that state regulators are supporting the adoption of UBI programs.
E.g., the New York State Department of Financial Services issued a press release encouraging all New York insurers to adopt usage-based insurance plans.
What are the regulations regarding fleet telematics?
In the United States, laws regarding the use of tracking devices for fleet management vary from state to state.
A large majority of US states allow employers to track their fleet. However, to track a vehicle, an employer has to meet the following conditions:
Employer owns the vehicle
Employer informs the employee or vehicle operator that they are monitoring the vehicle
Employer tracks the vehicle during agreed business hours
Remember, law enforcement can jail or penalize you if you track a vehicle that you do not own.
The quantum of punishment varies across different states.
| States | Quantum of Punishment |
| --- | --- |
| California | Max six months with driver consent |
| Texas | One year jail time |
| Other states | Varying amout of jail time |
What are the trends in usage-based auto insurance?
The adoption of telematics-based auto insurance has been rapidly growing globally. Globally, rising urbanization and improved internet connectivity are expected to drive the adoption of telematics.
The United States has been leading the world in telematics adoption. Connected cars and electric vehicles are the two most significant factors that will support the adoption of telematics in the US.
Electric vehicles – Growing consumer demand for electric vehicles will lead to investment by automakers towards in-built telematics systems. A telematics system is critical for operating an electric vehicle.
Apart from tracking the regular driving, telematics systems in electric vehicles are also expected to provide some of the following services:
Locate the nearest fast-charging station
Reserve the nearest charging station
Ability to check the vehicle charging status remotely
Ability to control when to charge the vehicles remotely
Receive notification of completion or interruption in the charging process
Remotely operate HVAC systems in the car
Run diagnostics for battery health
Connected Cars – Increasingly, auto manufacturers are offering value-added services through the in-built telematics system. OEMs are offering new services such as restaurant reservations, ignition on notification, remote diagnostics, access to traffic cameras, and much more.
V2X Connectivity – Apart from relaying data to the OEM or your insurance providers, the telematics systems in your car can also connect with other connected cars or devices. V2X capability will allow your car to interact with smart traffic lights, toll road sensors, and other third-party applications.
A V2X system can relay critical information over a network and aid in collision avoidance, traffic updates, road hazard warning, and much more.
Data-centric ecosystem – Due to a large amount of data that is generated through vehicle tracking, a large number of companies and business models are emerging that did not exist before. Here is a brief snapshot of different types of companies that are now in the automotive and transportation market:
Parking lot management to help locate available parking
Third-party applications for vehicle Telematics
Automated driving
Cloud service providers
OEMs
Big data tool providers
Connected fleet management companies
Application developer platforms for telematics systems
Diagnostics apps
Connected electric vehicles
Augmented HUDs
Usage-based insurance
Mapping applications
Safety and security
Smart cities
V2X communication provider
Are there criticisms of car insurance with telematics?
The telematics systems are still in their infancy and will continue to evolve as more and more people adopt the technology. However,  there are a few criticisms of usage-based insurance that might impact the adoption process.
In this section, we will discuss why telematics-based insurance is attracting criticism from various stakeholders.
What are the disadvantages for consumers?
Even though insurers are offering sizeable discounts, some customers are reluctant to adopt telematics-based insurance. These are some of the concerns that might influence a consumer negatively about usage-based insurance:
Rate hike for some consumers: Many good drivers can hope to reduce their premiums. However, drivers who have to drive during the rush hour or at night may see their premium rates increase.
Unable to differentiate driver behavior: If you drive well but have to brake hard to prevent an accident, the system will record it as risky behavior. If you are driving in cities such as New York, you may end up spending more on your car insurance due to telematics-based insurance.
Privacy and safety of data: The data collected by the telematics systems may have a lot of information about where, when, and how you are driving. After using the telematics system, you may end up handing over a lot of personal information to your insurer. While there are benefits of telematics data collection, many consumers and insurance companies are concerned about privacy and data and the future of telematics insurance.
Unintended Driver Behavior: In a quest to get additional discounts, drivers can adapt their driving behavior for minimum penalties. E.g., you may be reluctant to apply brakes and increase the possibility of an accident.
Unable to distinguish drivers: Currently, the systems are not able to distinguish between different users of the car. If your teen is learning to drive, their potential immature driving skills can increase your usage-based insurance premium.
What are the disadvantages for insurance companies?
Insurance companies are expected to gain a lot of accurate data on their risk exposure because of the telematics systems. However, there are a few disadvantages of telematics for insurance companies:
Installation costs: Insurance companies usually offer the required telematics device to capture driving data from your car. The OBD II device is relatively inexpensive and provides accurate data, but cannot be used in cars manufactured before 1996.
Data accuracy: The companies have started using smartphone apps to reduce costs and make it interoperable. However, data collected from smartphones is dependent on the sensor quality of the mobile device.
What are the disadvantages for third-party operators?
In the case of in-built telematics systems, third-party users such as local mechanics and insurance companies may not have real-time access to the driving data. Automakers may have control over who gets what data and how. Third-party users may be able to provide value-added services with real-time or frequent access to data.
Regardless, usage-based insurance is here to stay. The genie is out of the back, and insurance companies cannot move back to the status quo. However, technology evolves as we continue to utilize and adopt it.
Ready to compare car insurance? Enter your ZIP code for free below.
Editorial Guidelines: We are a free online resource for anyone interested in learning more about car insurance. Our goal is to be an objective, third-party resource for everything car insurance related. We update our site regularly, and all content is reviewed by car insurance experts.