How Your Children Will Impact Your Car Insurance Policy
Because insurance is based on the concept of risk, how your children will impact your car insurance policy will depend on their age. Auto insurance companies charge more for the increased risk of teen drivers, so comparison shop online for free quotes to see how young drivers will impact your car insurance rates before you add any children to your policy.
Free Car Insurance Comparison
Secured with SHA-256 Encryption
UPDATED: Jan 19, 2021
It's all about you. We want to help you make the right coverage choices.
Advertiser Disclosure: We strive to help you make confident car insurance decisions. Comparison shopping should be easy. We are not affiliated with any one car insurance company and cannot guarantee quotes from any single provider.
Our insurance industry partnerships don't influence our content. Our opinions are our own. To compare quotes from many different companies please enter your ZIP code on this page to use the free quote tool. The more quotes you compare, the more chances to save.
Editorial Guidelines: We are a free online resource for anyone interested in learning more about car insurance. Our goal is to be an objective, third-party resource for everything car insurance related. We update our site regularly, and all content is reviewed by car insurance experts.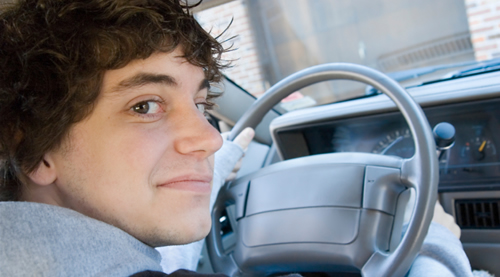 Being a parent is an experience that can offer great joys, as well as difficult times. And of course, many of those difficult times relate directly to money, as many things in life do. With each step of life a child takes, there's usually some sort of cost associated with it, and car insurance is no different, although many parents are in for a case of sticker shock.
In this article, we'll be looking at different milestones, starting with teenaged drivers who have a newly minted learners permit, all the way through graduation from college. Each of the events will impact your policy costs, and we'll discuss them in detail.
New Teenaged Drivers
While most kids will countdown the days until they turn 16 (or younger in some sates) and can finally get their driving permits, parents have a slew of worries to occupy their minds. One of the biggest worries is that teenaged drivers are four times more likely to be in a collision or a crash than a driver outside of the 16-19 years of age range.
Your child may be an excellent driver, and they may have an impeccable and spotless driving record – but you'll still pay way more for an auto policy once they're added to it. Beyond the risk factor mentioned above, consider that a large portion of new teen drivers will likely be in some sort of accident within the first year of getting their license.
Because insurance is based on the concept of risk, auto insurance companies have to factor in the increased risk teen drivers bring to the table, which means they'll price your policy accordingly once you add a teen driver to your policy.
However, not all is lost. They won't be teens forever and while they are you can see if your insurance company offers any teen specific discounts. Good student discounts alone can instantly translate into policy savings from 10 to 25 percent, depending upon the insurer. And these may not be the only discounts available to lower policy costs. Make sure you discuss this with your insurer to obtain every discount you are eligible for.
The Child is Driving a Car Owned by the Parents
If your child is still a dependent, meaning they're either in college or still live at home, a parent can continue to list them on their policy as a named driver. That's even if you've helped to purchase a car of their own. Only in this case, the important part of "own" means you hold either primary or joint ownership of the automobile of the child.
As long as the child meets the student guidelines, they're insurable under your policy. Where things begin to get somewhat cloudy is once a child is no longer dependent, or buys a car of their own that you have no material interest or ownership of.
What if Your Child Buys a Car of Their Own?
In some cases, a child will have saved up for their own car, and may wish to purchase one for themselves. That's fine, and as long as the child is younger than 18 years old, it may be possible for the parents to insure the child and their fully paid for automobile under the policy. Once the child turns 18, they'll need to obtain their own policy for a car bought in such a manner, unless of course, the parent is listed as a co-owner of the automobile on the title.
Financing a car can be a bit different, however. While any lien holder is prohibited from entering into a contract with someone who hasn't reached the age of 18, if a child 18 or older manages to finance a car by themselves, they'll need their own policy, since the parents have no insurable interest in the car purchased by their children. However, if this is a car that the parents have co-signed on the note for the loan and the child still lives at home, it probably can be insured on the parent's auto policy.
Once the Child Leaves the Nest
If your child isn't in school, owns their own car, and has reached 21 years of age, it's time for them to have their own auto policy. While they won't be paying the extremely high premiums associated with being teenagers anymore, they'll still pay more than most people do. And they're also on the cusp of another milestone – meaning in just a few years, their cost for insurance will drop again, and they'll no longer be in the highest risk group.
Your college-age or young adult child should choose a car insurance company that has a good app. Your college student is used to having everything they need easily accessible on their smartphone, and they'll be able to keep all their relevant car insurance information at hand with a good app.