Six Features of a Good Car Insurance App
While smartphones should never be used while driving, many auto insurance companies have developed client service apps on smartphones. The six features of a good car insurance app are being able to file claims, documenting accidents, calling roadside assistance, finding repair locations, finding local agents, and being able to update or change your policy. Read our guide to learn more.
Free Car Insurance Comparison
Secured with SHA-256 Encryption
UPDATED: Mar 22, 2021
It's all about you. We want to help you make the right coverage choices.
Advertiser Disclosure: We strive to help you make confident car insurance decisions. Comparison shopping should be easy. We are not affiliated with any one car insurance company and cannot guarantee quotes from any single provider.
Our insurance industry partnerships don't influence our content. Our opinions are our own. To compare quotes from many different companies please enter your ZIP code on this page to use the free quote tool. The more quotes you compare, the more chances to save.
Editorial Guidelines: We are a free online resource for anyone interested in learning more about car insurance. Our goal is to be an objective, third-party resource for everything car insurance related. We update our site regularly, and all content is reviewed by car insurance experts.
While they're still a minority of the mobile phones carried by people worldwide and within the United States, smart phones are quickly becoming a part of daily life for many people. A smart phone is used just like a dumb or feature phone: they make phone calls and receive text messages. But they also do much more, like offering a full HTML browser that replicates the desktop web experience on your phone. They also have applications. Applications to check the weather, find the lowest price on gasoline, order pizza, report the locations of potholes on our roadways and even advanced games you can play on your phone.
While smartphones should never be used while driving, many car insurance companies have developed applications for client services on smartphones. These apps provide customers of the car insurers to file claims on their policy and more. So what makes for a good smartphone application?
Enter your ZIP code above to get free insurance quotes from multiple insurers to compare insurance rates.
Can you file a claim form on the app?
Any good car smartphone application will have a function to allow you to file claims. And since a claim can be as simple as broken automotive glass, a good app will offer a myriad of choices, including being able to file an accident claim, as well as simple claims, like broken glass.
Compare Quotes From Top Companies and Save
Secured with SHA-256 Encryption
How do you document auto a
ccident

s?

While claim filing is a given, apps that allow you to document collisions and accidents are even better. You should be able to give details about the accident as well as providing pictures of the accident. There may be an accident checklist you can follow when filing your claim. Your insurer can provide much better service equipped with as much information about an accident as possible.
Is roadside assistance available?
If you've been involved in a wreck, getting help quickly or getting roadside assistance is a must of a good app. This should include a one-touch call to 911 to save time and less urgent roadside assistance functions as well.
Getting Your Car Back on the Road: What repair locations are available to you?
One of the reasons we have coverage is to allow us to get back to our normal lives after an accident or wreck. Good car insurance apps will feature locations of service providers you can use to repair the damages to your car.
Compare Quotes From Top Companies and Save
Secured with SHA-256 Encryption
How do you contact or find a local agent?
Some folks prefer to file claims with the agent they deal with. And if they're away from home, they'd still prefer to have a human handle their claim. Thus, any good car insurance smartphone application should allow you to find and contact an agent directly.
Do you get full policy service?
Finally, and good car insurance app will allow you to do things that don't involve an accident or a claim. You should be able to change your policy, add or replace vehicles, and more.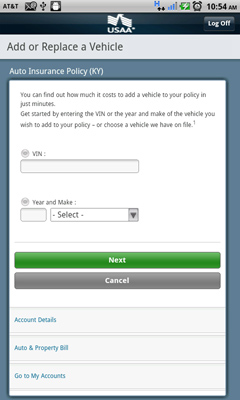 While every car insurance app doesn't include each of these six features, many of the smart phone apps from the larger insurers do allow you to do each of these things. Consider these apps a bonus feature of your coverage, and if your smart phone is never out of your reach, you may want to give your auto insurer's version a try.