Safety Features to Look for in Your Next Car
These safety features to look for in your next car can help lower your auto insurance rates, including active head restraints, adaptive cruise control, a back-up camera, and blind-spot warnings. Recent vehicle safety advances not only protect drivers and passengers in the event of a crash but can also prevent crashes from happening.
Free Car Insurance Comparison
Secured with SHA-256 Encryption
UPDATED: Jan 18, 2021
It's all about you. We want to help you make the right coverage choices.
Advertiser Disclosure: We strive to help you make confident car insurance decisions. Comparison shopping should be easy. We are not affiliated with any one car insurance company and cannot guarantee quotes from any single provider.
Our insurance industry partnerships don't influence our content. Our opinions are our own. To compare quotes from many different companies please enter your ZIP code on this page to use the free quote tool. The more quotes you compare, the more chances to save.
Editorial Guidelines: We are a free online resource for anyone interested in learning more about car insurance. Our goal is to be an objective, third-party resource for everything car insurance related. We update our site regularly, and all content is reviewed by car insurance experts.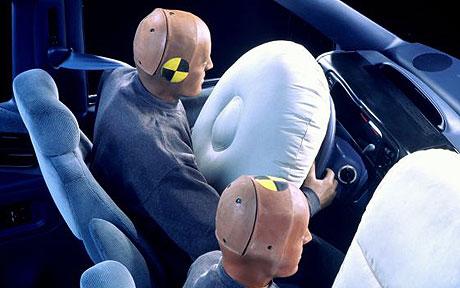 While looking at the results of crash testing conducted by the NHTSA and the IIHS is an important consideration for any new car buyer, there are other things to look at, such as the safety features included on any new car you are thinking about buying. That means looking for cars with as many safety features offered as standard equipment as possible. Recent safety advances not only protect drivers and passengers in the event of a crash, but also can prevent crashes from happening. Not only will you and your passengers be safer, but you'll also save on your car insurance premiums. Here are some important safety features to look for.
Active Head Restraints
While many think the headrests on seats are simply about comfort, they can also be a safety feature. Active head restraints change their adjustment automatically during an accident to help prevent neck injury.
Adaptive Cruise Control
Sure, cruise control systems allow you to keep a constant speed as you move down the road, but adaptive cruise control goes well beyond simply maintaining speed. Such systems utilize either radar or lasers to maintain speed as well as keeping a safe distance between a driver's car and any cars ahead. The most advanced systems can even apply the brakes if they determine a collision is eminent.
Air Bags
While front air bags are now standard equipment on all new vehicles sold in the United States, they've advanced rapidly from the first examples. Many cars now feature side curtain models that not only simply help prevent head injuries, but also can prevent an occupant from being ejected from the car in rollover accidents. Knee airbags can also prevent or minimize injuries to a driver's legs and feet in the event of a crash.
Antilock Brakes (ABS)
Antilock braking systems prevent a car's wheels from locking up during hard braking, which can give drivers the ability to maintain steering control. Advanced ABS includes brake assist functions, which can reduce stopping distances in emergency situations such as a driver in front of you stopping short or unexpectedly.
Backup Camera
While mainly a parking aid, these cameras can alert drivers to hazards behind a car, such as pedestrians or children that are not visible in the car's mirrors. The most advanced of these systems can also replace the normal rearview mirror, especially if they are accompanied by a blind-spot warning system.
Blind-Spot Warning
These radar or camera based systems alert drivers to cars in adjacent lanes that are hidden in the driver's blind spot. Advanced versions will not only warn drivers, but can keep an accident from occurring by not allowing the driver to move into an occupied lane.
Electronic Stability Control (ESC)
ESC systems can sense when an extreme steering maneuver is being executed, and automatically apply the brakes to individual wheels to maintain control of the car. While these systems can prevent many crashes, it is possible to exceed the limits of ESC with a speed that is too high for the conditions. Congress has mandated that ESC be a standard feature on all new cars sold in the United States in 2012.
Lane Departure Warning
This camera or laser based system will alert a driver if the car moves out of its lane without activated turn signals. Some systems also employ electronic stability control in combination to prevent accidents. The most advanced systems are combined to detect driver drowsiness or inattention.
LATCH (Lower Anchors and Tethers for Children)
Because child safety seats can be difficult to install correctly with seat belts, the LATCH system was developed to make correct installation easier. All vehicles sold in the United States are required by law to have the LATCH system in place, and you will find it on any model manufactured since 2002. LATCH helps ensure child safety seats are installed correctly.
Pedestrian Safety Systems
Thus far, only Volvo has brought a functional pedestrian detection system to market, although other manufacturers have plans to deploy similar systems. It can apply a car's brakes once it detects a pedestrian in the road if the driver does not react. Volvo is also developing an inclusive system that can detect many other types of roadway hazards, including wildlife.
Tire Pressure Monitoring Systems (TPMS)
All cars manufactured since November 1, 2006 are federally mandated to have TPMS. These systems alert a driver to low air pressure, which can compromise a vehicle's handling and fuel economy. Improperly inflated tires also tend to wear out quickly and in some instances, can experience complete failure.
Traction Control (TC)
Traction control systems can prevent wheel spin, thereby allowing for maximum traction. These systems come in handy under adverse weather conditions, such as when roads are slick from rain or icy weather.