Is SMART Doomed in the United States?
According to Penske, total sales of Smart Cars in the United States fell 59 percent in 2010. Smart started off well but was on a declining trajectory almost immediately. Now that Mercedes dealers will take over the distribution and sales of Smart Cars, it's time to investigate if Smart is doomed in the United States.
Free Car Insurance Comparison
Secured with SHA-256 Encryption
UPDATED: Jan 18, 2021
It's all about you. We want to help you make the right coverage choices.
Advertiser Disclosure: We strive to help you make confident car insurance decisions. Comparison shopping should be easy. We are not affiliated with any one car insurance company and cannot guarantee quotes from any single provider.
Our insurance industry partnerships don't influence our content. Our opinions are our own. To compare quotes from many different companies please enter your ZIP code on this page to use the free quote tool. The more quotes you compare, the more chances to save.
Editorial Guidelines: We are a free online resource for anyone interested in learning more about car insurance. Our goal is to be an objective, third-party resource for everything car insurance related. We update our site regularly, and all content is reviewed by car insurance experts.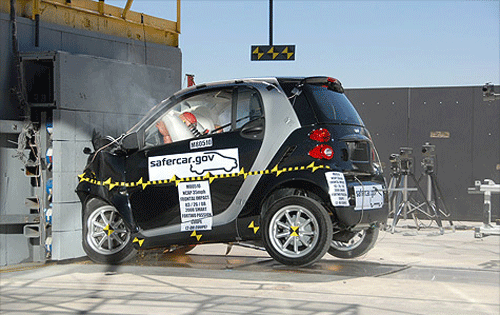 Now that Mercedes dealers will take over distribution and sales of the Smart line of cars in the United States, I think this is a perfect time to examine if Smart is simply doomed here.
In the three years Penske Automotive Group (PAG) sold the Smart line of cars, the sales of Smart cars never quite matched up to sales projections. And since Roger Penske gave up his exclusive franchise rights on Smart last week, Wall Street and investors have given a rousing cheer of approval to the decision, with PAG shares now trading at a three-year high.
According to Penske, total sales of Smart automobiles over those three years were just below 45,000. They started off well, but were on a declining trajectory almost immediately, with the last two years being extremely difficult. CNBC says Smart car sales fell 59% in 2010. This occurred in a year when auto sales increased 11.1% in total in the United States. Difficult may not be a strong enough word to describe Penske's experiences with the Smart line. So where did Smart, and Penske, go wrong?
Gas Prices Increases Never Came
Penske was betting on further increases in gasoline prices when they snapped up exclusive U.S. rights on Smart. The U.S. Energy Information notes that in 2007, gas average weekly nationwide gasoline price (all grades of gas combined) were $2.84 a gallon. In 2008, those prices increased to $3.30 a gallon, which made Penske's decision look like a very wise one.
The increase in gasoline prices was short-lived, and prices fell back to the lowest rate in almost five years in 2009, with an average weekly nationwide average per gallon of just $2.41. And while 2010 saw these prices increase again, with an average price of $2.84 per gallon, that's the exact same price one got a gallon of gas for in 2007.
Price Sells Cars: Including Smart Cars
I'll admit it. The Smarts are kind of neat to drive. They park almost anywhere, even when that guy with his dually Ford F-350 has taken up his own spot and part of another. And they get people's attention – you get lots of looks while driving a Smart. But, in terms of value, the Smarts offer an interesting proposition.
There are a number of compact (yet much larger) cars with more creature comforts and better performance in the same price range as Smart cars. A Nissan Versa that seats four comfortably for $9,990 is a much better choice for most people than a Smart for $11,990.
Size: Too Small for Most Americans
I've already mentioned that Smart cars can be a neat driving experience. But they are small, tiny, even. They actually make BMW's Minis, one of which recently was named to Kiplinger's best car values of 2011 list, seem like large cars. And Mini's have actually increased in sales whereas Smart cars have fallen, so to simply state subcompact cars have no market in the United States seems both short sided and wrong.
Smart has had significant impact in Europe, where small cars rule the roads. But there are better European choices to be had: the BMW Minis, Ford's Fiesta and Focus models, which are now arriving stateside, the Fiat models that will be sold by Chrysler. And all of these models outsell Smart there as well.
Penske realized this long ago, and had contracted with Nissan to build a larger hatchback model of Smart that would have been sold alongside the original Smart. With them giving up franchise rights, this planned vehicle will never see the light of day.
So, is Smart Doomed?
As long as gas prices are affordable, and as long as Smart only offers their two seat model, I doubt they'll be much of a force in the United States market, even with Mercedes' efforts and dealerships.
I do hope Mercedes develops a larger version of the Smart as had been planned by Penske and Nissan. BMW's efforts with Mini might offer their German competitor a blueprint of how to proceed.
And while I'm not ready to proclaim Smart doomed in the United States, I do think they will continue to occupy an extremely limited niche for an extremely limited market. Quite simply, there are cheaper, better, and more attractive choices to be had. And consumers will continue to take those better options.