How to Avoid Buying a Flood-Damaged Vehicle
How to avoid buying a flood-damaged vehicle involves checking the car's title. You can also look for flood damage warning signs, including moisture in the dashboard gauges, rust on the body of the vehicle, and any water lines in the padding underneath the carpet. Refurbishing a flood-damaged vehicle is time-consuming and expensive, so follow our advice below to avoid buying a flood-damaged car.
Free Car Insurance Comparison
Secured with SHA-256 Encryption
UPDATED: Jan 19, 2021
It's all about you. We want to help you make the right coverage choices.
Advertiser Disclosure: We strive to help you make confident car insurance decisions. Comparison shopping should be easy. We are not affiliated with any one car insurance company and cannot guarantee quotes from any single provider.
Our insurance industry partnerships don't influence our content. Our opinions are our own. To compare quotes from many different companies please enter your ZIP code on this page to use the free quote tool. The more quotes you compare, the more chances to save.
Editorial Guidelines: We are a free online resource for anyone interested in learning more about car insurance. Our goal is to be an objective, third-party resource for everything car insurance related. We update our site regularly, and all content is reviewed by car insurance experts.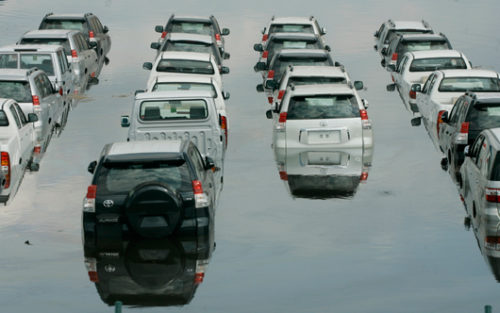 If it sounds too good to be true, it probably is.
You've driven up to a car dealership. They have a few rows of cars of the specific make and model you've been interested in. They are each the current model year or perhaps just a model year behind. They all have low miles, but they're not "new" cars. And the salesperson just cannot wait to get you into one, your choice of color and options, for a price that seems way below what you were expecting based on your research of the model.
But more than that seems "off" about some of these cars. Some of them seem to smell funny – a bitter, biting, and musty smell greets your olfactory system as soon as you open the door, and there's also a hint of "new car smell" spray and shampoo. In fact, it's almost as if too much of that spray and shampoo smell has been applied to disguise the musty smells, and they all coalesce into a horrible shock to your senses.
"Don't worry about that," says your salesperson. "It'll be gone in no time."
Chances are, you might be about to purchase a vehicle that has been flooded.
Before we go further – it is possible to restore and refurbish a car that has been flooded, but it is not for the faint of heart. It requires disassembly of most of the interior, and replacement of all carpets, padding, and upholstery. All electrical connections must be replaced.
Refurbishing a flood-damaged vehicle is by no means a simple undertaking, and it must be done properly for the car to have any serviceable life. And you should know upfront what you're buying and how detailed the restoration process is, not to mention exactly how the car was flooded. It may have been exposed to water filled with sewage, salt-water, or perhaps the windows were down during a torrential downpour. It's highly unlikely you will ever know.
While some may consider the savings on a flooded car worth the potential risks – just like many do with other automobiles with a salvage title – for most of us, they're an experience best avoided. Here's what you need to look for if you believe a car has been subjected to flooding in the past.
Check the Car's Title.
Your first consideration should be the title. If the car has a clear, rather than a salvage title, make sure the dealership provides you with a vehicle history report based on the car's VIN from a reputable industry leader, like Carfax, for example.
"Carfax should disclose that if they claim any damage from flooding to their insurance," said Scott Bratton, a mechanic of 37 years and owner of Auto Check in Katy, Texas.
It is important to note that flood-damaged cars will only have incidents on the vehicle history report if it has been declared a total loss by an insurance company in the past. If the car was not totaled, the title will be clean and the history report may be as well. But the history report is a must, as it is possible for a car to be totaled in one state, and then shipped off to another state where eventually, a clean title is issued for the car.
"I would be concerned if it was a salvaged title. I'd ask why it was salvaged or why it was totaled. That could be due to a flood or a wreck that they went ahead and fixed with cash," Bratton, whose customers bring in cars to be inspected before they're purchased, explained. "For the most part, I question them about where they're buying it from. If it's a Joe Blow lot on the side of the road then I'd really look into how they do business before I deal with them."
Flood Damage Warning Signs
The musty smell isn't the only possible hint of a flooded car. Check the car's lights and reflectors. If they contain moisture, it is possible the car has been submerged. But the real evidence will likely be on the inside of the car.
Inspect the gauges on the dashboard. Again, moisture or other residues are what you are looking for. Test the operation of each gauge as well as the lighting of the gauges and the driver warning lights. They should all be operational.
Test everything in the car that's electrical in nature: all switches, controls like headlights, turn signals, climate control system, stereo, and any 12v auxiliary outlets. All should be operational. Check the visible wiring under the dashboard for brittleness and loss of flexibility."If the water got high enough to get into the computers or modules, which are mounted under the seats, long-term they'll start having problems as the moisture will cause corrosion of the wires in the modules," Bratton said.
Rust is another giveaway. Interior screws or bolts with visible rust indicate a water issue, Bratton explained. Also check the engine compartment and trunk for signs of rust as well. Any metal that is exposed – not painted or coated – and has been in contact with a significant amount of water will be rusted.
The padding underneath the carpet could be an indication as well since it tends to hold moisture for a long time. A visible water line could be another sign, but that would require pulling off the door panels."If I suspected it was potentially water damaged I pull the carpet up and feel underneath it and see if the padding under the carpet has been replaced or if it feels wet," Bratton said. "Normally we don't pull carpets unless there's a musty smell, because that's hard to get rid of."Other potential signs include sand or grit or mud that seems to be embedded into any cracks, crevices, or in the upholstery itself.
If you find any of these issues on a car, it has likely been flooded. We'd recommend you walk away, regardless of the potential savings, unless the car has been completely refurbished. If it has been, any reputable dealer would let you know upfront the history of the car with details on how it was restored. If they are hiding or denying any knowledge, despite the evidence to the contrary, then they simply do not deserve your business.
Finally, check out our visual guide to inspecting a car for evidence of flooding. It offers an easy checklist of tips of where to look and what to look for to help you determine if a vehicle has been involved in a flood.