Fisker Karma Gets 20 MPG: Worst "Green" Car Ever?
While Fisker touted the Karma as an electric car capable of 100 MPGe, the Fisker Karma actually gets 20 MPG. The company lowered their expectations to 67.2 MPGe with a 50-mile range from batteries, but the actual EPA results for the Fisker Karma came in at 52 MPGe and 32 miles from the batteries. Enter your ZIP code below to compare Fisker Karma car insurance rates for free.
Free Car Insurance Comparison
Secured with SHA-256 Encryption
UPDATED: Apr 13, 2022
It's all about you. We want to help you make the right coverage choices.
Advertiser Disclosure: We strive to help you make confident car insurance decisions. Comparison shopping should be easy. We are not affiliated with any one car insurance company and cannot guarantee quotes from any single provider.
Our insurance industry partnerships don't influence our content. Our opinions are our own. To compare quotes from many different companies please enter your ZIP code on this page to use the free quote tool. The more quotes you compare, the more chances to save.
Editorial Guidelines: We are a free online resource for anyone interested in learning more about car insurance. Our goal is to be an objective, third-party resource for everything car insurance related. We update our site regularly, and all content is reviewed by car insurance experts.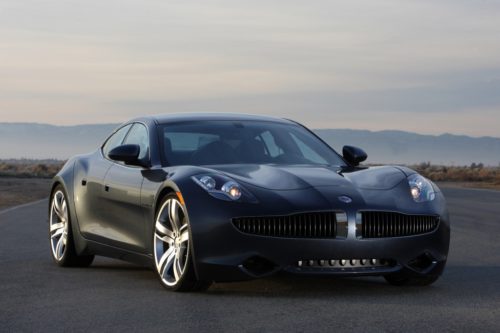 The Fisker Karma received dismal fuel economy ratings from the EPA. (fisker)
The Fisker Karma received dismal fuel economy ratings from the EPA. (fisker) On Friday, we talked about Fisker Automotive, a battery-powered electric motors ultra-luxury brand of carmaker that has received more than a half-billion dollars in federal loan guarantees from the Obama administration. Thus far, Fisker Automotive has only unveiled the Fisker Karma, electric vehicles (EV) that features a gasoline engine much like the Chevrolet Volt once the batteries are exhausted.
Critics have noted that despite the federal loans and promises to utilize a defunct General Motors manufacturing plant for production of their cars, Fisker Automotive has outsourced their manufacturing. Their cars aren't being built in the United States, or even North America. Instead, the company is building cars in the European country of Finland.
What Should you Know About the Fisker Karma?
The company founder said of the move to manufacture in Finland, employing Finnish workers, that "we're not in the business of failing; we're in the business of winning. So we make the right decision for the business. That's why we went to Finland."
While some complain of using American dollars to employ Europeans, other pundits have moved to throw Fisker Automotive into the same category of high-risk federal loans like Solyndra, the now bankrupt solar panel maker that received a half-billion dollars in federal funding under somewhat questionable circumstances.
If that isn't enough negative energy to sour potential buyers of the Fisker Karma, we'd suggest turning attention to just released results of EPA testing on the fuel economy of the car. Despite company claims that the Karma would be rated for 100 MPGe (the company later lowered their expected rating to 67.2 MPGe) and have a 50 mile range from batteries, the actual EPA results came in at 52 MPGe and 32 miles from the batteries.
And once you've exhausted the 32 mile range from the batteries? At that point, the Karma gets a piddling 20 MPG from its gasoline engine. We're quite certain there are much greener cars to be had, and without huge – and questionable – government subsidies.
Compare Quotes From Top Companies and Save
Secured with SHA-256 Encryption
How Much Will It Cost to Insure Electric Cars?
Electric cars have created a new category of insurance, but it's not grouped together. Like luxury cars, each is evaluated differently. You won't pay the same rates for a Tesla that you would for a Nissan Leaf. It's not just about starting price for replacement. Insurers also have to consider crash test ratings, any risks inherent in accidents with the vehicle, and more.
If you have an electric car to insure, enter your zip code. Then you can enter your car, driving history, and other information to get quotes from insurers in your area. You can compare similar policies side by side to see who is really offering the most affordable car insurance for your needs. Then you can make an informed decision before committing to anything. It all starts with entering your zip code.